News > Nation/World
Cheney drops by for visit with troops serving in Iraq
Mon., Dec. 19, 2005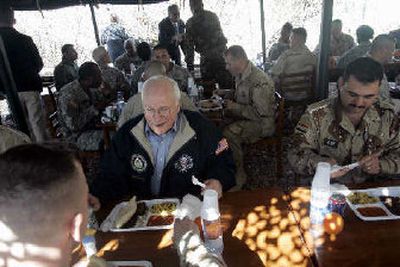 AL ASAD AIR BASE, Iraq – Facing tough questions from battle-weary troops, Vice President Dick Cheney on Sunday cited signs of progress in Iraq and signaled that force changes could come in 2006.
Cheney rode the wave of last week's parliamentary elections during a 10-hour surprise visit to Iraq that aimed to highlight progress at a time when Americans question the mission. Military commanders and top government officials offered glowing reports, but the rank-and-file troops Cheney met did not seem to share their enthusiasm.
"From our perspective, we don't see much as far as gains," said Marine Cpl. Bradley Warren, the first to question Cheney in a round-table discussion with about 30 military members. "We're looking at small-picture stuff, not many gains. I was wondering what it looks like from the big side of the mountain – how Iraq's looking."
Cheney replied that remarkable progress has been made in the last year and a half.
"I think when we look back from 10 years hence, we'll see that the year '05 was in fact a watershed year here in Iraq," the vice president said. "We're getting the job done. It's hard to tell that from watching the news. But I guess we don't pay that much attention to the news."
Another Marine, Cpl. R.P. Zapella, asked, "Sir, what are the benefits of doing all this work to get Iraq on its feet?"
Cheney said the result could be a democratically elected Iraq that is unified, capable of defending itself and no longer a base for terrorists or a threat to its neighbors. "We believe all that's possible," he said.
Although he said that any decision about troop levels will be made by military commanders, Cheney told the troops, "I think you will see changes in our deployment patterns probably within this next year."
About 160,000 troops are in Iraq. The administration has said that troop levels are expected to return to a baseline of 138,000 after the elections, but critics of the war have called for a significant drawdown.
More than 2,100 troops have died in Iraq since the U.S. invaded in March 2003.
The round-table with the vice president came after hundreds of troops had gathered in an aircraft hangar to hear from a mystery guest. When Cheney emerged at the podium, he drew laughs when he deadpanned, "I'm not Jessica Simpson."
Shouts of "hooah!" from the audience interrupted Cheney a few times, but mostly the service members listened intently. When he delivered the applause line, "We're in this fight to win. These colors don't run," the only sound was a lone whistle.
The skepticism that Cheney faced reflects opinions back home, where most Americans say they do not approve of President Bush's handling of the war. It was unique coming from a military audience, which typically receives administration officials more enthusiastically.
Cheney's unannounced stops in Iraq came at the beginning of a five-day tour aimed at strengthening support for the war on terror. Stops include Oman, Afghanistan, Pakistan, Egypt and Saudi Arabia.
Local journalism is essential.
Give directly to The Spokesman-Review's Northwest Passages community forums series -- which helps to offset the costs of several reporter and editor positions at the newspaper -- by using the easy options below. Gifts processed in this system are not tax deductible, but are predominately used to help meet the local financial requirements needed to receive national matching-grant funds.
Subscribe now to get breaking news alerts in your email inbox
Get breaking news delivered to your inbox as it happens.
---