News > Nation/World
Transit strike disrupts NYC commute
Wed., Dec. 21, 2005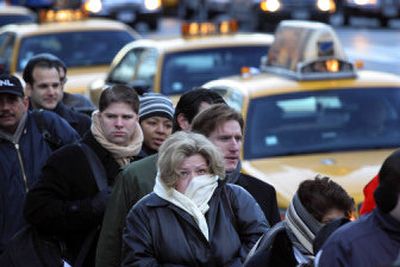 NEW YORK – The nation's largest transit system ground to a halt Tuesday as more than 33,000 New York City bus and subway workers went on strike – snarling traffic, disrupting commerce and forcing more than 7 million commuters to find alternative ways of getting around.
After weeks of bargaining, members of Transit Workers Union Local 100 walked off their jobs at 3 a.m., with union leaders vowing to strike until their demands for better wages and pension benefits were met.
City and state officials blasted the action – which comes in the heart of the busy holiday season – as a violation of state law; they persuaded a judge to fine the union $1 million a day for contempt of court.
On a bitterly cold day, New Yorkers awoke to a transit nightmare. Many were forced to walk long distances to their jobs, some sought rides in cars from strangers, and traffic backed up for miles. Other people simply stayed home.
The public schools remained open, but classes began two hours later than usual.
"New Yorkers are resilient and they will get through this," Mayor Michael R. Bloomberg said as he and thousands of others trudged to work over the Brooklyn Bridge. "This strike is illegal, it is reprehensible and it is cowardly."
New York Gov. George Pataki, who controls the Metropolitan Transportation Authority – the agency in charge of setting transit wages – said there would be no further negotiations with the striking union members until they returned to their jobs.
"The TWU has broken the law," Pataki said during a midday press conference. "That is wrong, it is unacceptable, and they will suffer the consequences."
Union local President Roger Touissaint, charging that the MTA had not bargained in good faith, said: "We are fighting for dignity and respect. … We are also fighting for the future of our union."
The massive job action was the city's first transit strike in 25 years.
At an afternoon news conference, Bloomberg excoriated the transit workers for also inflicting economic pain on New York. Although he said his statistics were "big picture numbers," he estimated the first day of the strike would cost New York business $400 million.
"The economic consequences have ranged from severe to devastating, depending on the business," he said.
In recent weeks, Bloomberg had outlined emergency measures that would take effect in event of a strike, but their full impact – and the headaches they caused – only became apparent during the morning rush hour.
For the duration of the strike, cars entering Manhattan below 96th Street between 5 a.m. and 11 a.m. have to carry at least four passengers.
The result, for many travelers, was chaos. Cars were backed up for six miles at the Lincoln Tunnel, the George Washington Bridge and other river crossings. Although some parts of midtown Manhattan experienced light traffic, other areas were clogged with automobiles. Portions of major business arteries like Madison and Fifth avenues were off-limits to motorists Tuesday, reserved exclusively for emergency vehicles.
"This is so New York. This is a travesty," fumed Diana Kraus as she sat in traffic for an hour just north of 96th Street on Manhattan's Upper West Side. She said she was simply trying to take her child to school, some 20 blocks down Broadway. But there were only three people in her car, not enough to pass a police checkpoint.
As she inched down the street, Kraus began calling out to pedestrians: "Do you want a ride? I'll give you a ride!" Traffic was backed up at least 30 blocks, police said.
Finally a woman across the street hurried into Kraus' car. Sylvia Brown, a banker's assistant, had been freezing in the cold and was grateful for the ride.
"She is my new best friend," Kraus said. "This is insane."
The transit workers initially sought a 24 percent wage increase over three years; the MTA offered them 10 percent. State officials also want future transit employees to pay a percentage of their salary to cover health benefits, a proposal the union staunchly opposes. Currently, no money is taken out of workers' paychecks for health care.
Local journalism is essential.
Give directly to The Spokesman-Review's Northwest Passages community forums series -- which helps to offset the costs of several reporter and editor positions at the newspaper -- by using the easy options below. Gifts processed in this system are not tax deductible, but are predominately used to help meet the local financial requirements needed to receive national matching-grant funds.
Subscribe now to get breaking news alerts in your email inbox
Get breaking news delivered to your inbox as it happens.
---