Sports
Bears clinch NFC North
Mon., Dec. 26, 2005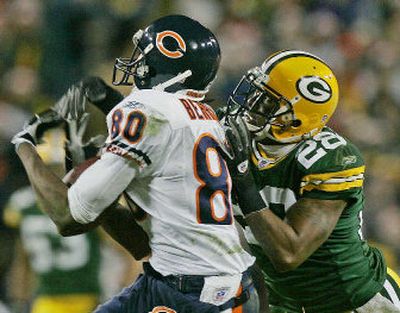 GREEN BAY, Wis. – Most playoff teams would expect to get more than 166 yards passing from their starting quarterback.
For the Chicago Bears, however, it represents a giant leap forward.
Rex Grossman didn't pile up gaudy statistics in his first regular-season start in nearly 15 months. But his ability to throw accurate deep passes gave the Bears a new dimension, helping them clinch the NFC North and a first-round bye with a 24-17 victory over the Green Bay Packers.
"We mixed it up a little bit," Grossman said. "We saw a lot of tape where we could do some things down the field, and we made a few plays there. We got a lead and came back to our running game and great defense."
The Bears (11-4) also swept the Packers for the first time since 1991.
"I don't think you can change the magnitude of winning in Green Bay or clinching the division in Green Bay," said Chicago linebacker Lance Briggs, who returned an interception for a touchdown in the third quarter. "It's the Packers. They're our biggest rival."
The Packers (3-12) are well on their way toward their first losing season in the Brett Favre era. With one game remaining, the futures of Favre and coach Mike Sherman remain in doubt.
"This one really hurts, because we didn't want them to win the division on our field," Packers defensive tackle Grady Jackson said. "This season feels like a bad dream."
The season has been a nightmare for Favre, who tried to rally the Packers in the final minute but came up short. A potential game-tying drive ended with yet another Favre interception.
Favre had four more passes picked off, bringing his total to 28 for the season and surpassing his previous career high of 24 in 1993.
"Anytime a quarterback gets four interceptions, you have to look at that," Sherman said. "I do know this: He gave us a chance to win there at the end."
Favre has gone four straight games without a touchdown pass, the first time in his career he has gone more than two games without throwing for a score.
Favre, who has yet to decide if he will return to play next season, didn't speak to reporters after the game.
Favre outdueled Grossman with 317 yards on 30-of-51 passing, including six passes to Donald Driver for 106 yards. But Grossman threw more effective deep passes, opening up space for running back Thomas Jones. Jones had 25 carries for 105 yards and a touchdown.
"It was great to see the offense do that," coach Lovie Smith said. "It was good to see the defense finish the job at the end. It was a great team effort, a great team win."
Grossman missed most of last season with a knee injury, then broke his ankle in a preseason game in August. He was replaced by rookie Kyle Orton, who played mostly good football but didn't make spectacular plays.
Smith replaced Orton with Grossman in the second half of the Bears' victory over Atlanta last Sunday night. After naming Grossman his new starter, Smith spent most of last week proclaiming that the Bears weren't about to deviate from their identity as a run-first offense.
But he gave Grossman license to let it fly.
Grossman heaved a deep pass toward wide receiver Bernard Berrian on the Bears' first offensive play. The pass fell incomplete, but Grossman kept throwing.
Grossman completed his next five passes, including three for first downs and a 12-yard touchdown pass to Muhsin Muhammad on third-and-goal.
Grossman set up the Bears' second touchdown with a 54-yard heave to Berrian; a subsequent roughing penalty on Packers defensive end Michael Montgomery gave Chicago first-and-goal on the Packers 9.
Jones plunged into the end zone two plays later, putting the Bears ahead 14-7.
Bears kicker Robbie Gould added a 45-yard field goal in the third quarter, making the score 17-7. Packers kicker Ryan Longwell missed a 38-yard field goal in the second quarter and 39-yarder in the third.
"It was just one of those days – should have made the kicks," Longwell said.
Briggs returned his interception 10 yards for a touchdown, making it 24-7 in the third quarter.
Local journalism is essential.
Give directly to The Spokesman-Review's Northwest Passages community forums series -- which helps to offset the costs of several reporter and editor positions at the newspaper -- by using the easy options below. Gifts processed in this system are not tax deductible, but are predominately used to help meet the local financial requirements needed to receive national matching-grant funds.
Subscribe to the sports newsletter
Get the day's top sports headlines and breaking news delivered to your inbox by subscribing here.
---