News > Features
Tattoos help keep tabs on kids
Mon., Dec. 26, 2005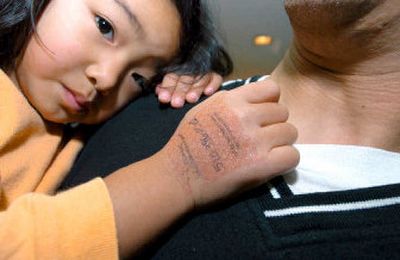 Before catching a plane from Oakland, Calif., to Las Vegas, Lance Frey made sure he had everything he needed: keys, cell phone, wallet. Then he let his 3-year-old get a tattoo.
Going through busy airports where a child can get lost or separated, Frey said he feels safer knowing that his daughter, Elizabeth, has one – even if it's only temporary. Besides, she likes it.
While tattoos normally don't conjure images of safety and security, temporary tattoos do these days for the Alameda, Calif., resident and his wife, Lynne.
That's because whenever their family travels – they expect to take 10 more flights in the next two months – they put a temporary tattoo with emergency information on their daughter's hand.
Simply writing their phone number doesn't have the appeal of a tempting tattoo, said Frey, a cell phone company executive. It's a low-tech alternative to things like radio frequency identification chips in backpacks or clothes. And it gives the Freys some peace of mind in case their daughter is separated from them.
"Making sure I have my child, that's the most important thing. It's a one in a thousand chance they'll wander off, but …" Frey said. "It's a little extravagant, but it was cool traveling with them. People noticed it when we were getting on the plane."
Frey first saw the need for the temporary tattoo because of his sister's kids, who tend to cut loose at airports, he said. She used to write her phone number on their hands, but as they got older the kids rejected the pen.
"It's not acceptable to write on a kindergartner," Frey said, adding that his daughter likes to keep the tattoo on as long as possible.
Designed by a Michigan woman, the tattoos come in six different colors, with kits for boys and girls. The tattoos cost about $2 each or $10 for a travel kit that includes six tattoos, a marker for writing a phone number, towelettes to apply the tattoo with and alcohol wipes for removing it. The tattoos generally last for a week, said Cindi Aldrich, who owns Temporary Tattoos With a Purpose. Frey said his daughter's tattoo started to rub off a little on the way to the airport.
Aldrich got the idea for the tattoos after her son started going on school field trips. Although she taught him to recite his phone number in case he was lost or separated from the group, she was concerned he'd panic and forget the number. She decided a temporary tattoo could work because it doesn't come off easily, and it won't fall off like a bracelet or button. It takes rubbing alcohol or baby oil to remove.
"Kids love tattoos – that's the thing," she said. "I've got kids that come up and say they just want one."
But they're not just for kids, Aldrich said. She also sells tattoos for people with Alzheimer's disease.
"It's inexpensive," she said. "It's a great way to feel secure at a low price."
Marc Klaas, who started the Sausalito, Calif.-based KlaasKids Foundation in 1994 after his 12-year-old daughter, Polly, was kidnapped and murdered, said it's always good to have people coming up with new ideas regarding child safety. He acknowledged that it could work well for field trips, but for minors flying alone the airline industry is attuned to child safety.
"It's not something I would put in my arsenal," he said.
But for Elizabeth Frey, that's beside the point. To her, the tattoo is a fashion accessory: "It's pretty," she said.
Local journalism is essential.
Give directly to The Spokesman-Review's Northwest Passages community forums series -- which helps to offset the costs of several reporter and editor positions at the newspaper -- by using the easy options below. Gifts processed in this system are not tax deductible, but are predominately used to help meet the local financial requirements needed to receive national matching-grant funds.
Subscribe now to get breaking news alerts in your email inbox
Get breaking news delivered to your inbox as it happens.
---