Sports
December surprise
Thu., Dec. 29, 2005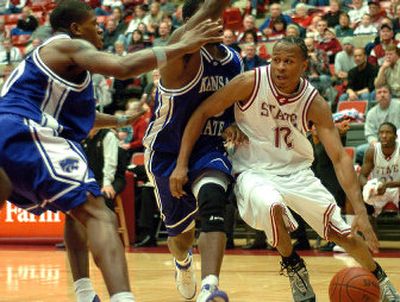 It's been a week now since the giddiness and glee of the best Christmas present Washington State could have received – a near-flawless performance against Utah in Seattle.
That 69-42 romp in KeyArena sent the Cougars off for the holiday at 7-2 and looking better than ever under Dick Bennett heading into the Pac-10 season.
Now that time off is a memory and WSU launches what it hopes will be a surprising and successful conference campaign with yet another semi-home game – this time a little closer to Pullman, though. The Cougars start things off with Arizona at 7 tonight in the Arena, their second home game in the secondary base of Spokane.
Playing 80 miles from home hasn't provided an edge. WSU is 2-3 under Bennett in the Arena, having lost to BYU there in November. Bennett, while hanging on to his sense of humor, knows the building hasn't been kind to his team.
"Disadvantage – we've not done particularly well there and generally haven't been supported particularly well," he said of tonight's locale, compared to Friel Court in Pullman. "That's a community that's in love with the team it should be in love with, and that's Gonzaga. We're kind of a step-child up there. I hope they turn out because I like playing up there. I found some good ice cream shops that I can go to, and a couple of bookstores. I need to get a set of glasses, so I'll get that done. But I like going up there; we just need to play better there. Maybe if we do that we'll get a few more fans."
That probably won't happen tonight, however. Ticket sales were progressing slowly – just 2,000 as of a week ago – and it's certainly not going to be the crowd Bennett would like to start the conference season.
It's especially true because, as Bennett gladly said afterwards, no Cougar team under his watch had played as well as the one that took the floor against Utah. Up 39-14 by halftime, WSU dominated and both senior Randy Green and sophomore Robbie Cowgill talked of turning heads in the Pac-10.
For the first time under Bennett, talk of postseason possibilities don't seem far-fetched: A 7-11 conference season would guarantee eligibility for the NIT. That's the mark Bennett's teams at WSU posted in each of his first two seasons.
"It's a deeper team for sure," Bennett said. "I'm never certain who's going to be a major contributor. I don't know that we have any great players. In fact, I'm pretty sure we don't. But we have a number of players who are capable of contributing.
"And I think if you don't have great players you better have a lot of players capable of contributing and I think we're much closer to that this year than we have been in the past."
The success so far in 2005 has turned the head of Lute Olson, Arizona's head coach and the victim of Bennett's greatest conference triumph so far, a 70-63 upset win in Tucson last season.
"They've played really well, I think, ever since Dick Bennett has gotten there," said Olson, whose team this season is 7-3 and has also beaten the Utes by a sizeable margin. "We had an opportunity to play Utah as well and I thought Washington State did a tremendous job."
That was especially true defensively, as Utah couldn't get easy shots all game. In all seven wins, WSU opponents have failed to shoot 39 percent from the floor. And in both losses opponents have shot better than 54 percent.
The conference season is sure to provide games in between those two marks, so how WSU fares there might determine if it's to be the surprise team it thinks it could be after the Utah win.
The Cougars have gotten contributions from top to bottom, with Green earning an unexpected number of minutes and sophomores like Cowgill and Derrick Low leading the way offensively.
But can those three be the core of a winning Pac-10 team? And can steady, confident performances against Mountain West opponents translate into the same against a team like the Arizona Wildcats? The answers should come – even if not too many are on hand to see them – starting tonight.
"Right now we're just guessing," Bennett said. "This is the beginning of a new season, and as I've said there's so much in the next month that's going to come out."
Local journalism is essential.
Give directly to The Spokesman-Review's Northwest Passages community forums series -- which helps to offset the costs of several reporter and editor positions at the newspaper -- by using the easy options below. Gifts processed in this system are not tax deductible, but are predominately used to help meet the local financial requirements needed to receive national matching-grant funds.
Subscribe to the sports newsletter
Get the day's top sports headlines and breaking news delivered to your inbox by subscribing here.
---