News > Idaho
Tribe pitching in for free bus service
Wed., Feb. 2, 2005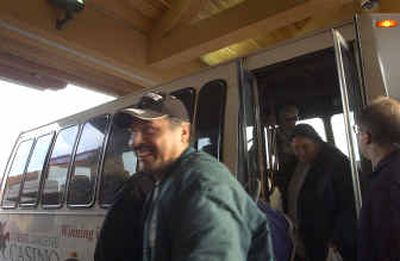 COEUR d'ALENE – A daily bus service with stops and regular routes will start rolling in Coeur d'Alene, Hayden and Post Falls at the beginning of April, if all goes according to plan.
Buses will travel as far south as DeSmet in Benewah County and stop at such popular spots as the Coeur d'Alene Casino, Benewah Medical Center, Coeur d'Alene Resort, Silver Lake Mall and Kootenai Medical Center.
And the service will cost riders nothing. The Coeur d'Alene Tribe is picking up most of the tab.
"If we're bringing people from Coeur d'Alene here, it's good for our businesses," Francis SiJohn, a Coeur d'Alene Tribal Councilman, said Tuesday as Kootenai County commissioners voting 25 miles to the north of him were approving their county's support for the new service. "Maybe they'll spend the money they save in the casino or the tribal store. We're trying to bring people down here."
The bus service is a cooperative venture between the tribe and the Kootenai Metropolitan Planning Organization. It's the brainchild of John Austin, a transportation planner for the Panhandle Area Council.
Austin began reshaping Kootenai County's bus transportation in 2002. The 2000 census bumped the Coeur d'Alene area into a new urban division, making it ineligible for rural money that had helped pay for the limited bus system it had. If people needed a ride, they called a day ahead to arrange it. There were no regular routes.
Rules were different under the urban designation. Coeur d'Alene needed a group of various city, county and highway district officials to administer Federal Transportation Administration money sent to the area. The KMPO also needed to find local matches for the federal transportation money the area received.
Kootenai Medical Center, North Idaho College and Aging and Adult Services helped, and buses that traveled on-call for each of those organizations continued.
Last year, KMPO hired a Portland firm, Nelson/Nygaard, to survey the area's transportation needs and create a long-range plan. Information the firm collected showed a need for regular, established routes in the urban area that coordinated with rural routes. The tribe immediately popped into Austin's mind.
The tribe already ran free buses several times a week from the casino to Coeur d'Alene, Post Falls and Hayden and back to the casino. Riders need to be 18 years old and planning to spend time at the casino, hotel or the tribe's Circling Raven golf course.
Austin figured KMPO could contribute some of its federal money to cover the tribe's costs to run its buses. In exchange, the tribe could increase its daily schedule of regular stops in Coeur d'Alene and offer service seven days a week. The tribe would have to drop its age and casino-destination requirement for riders.
"I went to the (Kootenai County) commissioners. They said talk to the tribe," Austin said.
The tribe was interested. Just as KMPO was looking for a way to transport people around Coeur d'Alene, the tribe was looking for a way to transport people off the reservation to shop, go to school, see doctors – any number of reasons.
"We ultimately want to give people access to services in Benewah and Kootenai counties," SiJohn said.
The tribe spends $400,000 a year to operate four buses. Those buses leave from the casino and stop regularly at Albertsons Food and Drug in Hayden, Kmart in Coeur d'Alene and the Coeur d'Alene Resort. In Post Falls, they stop at Wal-Mart and Super 1 Foods.
Last week, the tribal council approved its partnership with KMPO. SiJohn is now part of the group. With federal money and $96,000 from KMPO, the tribe is buying five new 28-passenger buses. The buses are handicapped-accessible and have racks to carry bikes.
One bus will travel exclusively between DeSmet and Worley. Three buses will take the northern routes and one bus will serve as emergency backup, Austin said. SiJohn said he's working on a regular schedule now that will set unchanging bus stops.
For people who need rides to the bus stops, Coeur d'Alene's on-call buses will still take reservations.
The tribe will continue to spend the $400,000 it has spent for the free bus service to the casino for years, so it won't charge riders, SiJohn said. He envisioned bike-riders eventually loading their bikes onto the tribal bus racks and traveling to the start of the Trail of the Coeur d'Alenes in Plummer. Or people living on the reservation riding the bus to the Silver Lake Mall for some shopping.
"We're going to put this on the fast track," SiJohn said. "Dr. Bill Kelley, my planning professor at Eastern Washington University, stressed the three Es – effective, efficient and equitable. This is all three."
Local journalism is essential.
Give directly to The Spokesman-Review's Northwest Passages community forums series -- which helps to offset the costs of several reporter and editor positions at the newspaper -- by using the easy options below. Gifts processed in this system are not tax deductible, but are predominately used to help meet the local financial requirements needed to receive national matching-grant funds.
Subscribe now to get breaking news alerts in your email inbox
Get breaking news delivered to your inbox as it happens.
---