News > Idaho
School tries 'blab-o-meter'
Wed., Feb. 9, 2005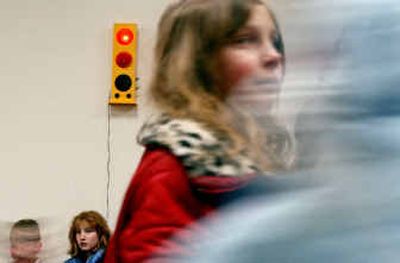 The lunchroom at Athol Elementary School went from dead quiet to deafening in a matter of seconds Tuesday as a rush of hungry students poured into the cafeteria.
A stoplight mounted on the lunchroom wall went from green to yellow, began to flash and then turned red. The room went dark.
"You have your outside voices going," Principal Connie McGee told the students. "The talk-o-meter has registered red. Remember, you have to be quiet until it goes to green."
Most students stopped talking. Some continued to chatter.
"I hear voices," McGee said. "I hear voices."
In an effort to quiet down the school's lunchroom, Athol Elementary has enlisted the help of the Talk Light, a device which uses a decibel meter to measure noise, then sounds an alert that signals teachers to turn out the lights. It can be adjusted to go off at anywhere from 54 decibels to more than 100 decibels. For comparison, noise from a washing machine is about 75 decibels.
A similar gadget was met with controversy in a Pocatello, Idaho, lunchroom. Students and parents protested after the school installed the decibel meter and instituted strict lunchtime rules to keep noise down.
According to reports from the Idaho State Journal, students had to stay silent for two minutes if the alarm on the school's "Yacker Tracker" was set off. Students who continued to talk had to spend lunch recess standing facing a wall.
The Pocatello school also prohibited talking in the lunch line, according to the article. School officials said the problem there was overcrowding – too many students in a too-small lunchroom.
Athol's problem has more to do with poor acoustics and tile floors.
"The sound doesn't have anything to soak into," McGee said.
McGee said she adjusted the school's "blab-o-meter" because it was set off too easily when it was first installed. She said an acceptable level of noise is when "you can stand and talk to the person next to you and hear them."
A visit to Athol's cafeteria on Tuesday proved the device was pretty tolerant.
Even when the light was green, it was hard to hear a student seated just across the table. Still, the decibel level went high enough a few times during the lunch period to turn the Talk Light red.
When the light turns red, an alarm sounds and the lunchroom lights are shut off. The lunchroom stays dark and students have to remain silent until the Talk Light resets and turns green again.
"The ones who continue to talk have to write 50 times: 'I will not talk during lights out,' " said Renee Johnson, a lunchroom supervisor. She said sometimes students talk loudly on purpose, to try and set off the Talk Light.
"Kids make it go off," said third-grader Michelle Holbrook. "They keep saying, 'Red! Red!' I think they like it to be red."
Holbrook said she still thinks the Talk Light makes a difference, though.
"I don't think everyone likes it," she said. "I like it quiet. I get headaches when it is noisy."
Fourth-grader Ethan Stiles grumbled as the light turned red just after he sat down to eat his chicken nuggets.
"It's stupid and it stinks," he said.
But lunchroom workers are pleased with the Talk Light.
"It helps to have a gauge," said Ellen Oster, a lunchroom supervisor.
Server Wendy Hall said without a measurement tool the noise level is arbitrary.
"Sometimes you get immune," Hall said. "Before, we were like, 'Is it just me? Or is it too loud?' "
Other schools in the area have tried gadgets like the Yacker Tracker and Talk Light with little success. Students began to make a game out of trying to turn the light red.
"It was more of an encouragement for noise than a deterrent," said Bill Ramich, principal at Seltice Elementary in Post Falls.
Spokane Public Schools elementary school lunchroom supervisors sometimes use microphones to quiet students, said Beverly Lund, principal of Whitman Elementary. When Lund arrived, the school lunchroom had a stoplight that would turn red when it became too loud. That was nine years ago and it wasn't being used.
"It's in a classroom now, for decoration," Lund said. To even dim the lights in the lunchroom requires a special key from the janitor.
In the classroom, the practice for teachers to flick the lights to get students' attention is fading, Lund said.
"Our teachers do more hand signals and singing," she said. One music teacher sings a note when she wants quiet and the students will sing the same note back. Some teachers use rain sticks when they want quiet. "It's very gentle but kids know exactly what it is," Lund said. "I can't remember the last time I saw a teacher use lights."
Many people answering the phone at local schools said they didn't know devices like the Talk Light even existed. They are advertised in educational catalogs and magazines, with prices starting around $40.
"That's a great idea," said Dana Franssen, secretary at Fernan Elementary. "We have a custodian that blows a whistle."
Coeur d'Alene Charter Academy Principal Nels Pitotti questioned why students would pay attention to a light or a buzzer if they wouldn't listen to adults.
"We really don't need a noise detector," Pitotti said. "God gave us two up on top of everybody's head – one on the left and one on the right. When it gets too loud, we say, 'It's too noisy, quiet down.' "
Local journalism is essential.
Give directly to The Spokesman-Review's Northwest Passages community forums series -- which helps to offset the costs of several reporter and editor positions at the newspaper -- by using the easy options below. Gifts processed in this system are not tax deductible, but are predominately used to help meet the local financial requirements needed to receive national matching-grant funds.
Subscribe now to get breaking news alerts in your email inbox
Get breaking news delivered to your inbox as it happens.
---