News > Nation/World
Lebanon's ex-premier slain
Tue., Feb. 15, 2005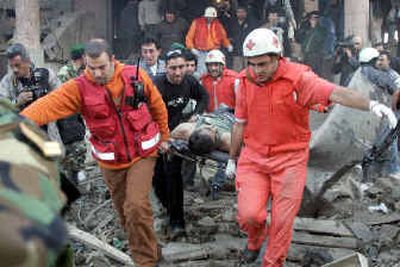 BEIRUT, Lebanon – A powerful bomb tore through the motorcade of a former prime minister Monday, killing him, carving a 30-foot hole in the street and turning armored cars into burning wrecks.
The devastation harked back to Lebanon's violent past and raised fears of new bloodshed in the bitter dispute over Syria, the country's chief power broker.
The blast wounded 100 people and killed 10, including the main target: Rafik Hariri, a billionaire businessman who helped rebuild Lebanon after its civil war but who recently had fallen out with Syria.
The United States called the attack "a terrible reminder" that Lebanon still must shake free of occupation by Syria – the neighbor that keeps 15,000 troops there and influences virtually all key political decisions.
Syria denied any role and condemned the assassination. But opposition leaders in Lebanon said they hold both the Lebanese and Syrian governments responsible and demanded Syrian troops withdraw.
A U.S. official, speaking on condition of anonymity, said it was too early in the investigation to know who was responsible but said any list of suspects "would have to include the Syrians and their surrogates in Lebanon."
Hariri, 60, left office in October but had the wealth and the prominence to maintain some degree of independence from Syria while never moving toward total defiance.
His shift toward the opposition in recent months had given a boost to calls for the withdrawal of Syrian troops – and his death silenced an influential and moderate voice that could prove hard to replace.
It was unclear if his killing would delay parliamentary elections that had been expected in April and May.
Top government officials met in emergency session, then instructed the army and internal security forces "to take all necessary measures to control the security situation." Later in the day, the army command announced forces were put on maximum alert and that soldiers and officers were being recalled from vacation or leave. President Emile Lahoud, a longtime rival of Hariri, called his killing "a dark point in our national history." He promised the assassins would be brought to justice.
There were no credible claims of responsibility. A previously unknown group, Support and Jihad in Syria and Lebanon, said in a video broadcast on Al-Jazeera television that it carried out the bombing, which it termed a suicide operation.
Security authorities raided the west Beirut home of Ahmed Abu Adas, a Palestinian they said appeared in the video but fled during the day. They confiscated computers, tapes and documents, the Interior Ministry said.
Interior Minister Suleiman Franjieh did not rule out a suicide attack, telling television station Al-Hayat-LBC that it would have been difficult to detonate the explosive by remote control due to the sophisticated jamming system in Hariri's motorcade.
Justice Minister Adnan Addoum cautioned that responsibility claims could be an attempt "to mislead the investigation." But he said the explosion despite the high-tech equipment in the motorcade gave credence to "foreign elements" being behind the assassination. He did not elaborate.
The midday blast tore through Hariri's motorcade a block from the famed Mediterranean-side corniche and was so powerful it left the bulletproof vehicles a burning, smoldering wreck. The explosion gouged a crater in the street 30 feet wide and 9 feet deep and shattered windows and twisted metal window frames at a nearby British-based bank and the landmark Phoenicia Hotel.
More than 650 pounds of TNT explosives were used in the bombing, security officials said. Hariri's supporters quickly took to the streets, many weeping. In his hometown of Sidon, shops were shuttered as hundreds of people poured into the streets, some of them shouting anti-Syrian slogans. One group of people attacked a van with Syrian workers inside, shattering its windshields.
In Paris, Lebanon's most prominent exile, former army commander Gen. Michel Aoun, blamed Syria and what he called the "feeble regime imposed by Syria" for the assassination.
But Syrian Information Minister Mahdi Dakhlallah called the killing "a criminial, terrorist action against Lebanon and Syria."
Asked about Lebanese opposition accusations that Syria had a hand in the attack, Dakhlallah said, "No serious man would address such accusations to Syria. Such talk is nonsense."
Syrian President Bashar Assad said he "condemned this horrible criminal action," according to Syria's official news agency, and urged the Lebanese people to reject those who plant "schism among the people" during this "critical situation."
In Washington – which has put intense recent pressure on Syria to withdraw its troops – President Bush was "shocked and angered" by the assassination, White House press secretary Scott McClellan said.
Hariri, a Sunni Muslim, was an important symbol of Lebanon's rebirth after its devastating civil war – and he died just blocks from the rebuilt and revitalized downtown and its pedestrian walkways and sidewalk cafes whose reconstruction he helped spearhead.
A self-made construction tycoon, Hariri became prime minister in 1992 under the terms of a peace deal that ended the civil war and required the prime minister be a Sunni.
In all, he had served as prime minister for 10 of the 14 years in the postwar period starting in 1992. He moved toward the opposition camp after leaving office in October – in large part because of a dispute involving Syria. Hariri had rejected a Syrian-backed demand that his rival, Lahoud, remain in office as president for a longer period.
Local journalism is essential.
Give directly to The Spokesman-Review's Northwest Passages community forums series -- which helps to offset the costs of several reporter and editor positions at the newspaper -- by using the easy options below. Gifts processed in this system are not tax deductible, but are predominately used to help meet the local financial requirements needed to receive national matching-grant funds.
Subscribe now to get breaking news alerts in your email inbox
Get breaking news delivered to your inbox as it happens.
---