News > Spokane
An excellent impression
Mon., Feb. 21, 2005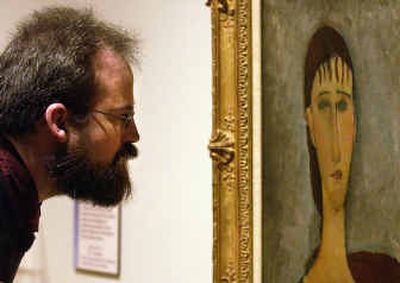 The impressionist paintings gracing the walls of the Northwest Museum of Arts and Culture drew hundreds of visitors Sunday.
By showing the works of some of art's greatest names including Edgar Degas, Claude Monet and Pierre-Auguste Renoir, the museum is proud to have gained the prestige necessary to display such paintings and sculpture.
"We have been recognized by our peers that we can properly and professionally handle this high level," said museum chief executive Bruce Eldredge. "It certainly bodes well for our future."
Within two hours of the museum's opening, about 300 people had entered the museum – nearly triple the number the museum would normally see over an entire weekend. With such high enthusiasm, the museum will be open today.
The museum is the fifth in the country to display the works, assembled as a show called "An Impressionists Eye: Painting and Sculpture from the Philip and Janice Levin Foundation."
Though the museum displayed a Smithsonian collection of works depicting early American life last year, the paintings now hanging in the museum represent a much higher level of art.
Not since a showing of Vincent van Gogh 65 years ago has Spokane hosted such important work.
The van Gogh display, he said, was an interesting story. While the works were on display in Spokane, Germany launched its World War II invasion of the Netherlands.The 14 paintings were locked in a Spokane bank vault, where they were protected during the war, Eldredge said.
Local journalism is essential.
Give directly to The Spokesman-Review's Northwest Passages community forums series -- which helps to offset the costs of several reporter and editor positions at the newspaper -- by using the easy options below. Gifts processed in this system are not tax deductible, but are predominately used to help meet the local financial requirements needed to receive national matching-grant funds.
Subscribe now to get breaking news alerts in your email inbox
Get breaking news delivered to your inbox as it happens.
---