News > Features
Deleted
Tue., Feb. 22, 2005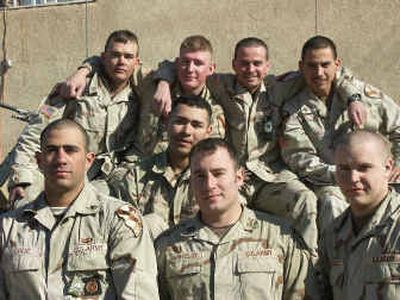 Worried about the FCC, PBS is taking the words out of the mouths of some soldiers filmed during combat in Iraq.
The public broadcaster has distributed "clean" and "raw" versions of tonight's "Frontline" documentary about the Iraq war, titled "A Company of Soldiers," and is warning stations it can't ensure them against FCC fines stemming from the language.
It's another example of the television's industry's continued uncertainty about Federal Communications Commission standards for language and content – and a real-life echo of last fall's decision by 66 ABC affiliates not to air the movie "Saving Private Ryan" because of coarse language and graphic violence.
"A Company of Soldiers" contains 13 expletives spoken by soldiers. "Frontline" producers decided to leave them in because it presented a true picture of how these men and women react to the fear and stress of war, said David Fanning, the show's executive producer.
The producers also made a separate, "clean" version of the 90-minute documentary with the words edited out, which PBS decided to send to all of its 170 member stations.
The "raw" version also was made available, but station managers had to make a special effort to tape it in advance.
At least two PBS stations – Seattle's KCTS, and Boston's WGBH, which produced the show – will air the unedited version. (KSPS-7 in Spokane will air the edited version, a station representative said.)
"I watched the program with the flagged comments, and I think that they are totally in context," said Randy Brinson, KCTS general manager. "They are journalistically appropriate, they underscore the story, and our decision is to go with the program as originally produced."
In order to air the raw version, member stations had to sign a statement acknowledging the financial risk is theirs in case of FCC fines.
"It's a financial decision," said PBS senior programming executive Jacoba Atlas. "It's not a decision that reflects on the merit that we think the film has."
"Frontline" producer Fanning said he wished this was something that PBS could take a stand on but understood why it couldn't.
"I'm not upset about PBS," he said. "We're upset that we're put in the position of having to make a special circumstance of this and PBS is put in the position of not being able to have viewers see this."
It isn't the only such issue the Public Broadcasting System is facing this week. On Wednesday night, PBS is re-airing the HBO movie "Dirty War," about a terrorist attack in London, and will alter a scene to avoid showing the front of a nude woman being scrubbed down after a fictional chemical attack.
Local journalism is essential.
Give directly to The Spokesman-Review's Northwest Passages community forums series -- which helps to offset the costs of several reporter and editor positions at the newspaper -- by using the easy options below. Gifts processed in this system are not tax deductible, but are predominately used to help meet the local financial requirements needed to receive national matching-grant funds.
Subscribe now to get breaking news alerts in your email inbox
Get breaking news delivered to your inbox as it happens.
---