Sports
Atlantic Division beefs up
Fri., Feb. 25, 2005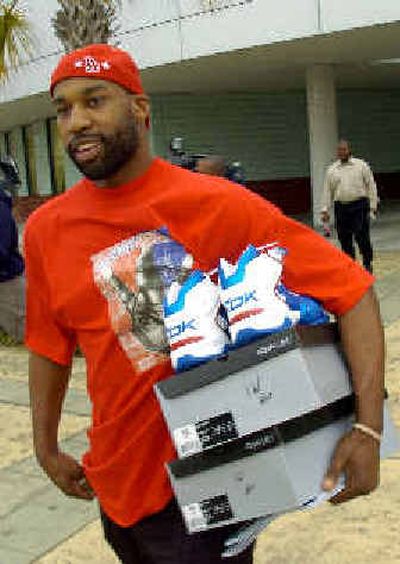 The weakest division in the NBA suddenly looks a little stronger, with Antoine Walker back on the Celtics and Chris Webber in Philadelphia.
The NBA trade deadline came and went Thursday with a total of 11 deals involving 35 players being agreed to in the final 24 hours before the cutoff.
Baron Davis was traded from New Orleans to Golden State for Speedy Claxton and Dale Davis, Keith Van Horn went from Milwaukee to Dallas for Calvin Booth and Alan Henderson, and Houston acquired several veterans to add to the league's oldest roster.
Walker went to Boston in a four-player trade, with Gary Payton, Michael Stewart, Tom Gugliotta and a No. 1 pick going to Atlanta.
Rodney Rogers and injured forward Jamal Mashburn were dealt from New Orleans to Philadelphia for Glenn Robinson, who has not played this season. It was the second trade in a span of less than 24 hours by 76ers general manager Billy King, who pulled off a blockbuster Wednesday night by acquiring Webber from the Sacramento Kings for forwards Corliss Williamson, Brian Skinner and Kenny Thomas.
"They're going to probably win the Atlantic now," Cleveland's LeBron James said. "It's going to make them one of the top four teams in the Eastern Conference."
Webber was expected to play his first game for the Sixers on Saturday night against, of all teams, Sacramento.
None of Thursday's 10 deals – making it the busiest deadline day for trades in a decade – matched the magnitude of the six-player swap late Wednesday night in which the 76ers got Webber and forwards Michael Bradley and Matt Barnes.
The Sixers are 26-27 and just a half-game behind Boston for first place in the Atlantic Division. … San Antonio acquired center Nazr Mohammed and guard Jamison Brewer from New York for forward Malik Rose and two future No. 1 draft picks. … Cleveland acquired guard Jiri Welsch from Boston for a future No. 1 pick. … New York acquired forward Maurice Taylor from Houston for guard Moochie Norris, forward Vin Baker and a second-round draft pick. … Houston got guard Mike James and center Zendon Hamilton from Milwaukee for guard Reece Gaines and two future second-round picks. … Golden State sent center Eduardo Najera, guard Luis Flores and a No. 1 pick to Denver for forward Nikoloz Tskitishvili and guard Rodney White. … Charlotte dealt veteran Steve Smith to Miami for forward Malik Allen.
Mavericks 122, Kings 113: At Dallas, Sacramento was doing just fine in their first game without Webber, until Dirk Nowitzki took over. Nowitzki scored 17 of his 34 points in the fourth quarter and Michael Finley hit two clutch 3-pointers in the closing minutes, helping Dallas turn a late nine-point deficit into a victory. Marquis Daniels had season-highs with 29 points and eight assists, plus nine rebounds, and Finley added 22 points, six rebounds and four assists. Mike Bibby and Cuttino Mobley each scored 26 for the Kings. Darius Songaila got off to a good start in his increased role by posting a career-high 23 points and a season-high 12 rebounds. Devin Harris added 11 points off the bench for Dallas before leaving with a strained neck late in the third when he ran into a blind pick by Brad Miller. Mavs coach Don Nelson was ejected for heatedly arguing that no foul was called.
Clippers 92, Timberwolves 86: At Los Angeles, Elton Brand scored 24 points to help Los Angeles snap an eight-game losing streak with a victory over Minnesota. Corey Maggette added 19 points for Los Angeles and Chris Kaman had 13 points and 10 rebounds. Kevin Garnett had 14 points and eight rebounds for Minnesota while playing just 32 minutes because of foul trouble.
Knicks 113, 76ers 101: At New York, Kurt Thomas scored 21 points on 10-for-11 shooting to lead New York past Philadelphia. Thomas also grabbed 12 rebounds, and Tim Thomas shot 10-for-14 and scored 27 points for the Knicks. The Sixers were led by Allen Iverson's 29 points. The Knicks outscored Philadelphia 32-22 in the fourth quarter to secure the win. Stephon Marbury had 17 points and 12 assists, and Jamal Crawford added 16 points and nine assists for New York.
Shaq has sprained knee
Miami Heat All-Star center Shaquille O'Neal has a mildly sprained left knee and might play Saturday against the Orlando Magic.
An MRI exam confirmed a very mild sprain, the team said. O'Neal didn't comment to reporters waiting outside the hospital, and is listed as day to day.
O'Neal, a 12-time All-Star, is averaging 22.7 points – on an NBA-best 59.9 percent from the field – and 10.4 rebounds this season.
Around the League
Charlotte Bobcats center Jahidi White will undergo surgery on his injured right shoulder and miss the rest of the season, the team said.
Local journalism is essential.
Give directly to The Spokesman-Review's Northwest Passages community forums series -- which helps to offset the costs of several reporter and editor positions at the newspaper -- by using the easy options below. Gifts processed in this system are not tax deductible, but are predominately used to help meet the local financial requirements needed to receive national matching-grant funds.
Subscribe to the sports newsletter
Get the day's top sports headlines and breaking news delivered to your inbox by subscribing here.
---