News > Features
Teaching war
Mon., Jan. 3, 2005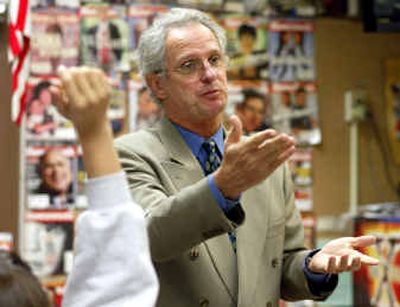 SANTA ANA, Calif. — Near the end of class, they catch themselves staring at the clock, like many high school students do. But these kids want the clock to go slower. They want more time.
This week, the students in El Toro High School's Contemporary Issues class were comparing the news coverage of a U.S. Marine shooting an Iraqi prisoner with the coverage of the death of an aid worker at the hands of militants in Iraq.
Their discussions are spirited, open and respectful. The war in Iraq and all its ramifications are not taboo in teacher Jim Utt's class — neither are topics like abortion, prostitution or the death penalty. He starts the arguments almost every day.
And the clock moves too fast.
"When the bell rings, that's the worst," said Samantha Thomas, a senior.
The talk of war reverberates through Orange County schools almost every day. Administrators, school psychologists and teachers have to figure out a way to channel the discussions toward education and understanding, rather than knee-jerk insult sessions.
"No administrators are telling teachers to avoid those discussions," said Arthur Cummins, the Orange County Department of Education's Crisis Response Network Coordinator. "But the word I would use to describe how teachers should talk to a student is: guarded."
In schools, war is hard.
Teachers try not to let war become polarizing and uncomfortable. They use the daily news to provoke "teachable moments" in an otherwise difficult situation, Cummins said.
As Cummins explains, many Orange County classrooms can have both students of Middle Eastern descent or Muslims and students whose family and friends are with the U.S. Armed Forces fighting in the Middle East.
By "guarded," Cummins means that discussions of war should be culturally sensitive. All points of view should be represented and respected. The teacher's point of view should be absent from the discussion.
Being guarded, Cummins said, "is right and fair to the multiethnic students sitting in the classroom."
The war is a common topic in 10th grade Modern World History, 11th grade Modern U.S. History and 12th grade Economics and Government. All those classes conform to the standards required by the state.
The most important lesson is respect for everyone, said Debbie Granger, the county coordinator for high school history and social sciences.
"We need to teach students how to analyze events from several points of view," Granger said.
The discussions about war should be more fact-based talk than talk radio.
"Students shouldn't say, `I'm for or against the war because my Dad is,"' Granger said. "You need some facts to back up your argument. You need to think like a social scientist. Let's find out if what I'm hearing is from a credible source."
In Utt's Contemporary Issues class, the discussion doesn't appear to be guarded at all. But Utt, a teacher at El Toro since 1976, has rules that keep the debates respectful.
"No swear words," his students are quick to point out.
If his class is lopsided in its support for President George W. Bush's policies in Iraq (which it is), he will take the role of a Bush opponent.
If, on some issues, the class tilts left, Utt jumps to the right. He refuses to tell the students his personal politics. He is the grandson of James Utt, a former Orange County congressman who vigorously attacked communism, welfare, civil rights and the United Nations until he died in 1970.
But Jim Utt, the teacher, is a registered independent.
"I never let the kids know what I actually think," said Utt, who leads discussions in front of a wall that is papered with covers of Newsweek magazine, which serves as his class textbook.
He often presides over "the horseshoe," a U-shaped arrangement of desks in which, for example, the anti-war students sit on the left and the students who support U.S. policies in Iraq sit on the right. When the issues change, the students switch seats depending on their positions. He hands out "pro-con sheets" that define the issues from several points of view.
Then, his students go at it. He steps in to keep the discussions from getting personal.
"It's important for me to teach the kids to attack the person's ideas, not the person," Utt said.
It's working.
In Utt's class, the few anti-war students can be seen during breaks hanging out with the Bush supporters. They leave their politics in the classroom forum.
"It would be a bigger problem not to talk about the war," said Justin Shomaker, a senior.
Shomaker said he can't believe the depth of Utt's knowledge of current events.
"I'm positive he sleeps with a news feed going into his head," Shomaker said.
The students appreciate the candor of the class.
"We're seniors," said Nadia Khan, an anti-war student. "We're old enough to know all the things about the war. We know people are dying."
Local journalism is essential.
Give directly to The Spokesman-Review's Northwest Passages community forums series -- which helps to offset the costs of several reporter and editor positions at the newspaper -- by using the easy options below. Gifts processed in this system are not tax deductible, but are predominately used to help meet the local financial requirements needed to receive national matching-grant funds.
Subscribe now to get breaking news alerts in your email inbox
Get breaking news delivered to your inbox as it happens.
---