News > Nation/World
'Difficult mission' for Abbas
Mon., Jan. 10, 2005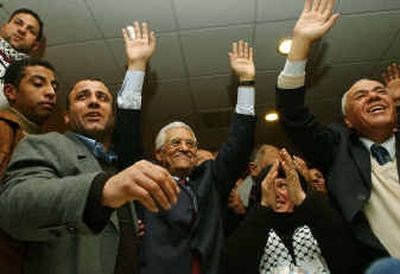 RAMALLAH, West Bank – In 1965, he helped found Fatah, the dominant Palestinian party. In 1993, he stood on the White House lawn as Palestinian leader Yasser Arafat and Israeli Prime Minister Yitzhak Rabin shook hands in a historic grasp. When the current intifada, or uprising, began in 2000, he was among the first Palestinian leaders to denounce violence, saying it only provoked harsher Israeli measures against Palestinians.
With his apparent victory in Sunday's election to choose Arafat's successor as president of the Palestinian Authority, Mahmoud Abbas will have a chance to put his own imprint on the Middle East peace process. In declaring victory, Abbas, 69, acknowledged the challenge.
"There is a difficult mission ahead to build our state, to achieve security for our people … to give our prisoners freedom, our fugitives a life in dignity, to reach our goal of an independent state," Abbas said.
It is a goal Palestinians failed to reach under Arafat, who in his last years was made a pariah from the peace table by Israel and the United States.
Yossi Beilin, an Israeli Knesset member who has sat in negotiations with Abbas, says, "He is one of those who thinks Israel should have never been established." But, says Beilin, "He is a very pragmatic person" who understands there must be a two-state solution.
Abbas began secret negotiations with Israeli officials even before Sunday's vote, says Gil Feiler, a political scientist at the Begin-Sadat Center for Strategic Studies at Bar-Ilan University in Ramat Gan, Israel. "He maintains good connections with the Israeli government," he says. "Contacts will be strengthened tremendously" under Abbas.
Although Israeli officials took no sides publicly in the Palestinian election, it is clear that the government of Prime Minister Ariel Sharon is pleased with the results.
"Palestinians have got a real second chance to move away from the strategy of terror," Sharon spokesman Raanan Gissin says. "We do think there is a potential for him to be a partner for peace."
Abbas wandered the Middle East since Israel's founding in 1948, when at 13 he and his family left their home in Safed in what is now northeast Israel.
He spent his teen years in Syria, later earning a law degree at the University of Damascus before studying for a doctorate in Moscow. After marrying another displaced Palestinian, with whom he had three sons, he moved to Qatar to work as a teacher and government personnel director. In the meantime, Abbas got in with a group of ardent Palestinian activists who would go on to form the Palestine Liberation Organization.
Abbas tried to root out corruption and cronyism in the Palestinian Authority after the international community and other Palestinians pressured him in 2003 to become the authority's first prime minister in a strategy to bypass Arafat. But the administrator in conservative business suits found himself stymied by Arafat. Abbas quit after only four months.
Local journalism is essential.
Give directly to The Spokesman-Review's Northwest Passages community forums series -- which helps to offset the costs of several reporter and editor positions at the newspaper -- by using the easy options below. Gifts processed in this system are not tax deductible, but are predominately used to help meet the local financial requirements needed to receive national matching-grant funds.
Subscribe now to get breaking news alerts in your email inbox
Get breaking news delivered to your inbox as it happens.
---