News > Idaho
Staff tests merit of NIC pay plan
Mon., Jan. 10, 2005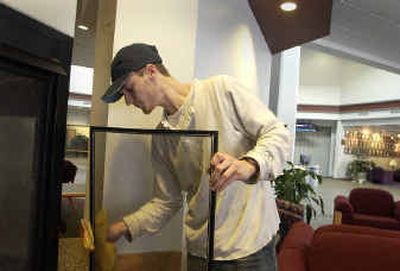 Will Brown doesn't have any problems with his boss and – as far as he knows – his boss is happy with the work he's doing at North Idaho College.
So, the kitchen prep cook said he isn't too concerned about the college president's directive that his pay be tied to his performance evaluation.
"I find it pretty easy to get along with my supervisor," Brown said Friday. "They keep me happy, I keep them happy."
But not all NIC staff is comfortable with the prospect of merit pay. Merit pay was one recommendation from a recent salary study and is now the administration's preferred method of moving non-teaching salaries up the pay scale.
At a meeting last month, staff had plenty of questions for NIC President Michael Burke, like "What if my boss doesn't like me?"
Human Resources Director Brenda Smith said the idea of performance pay is scary for some employees. For that reason, she said it's important to educate employees and managers alike on how a performance-pay system would work.
In a "good, solid system," Smith said, employees and managers set goals for themselves and their department. She said they should revisit those goals throughout the year, adjust them if necessary and have an annual performance evaluation to see if those goals are being met.
"Your pay is tied to your performance," Smith said. "If you're a solid performer, you get an increase. If you're a stellar performer, you get a bigger increase."
Last spring, classified and professional employees were moved to a market-based compensation system. The move followed the recommendations of a consultant hired to conduct a compensation study at NIC. The study found many NIC employees were being paid below the market minimum for their profession.
The new, market-based system moved employees to at least the minimum average pay for their profession. Under the new system, though, NIC needed to decide a way to determine how and when employees would get pay increases.
One of the consultant's recommendations, Smith said, was a pay-for-performance model.
According to minutes of staff assembly meetings last spring, an ad hoc committee was asked to examine "merit-based pay, longevity, COLAs (cost-of-living adjustments), and other options for moving through the new market-based salary ranges."
In the following months, the committee heard presentations from other businesses and government agencies on the different compensation methods. The minutes of staff assembly meetings reflect the group was surveying employees and studying the different options.
In November, "the committee received a new charge from President Burke," according to an update on the NIC Web site. Burke told staff the college would be moving to an exclusive pay-for-performance system.
At the next staff assembly meeting, employees discussed Burke's instruction to the committee.
According to the meeting minutes, employee Dalona Lee "asked for an explanation of why the charge was changed without notice" and said the news "damaged her trust in the committee and Dr. Burke."
Burke could not be reached for comment, but Smith said he didn't change his charge.
"He was clarifying his charge," Smith said. "The committee was going in different directions. He just came in and reclarified the charge."
Several staff members contacted this week declined to comment.
Lewis Watkins, a student adviser and member of the committee, said Friday that "there are pockets of campus that are concerned" about performance pay.
"We're finding once people are getting educated, they really find it could work," Watkins said.
Smith said the system will be tightly managed. She said it's important to note that managers will be held to the same standards as their employees and also be paid for performance. An appeals process could be put in place for employees who don't agree with the evaluation they receive.
The performance-pay system won't be put in place until after the next fiscal year, Smith said.
"We have some other salary issues to address first," she said. "I have a strong interest to make sure this is done well and done right."
Local journalism is essential.
Give directly to The Spokesman-Review's Northwest Passages community forums series -- which helps to offset the costs of several reporter and editor positions at the newspaper -- by using the easy options below. Gifts processed in this system are not tax deductible, but are predominately used to help meet the local financial requirements needed to receive national matching-grant funds.
Subscribe now to get breaking news alerts in your email inbox
Get breaking news delivered to your inbox as it happens.
---