News > Nation/World
Leaders welcome Palestinian leader
Tue., Jan. 11, 2005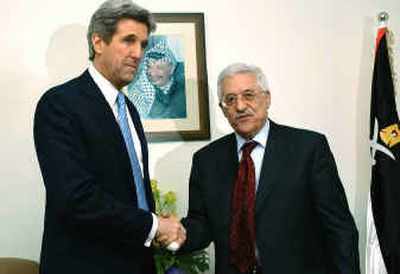 LONDON – World leaders on Monday welcomed the election of Mahmoud Abbas as Palestinian Authority president, saying it showed Palestinians want to reform their government and find a negotiated solution with Israel.
German Chancellor Gerhard Schroeder said his country and other European nations would do everything possible to help Abbas create an "independent, viable and democratic" Palestinian state.
"I trust that the Palestinian people will follow the path you have chosen of renouncing violence and carrying out comprehensive reforms," Schroeder wrote in a telegram to Abbas, whom he invited to visit Germany.
Russian President Vladimir Putin also sent a message to the Palestinian leader, looking forward to cooperation on achieving "a just Palestinian-Israeli settlement on the basis of the 'road map' (peace plan) and resolutions of the UN Security Council.
"I am sure that your example of political experience will permit you to effectively perform the lofty mission entrusted to you by the Palestinian people," Putin wrote, according to his press office.
President Bush said he would welcome Abbas to the White House, extending an invitation he refused to offer to the late Yasser Arafat.
"I look forward to welcoming him here to Washington if he chooses to come here," Bush said, speaking to reporters in the Oval Office.
Abbas, who has spoken out against violence, is widely seen as a pragmatist committed to resuming peace talks with Israel, although he faces the tough task of reining in powerful armed groups.
British Foreign Secretary Jack Straw congratulated Abbas after the landslide victory in the vote to replace Arafat, who led the Palestinian movement during four chaotic and corruption-riddled decades until his death Nov. 11.
"The Palestinian people have already demonstrated their commitment to democracy," Straw told a news conference. "The challenge now is for the new president to use his mandate to lay the foundations for a new Palestinian state."
British Prime Minister Tony Blair planned to speak to Abbas by phone later Monday, Blair's spokesman said. Final results later showed that Abbas won 62.3 percent of the vote.
French Foreign Minister Michel Barnier said the peaceful vote was "a victory for democracy, a first victory for peace."
European Commission President Jose Manuel Barroso said the election of the pragmatic Palestinian "adds to the credibility of the peace process."
The EU deployed some 200 election observers for the Palestinian vote in its largest election monitoring program ever. The operation cost $18.3 million.
Austria's foreign minister, Ursula Plassnik, called Abbas' election "an encouraging step toward peace" in the Middle East
Local journalism is essential.
Give directly to The Spokesman-Review's Northwest Passages community forums series -- which helps to offset the costs of several reporter and editor positions at the newspaper -- by using the easy options below. Gifts processed in this system are not tax deductible, but are predominately used to help meet the local financial requirements needed to receive national matching-grant funds.
Subscribe now to get breaking news alerts in your email inbox
Get breaking news delivered to your inbox as it happens.
---