A&E > Entertainment
Fishbone pays a call while new joints get jumping
Fri., Jan. 14, 2005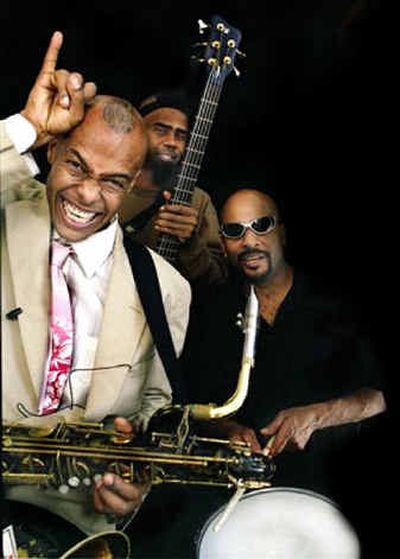 The members of frantic funk-rock-ska outfit Fishbone haven't been playing music over the past few weeks, but they've been surfing a little and partying – a lot.
"We don't practice that much. We just try to have fun. Our guys play well enough that we don't need to practice. We'll practice a little to get warmed up, but we'll party hard first," said Fishbone's founding bassist Norwood Fisher who, along with drummer John Stewart, recently has become a hardcore surf aficionado.
This time around Los Angeles-based Fishbone features new members: guitarist Rocky George from Suicidal Tendencies, guitarist Torri Ruffin from Morris Day and The Time, and Dre Gipson, keyboardist from Eek-A-Mouse, along with Norwood, Stewart and frontman Angelo Moore.
Though Fishbone has a die-hard cult following on the underground circuit, it still hasn't collected the props it deserves.
Stewart suspects race is a factor.
"It's the same way it's always been in this country. Elvis was what he was. Not that he wasn't talented, but it's easy to digest something when it's served up in a different forum. The blues didn't get its proper recognition until the British invasion and that was just a reinterpretation of the blues," Stewart said.
Fisher tries not to dwell on what-ifs.
"I wouldn't mind having truckloads of money," Fisher said. "But I've been fortunate enough to play music my entire adult life without a day job."
Fishbone returns to Fat Tuesday's, 109 W. Pacific Ave., on Sunday at 7 p.m. with locals Jupiter Effect, Carcinogens and 10 Minutes Down. Tickets for the all-ages show are $10 at the door.
Nightclub newcomers
Two new music venues have opened in town.
An exclusive live blues bar, restaurant and casino, Bluz at the Bend opened just before the new year at 2721 N. Market St. in Hillyard.
On the outside, Bluz at the Bend is modeled after a roadside tavern in the South, inside plasma TVs play blues DVDs and images of live shows at the bar. The restaurant – capacity 150 – features select items such as ribs, catfish and fried green tomatoes, as well as burgers and sandwiches. It is also open for lunch. The casino – capacity 75 – offers blackjack and trips.
Bluz at the Bend hosts live blues bands on the weekends, including a members-only blues jam on Sunday nights featuring local favorite Riverside Rhythm and Bluez Review.
Get familiar with the new venue tonight and Saturday at 9 p.m. with Papa Glenn and the Border Run Blues Band. No cover.
While Bluz at the Bend keeps it bluesy, various styles of music can be heard at the quaint Rock Coffee shop at 920 W. First Ave., inside the Big Easy mall.
Open from 7 a.m. to midnight, the 75-person capacity Rock Coffee presents a hip study environment for students, plus live music and poetry, or simply a hang-out spot without the booze and smoke of a bar.
Rock Coffee hosts a soft- opening tonight with former Spokane street pianist Dax Johnson.
Fresh off a college tour, Portland, Ore.-resident Johnson leaves the keys at home to unveil his indie-rock vocal/guitar solo project. He'll be accompanied by singer-songwriter York.
Showtime is 6 p.m. There is a $6 cover that includes a complimentary cup of coffee/ espresso or tea.
The show is a preview of Johnson's "Fantasy Island" concert on Jan. 22 at The Met that features Johnson on piano and guitar/ vocals, accompanied by The Side Project's Suzie Anderson, plus break dancers, rappers and more. Anyone who attends the Rock Coffee show can buy tickets for the $17 Met show at half-price.
Club hoppin'
The 2005 RAWK Final Four kicks off Saturday at 6 p.m. at Fat Tuesday's, with local all-ages bands Catalyst, The Electrostatics, Your Name Here, Johnny Get Down and A Solid Something. Local ska-punk-pop act 10 Minutes Down plays an exhibition set at the show as well.
The competition continues for the next three Saturdays with winners of each round competing in the Feb. 26 finals. Each round winner will receive $100. The grand prize is an expenses-paid recording package from Seattle's Delve Music.
Advance tickets are $7 through band members (check www.rawkonline.com for details), $10 at the door. Event passes are $25 through 4000 Holes, 1502 N. Monroe St., and Boo Radley's, 232 N. Howard St.
Local journalism is essential.
Give directly to The Spokesman-Review's Northwest Passages community forums series -- which helps to offset the costs of several reporter and editor positions at the newspaper -- by using the easy options below. Gifts processed in this system are not tax deductible, but are predominately used to help meet the local financial requirements needed to receive national matching-grant funds.
Subscribe to the Spokane7 email newsletter
Get the day's top entertainment headlines delivered to your inbox every morning.
---