Sports
Wie is fans' choice, but she's way back
Fri., Jan. 14, 2005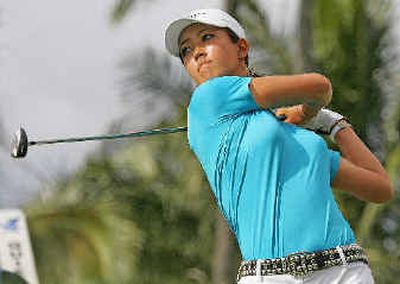 HONOLULU – After scrambling to salvage a 5-over-par 75, Michelle Wie plopped down in a chair and playfully stuck out her bottom lip as if she had just been scolded.
The 15-year-old quickly found one positive note from a tough time Thursday in the Sony Open.
"At least I'm not in last place," Wie said.
Wie finished better than 10 men among early starters on a blustery day at Waialae Country Club, but she was nine shots behind co-leaders Stewart Cink and Brett Quigley, and facing an uphill path to her dream of making the cut.
Still, she wasn't the only one who struggled. The Kona wind, rare for these parts, gusted up to 25 mph and wreaked havoc on most everyone. Two-time defending champion Ernie Els had to birdie the last hole for a 71, while Vijay Singh stumbled home to a 69.
"It was hard hitting every shot – the drive, approach shot was difficult," Singh said. "It's tough for the boys over here, you know? Going to be tough for a girl here, too."
Wie opened with a 72 last year at the Sony Open, then followed that with a 68 – the lowest score by a female competing on a men's tour. She missed the cut by one shot.
Given Thursday's conditions, her 75 wasn't that bad. She hit several shots she didn't have last year, such as a knockdown driver to keep the ball low into a wind that caused palm trees to sway.
"I was very impressed, all the different shots she was playing," said Matt Davidson, a Q-school grad who unwittingly made his PGA Tour debut playing in front of some 3,000 people, enough to line every fairway from tee-to-green, standing six-deep behind the ninth green when they finished the round.
"I didn't feel like I was playing with a 15-year-old girl," Davidson said. "She's very polished. She has all the tools to be out here."
Brett Wetterich also played with Wie and had a 70.
Quigley and Cink each shot 66, and hardly anyone noticed. Almost everyone at Waialae came to watch the 10th-grader try to prove she can play with the boys.
Quigley birdied both par 5s, but really made up ground with a chip-in from 60 feet for birdie on No. 1, which plays into the wind and left the strongest players reaching for a 3-iron for their second shot.
"That was stealing two shots there, for sure," Quigley said.
Cink was among those who had a chance at victory last week at Kapalua in the winners-only Mercedes Championships until he bogeyed two of three last holes. He got right back into the mix with a steady, bogey-free round that included an eagle on the par-5 ninth.
Chad Campbell also was 4 under with nine holes to play. Dean Wilson, the only card-carrying member on the PGA Tour from Hawaii, started the week as the fourth alternate and got in when enough players withdrew. He made the most of his chance and was 3 under at the turn.
Local journalism is essential.
Give directly to The Spokesman-Review's Northwest Passages community forums series -- which helps to offset the costs of several reporter and editor positions at the newspaper -- by using the easy options below. Gifts processed in this system are not tax deductible, but are predominately used to help meet the local financial requirements needed to receive national matching-grant funds.
Subscribe to the sports newsletter
Get the day's top sports headlines and breaking news delivered to your inbox by subscribing here.
---