Sports
Badgers startle Spartans
Mon., Jan. 17, 2005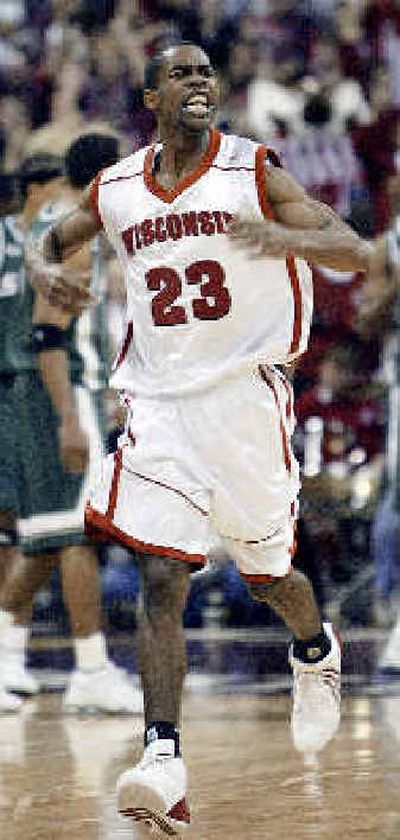 Wisconsin coach Bo Ryan credited the crowd with helping to keep the Badgers' home winning streak alive.
Kam Taylor scored the go-ahead basket with 37.3 seconds left and Wisconsin (12-3, 3-1 Big Ten) scored the final 11 points Sunday, beating No. 15 Michigan State 62-59 and extending the longest home winning streak in Division I to 38 games.
Ryan called the crowd the "X-factor" and said the fans were the loudest he had ever heard at the Kohl Center.
The Badgers rallied from an eight-point deficit in the final 1:55.
"We sucked in some of that energy," Ryan said. "That's encouraging to your players. The fans really hung with us on that one."
Paul Davis scored 20 points to lead Michigan State (10-3, 2-1).
Elsewhere
(5) Duke 80, Virginia 66: At Durham, N.C., J.J. Redick scored 20 of his 28 points in the second half to help the Blue Devils (13-0, 3-0 Atlantic Coast Conference) beat the Cavaliers (9-5, 0-4). Shelden Williams added 16 points, 11 rebounds and nine blocks for Duke. Sean Singletary scored 21 points to lead the Cavaliers.
N.C. State 76, (8) Georgia Tech 68: At Raleigh, N.C., Ilian Evtimov led a balanced attack with 17 points, including a clutch late 3-pointer, and the Wolfpack (11-5, 1-2 ACC) beat the Yellow Jackets (11-4, 2-2) to snap a four-game losing streak. Five players scored in double figures for the Wolfpack. Jarrett Jack had 16 points for Georgia Tech., who missed their guard and second-leading scorer B.J. Elder for the fourth straight game with a sore left hamstring.
(13) Boston College 73, West Virginia 53: At Morgantown, W. Va., Jared Dudley scored 21 points, Craig Smith added 20 and the Eagles (14-0, 3-0 Big East) beat the Mountaineers (11-3, 1-2) for the Eagles' eighth straight road win. Jermaine Watson came off the bench to add 13 points for the Eagles. Mike Gansey scored 14 points and Tyrone Sally had 13 for West Virginia. Boston College is one of four unbeaten Division I team, including No. 1 Illinois, No. 3 Kansas and No. 5 Duke.
Demetris suspended indefinitely
Pittsburgh starting guard Yuri Demetris was suspended indefinitely for disciplinary reasons.
Coach Jamie Dixon said in a statement that Demetris would not practice while serving the suspension. Dixon did not indicate when or if Demetris would rejoin the No. 20 Panthers (12-2, 2-1 Big East).
"Discipline and proper behavior must remain the foundation of our program," Dixon said.
Banks ineligible for rest of season
Memphis sophomore forward Sean Banks will sit out of the rest of the season after being declared academically ineligible.
Banks, who started 10 games this season and was averaging 14.5 points and 5.8 rebounds, said he hopes to take classes at another school to help regain his eligibility.
"I'm sorry that I let my teammates, coaches, Coach (John) Calipari, the university and the city of Memphis down," Banks said Sunday. "The situation I am in is my own fault."
Local journalism is essential.
Give directly to The Spokesman-Review's Northwest Passages community forums series -- which helps to offset the costs of several reporter and editor positions at the newspaper -- by using the easy options below. Gifts processed in this system are not tax deductible, but are predominately used to help meet the local financial requirements needed to receive national matching-grant funds.
Subscribe to the sports newsletter
Get the day's top sports headlines and breaking news delivered to your inbox by subscribing here.
---