Sports
Brady, defending champs have last laugh at Manning's expense
Mon., Jan. 17, 2005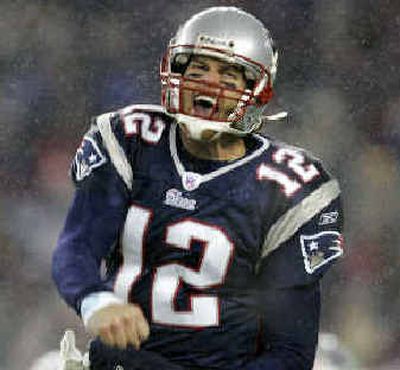 FOXBORO, Mass. – This has become an annual ritual. Peyton Manning wins the NFL regular season, then hands off the baton to Tom Brady.
Rather, the world-champion New England Patriots grab what they know is rightfully theirs until somebody else does more than bluff. With their 20-3 smothering of the high-scoring Indianapolis Colts on Sunday, the Patriots travel to Pittsburgh on Sunday for the AFC championship game.
That game will give them both a chance to atone for a 34-20 loss Oct. 31 at Heinz Field and a chance to go for their third Super Bowl title in four years.
The way the Patriots frustrated and swarmed veteran Manning and his offense had to make Pittsburgh fans cringe in anticipation of what coach Bill Belichick will have in store for undefeated rookie Ben Roethlisberger.
"Peyton played very hard," said Brady, the quarterback who has never lost a playoff game in seven starts and is now 6-0 against Manning and the Colts. "Our defense made it very tough on him."
Manning failed to get close to an end zone he had punctured for an unprecedented 49 touchdown passes this season. But Patriots linebacker Willie McGinest said it wasn't a perfect game.
"Nah, we let Vanderjagt kick a field goal," he said. "We let that bum kick a field goal. Mr. Know-it-all."
Mike Vanderjagt had declared the Patriots ripe for the picking. Actually, they seem to remain in full blossom.
Playing without their alleged two best defensive players, lineman Richard Seymour and cornerback Ty Law, the Patriots turned in what Belichick termed their "best 30 minutes of the season in the second half."
As snow covered the yard-markers and swirled around Gillette Stadium, the white uniforms of the Colts were rendered practically invisible, as if the Patriots were literally whiting out Manning's year.
The Colts hadn't been held to three points since 1997, the year before Manning arrived. When the Patriots beat the Colts 27-24 on opening day, the Colts had the excuse of turning the ball over three times inside the 20-yard line. So this time, the Patriots allowed the Colts to run only four plays inside the 20.
Brady and running backs Corey Dillon and Kevin Faulk wore out the Indianapolis defense with magnificent 16-play, 15-play and 14-play scoring drives of 78, 87 and 94 yards, swallowing a total of 24 minutes 47 seconds. Overall, the Patriots controlled the ball for 37:43 while Manning and his weapons stewed on the sideline.
"Our biggest defense was our offense keeping us off the field," McGinest said.
Dillon, obtained in a trade from Cincinnati in the off-season, plowed for 144 yards on 23 carries in his first playoff game, and Faulk added 56 yards on 11 carries, both outgaining Edgerrin James' 39 yards on 14 carries.
Brady, barking audibles the way Manning usually does, completed 18 of 27 passes for a modest 144 yards and one touchdown, but the Patriots had no turnovers – "what I'm most proud of," Brady said. And they converted eight of 15 third downs.
Patriots 20, Colts 3
Local journalism is essential.
Give directly to The Spokesman-Review's Northwest Passages community forums series -- which helps to offset the costs of several reporter and editor positions at the newspaper -- by using the easy options below. Gifts processed in this system are not tax deductible, but are predominately used to help meet the local financial requirements needed to receive national matching-grant funds.
Subscribe to the sports newsletter
Get the day's top sports headlines and breaking news delivered to your inbox by subscribing here.
---