Sports
Quick start carries Eagles past Vikings
Mon., Jan. 17, 2005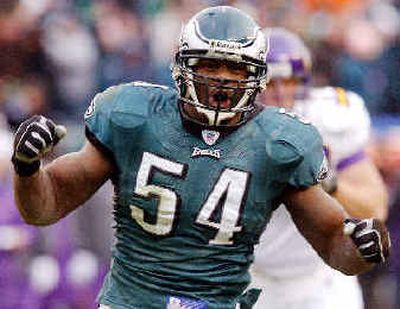 PHILADELPHIA – The ball popped out of L.J. Smith's arms like bread out of a toaster. And when it landed in Freddie Mitchell's hands for a bizarre touchdown, some of the Philadelphia Eagles thought they saw a deeper meaning.
"We all know the ball in previous years might have bounced somewhere else," said quarterback Donovan McNabb, thinking of the Eagles' three straight NFC championship game losses.
Mitchell's second-quarter touchdown, which went into the books as a fumble recovery, helped the Eagles beat the Minnesota Vikings 27-14 in Sunday's NFC semifinal.
The victory sends Philadelphia to the NFC championship game for the fourth consecutive year, the third straight at home. The Eagles will meet the Atlanta Falcons on Sunday with a Super Bowl berth at stake, as was widely expected when they wrapped up the top NFC seeds a month ago.
The Vikings headed home after a day on which Randy Moss made no news except for not being a factor, dropping a pass and missing a chance to score when the Vikings botched a fake field-goal attempt.
In short, the Vikings made it easy for an Eagles team that was playing a game it needed to win for the first time without Terrell Owens, who broke his right leg as they clinched the top seed in a Dec. 19 victory over Dallas.
McNabb got the Eagles off to a fast start with two touchdown passes in just under 16 minutes, a 2-yarder to Mitchell and a 7-yarder to running back Brian Westbrook. McNabb completed nine of his first 12 passes for 124 yards, including the two touchdowns.
"It was good to start fast, at least relatively fast," Eagles coach Andy Reid said. "We scored on three of the first four possessions, and I thought that was very important against this team."
Without Owens, the Eagles made it a point to isolate Westbrook on linebackers. He had five catches for 47 yards – not huge numbers, but he did score the touchdown that staked the Eagles to a 14-0 lead.
"There's only so many cornerbacks they can put out there," Reid said.
Said Vikings cornerback Antoine Winfield: "With Terrell Owens, they have that deep threat. They really don't have that, but they have some complementary receivers. Mitchell stepped up … and then they worked underneath with their tight ends and Westbrook on our linebackers. They had a pretty good game plan."
The key play in the Eagles' second touchdown drive was a 52-yard McNabb bomb to wide receiver Greg Lewis, who has moved up to No. 3 on the depth chart because of Owens' injury.
After Westbrook's TD, Vikings QB Daunte Culpepper directed a 58-yard drive and scored on a 7-yard run.
J.R. Reed's 48-yard kickoff return then set up the Eagles at the Minnesota 46. After McNabb threw incomplete on first down, consecutive pass-interference calls gave the Eagles the ball on Minnesota's 14, setting up Mitchell's fumble recovery for a touchdown.
McNabb hit Smith over the middle, and Winfield delivered a picture-perfect hit to force the fumble that became a touchdown and a 21-7 Eagles lead, proving it wasn't the Vikings' day.
More evidence came on the Vikings' next possession. They drove to the Eagles' 3 and lined up for a fake field goal, intending to throw to Moss in the end zone. But an extra lineman was in the game, so Moss ran off the field, and when holder Gus Frerotte popped up to throw to Moss, he threw the ball away.
The Vikings couldn't get back in the game in the third quarter, turning the ball over on their first two possessions.
After that the Eagles added field goals of 21 and 23 yards by David Akers, and Culpepper threw a 32-yard touchdown pass to Marcus Robinson with 1:59 to play to make it look closer than it really was.
Eagles 27, Vikings 14
Local journalism is essential.
Give directly to The Spokesman-Review's Northwest Passages community forums series -- which helps to offset the costs of several reporter and editor positions at the newspaper -- by using the easy options below. Gifts processed in this system are not tax deductible, but are predominately used to help meet the local financial requirements needed to receive national matching-grant funds.
Subscribe to the sports newsletter
Get the day's top sports headlines and breaking news delivered to your inbox by subscribing here.
---