News > Spokane
The view from the bus window
Mon., Jan. 17, 2005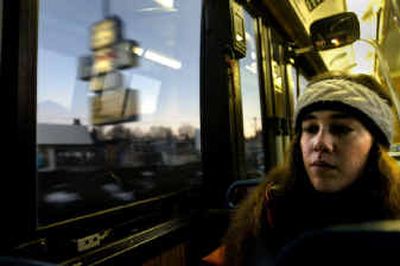 Monday through Friday, Kay Hurlbut boards a lumbering Spokane Transit Authority bus at the corner of Progress Road and Sprague Avenue, and then travels to a doctor's office downtown where she works.
She's made this trip so often, rolled over the bumps in the 13-mile street's far right lane so many times, she could probably read them like Braille. What she can't do is say much about the signs along the sprawling retail strip. The signs are a blur even at 35 mph, which gives Hurlbut about 3.5 seconds to read one and a mere sliver of time before the next one appears.
"Riding every day, I tend not to even look at the signs – one of the joys of riding STA," Hurlbut said Friday on her way to work.
There's a debate stewing at Spokane Valley's City Hall over business signs, how many there should be, how big, how tall and where the signs should be allowed. The answers to those questions, according to a blue ribbon panel of businesspeople selected to study signs by Spokane Valley's City Council are: more, bigger, taller and everywhere.
Valley residents who voted to take down 15 area billboards three years ago, and in an earlier survey ranked signage as a top suburban problem, weren't consulted.
There's good reason for debate. Signs are all about getting noticed. And if you haven't noticed, Spokane Valley's number of empty storefronts along the city's business corridors is increasing.
This week's Exit 289 asked STA riders on Sprague Avenue to list all the signs they actually noticed, to see just how eye-catching the advertising was. We also asked them if more signs and bigger signs in more places would be an improvement.
After five miles on Sprague Avenue, from Progress Road to the west city limits at Havana Street, Hurlbut handed over a list of signs she was actually able to read. They numbered 55, or about 10 a mile, including a few real estate signs in front of closed buildings.
Hurlbut used to sell real estate, so she watches for those signs. Not one message board made her list. She did take note of the heart on the Farmers & Merchants Bank near University City, the International House of Pancakes near Costco, and the trophy-esque Jaremko Nissan sign on auto row, but that was about it.
Hurlbut said cleaning up the clutter of signs on Sprague couldn't hurt.
Lydia Quinones, who rode bus route 90 from Barker Road to University City, noticed a few signs, but didn't find them as eye-catching as other things on the curb.
"I mainly notice blinking or lit signs, or signs with letters burnt out particularly catch my eye," Quinones said. "There are too many signs because the biggest ones block out the little signs or make the street so busy that I don't notice the little store hidden in the back."
Architecture actually caught Quinones' eye more than the signs did, she said. She noted that making storefronts more unique and appealing would be more effective than adding more, or bigger, signs.
What the city is really lacking, said Dan Cyres, are addresses clearly posted on storefronts. A cab driver by trade, Cyres said driving down the street searching for an address that isn't posted is challenging.
But Mike Folkes thought bigger signs were a good idea, more signs, too. Folkes, who boards the eastbound bus at an Edgecliff mobile home park at Appleway Avenue and Park Road, said he'd like to see some signs on Appleway. The avenue is currently off limits to signs, and most businesses for that matter. Spokane Valley allows businesses along Sprague to share small signs on Appleway advertising their businesses, but the mud-flap sized signs are too small for Folkes.
Of course, Folkes said, maybe global positioning systems will soon make signs irrelevant. We'll be able to find our destinations without squinting upward through a hodgepodge of placards or the massive sheets of light that can't even seem to attract moths.
Local journalism is essential.
Give directly to The Spokesman-Review's Northwest Passages community forums series -- which helps to offset the costs of several reporter and editor positions at the newspaper -- by using the easy options below. Gifts processed in this system are not tax deductible, but are predominately used to help meet the local financial requirements needed to receive national matching-grant funds.
Subscribe now to get breaking news alerts in your email inbox
Get breaking news delivered to your inbox as it happens.
---