Sports
Agassi laughs last
Sun., Jan. 23, 2005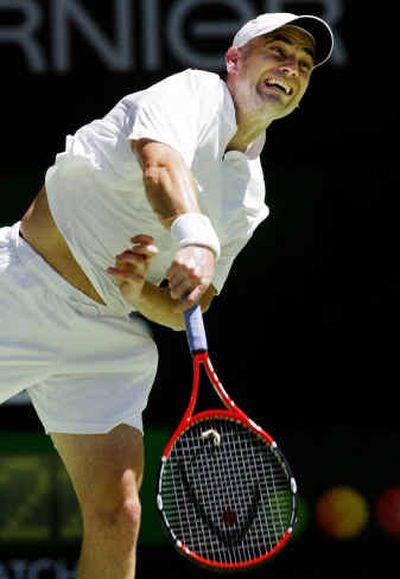 MELBOURNE, Australia – Andre Agassi overcame a record number of aces from Joachim Johannson on Sunday and set up an Australian Open quarterfinal against defending champion and top-ranked Roger Federer.
Agassi, an eight-time Grand Slam winner and four-time champion in Australia, produced one of his great performances to defeat the 6-foot-6 Johansson, who slammed 51 aces in their 2-hour, 38-minute fourth-round match.
One of the best returners of serve, the 34-year-old Agassi endured Johansson's serves, breaking the Swede three times to win 6-7 (4), 7-6 (5), 7-6 (3), 6-4.
Agassi dropped his own serve twice, at the start of the first and fourth sets, and made only 13 unforced errors in the match.
"It was a tough day," said Agassi. The 11th-seeded Johansson was pushing the limits on almost every shot. He mixed 66 unforced errors with a remarkable 96 winners, including his aces and service winners.
He surpassed Richard Krajicek's mark of 49 aces in a match at the 1999 U.S. Open. Krajicek also set his record in a loss, to Yevgeny Kafelnikov of Russia.
Johansson's final three aces came in his last service game.
"Joachim today was hitting the ball so big," Agassi said. "What can you do but sort of react?
"I was anxious the whole time," he added. "I had to stay focused and disciplined, give myself a look and hope I can convert on the few chances I do get."
Federer, whose 11 titles in 2004 included three majors, extended his winning streak to 25 matches with a 6-2, 6-2, 7-6 (4) defeat of Marcos Baghdatis on Sunday.
Federer has won 48 out of his last 50 matches, and hasn't lost since the second round at the Athens Olympics last August.
Two of Russia's three major title holders are into the quarterfinals.
U.S. Open champion Svetlana Kuznetsova pounded 29 winners to overcome one Russian – 6-4, 6-2 over Vera Douchevina – and faces another in the quarterfinals.
Wimbledon champion Maria Sharapova, seeded fourth, will face Kuznetsova next after coming back from a set and a break down to beat Italy's Silvia Farina Elia 4-6, 6-1, 6-2.
Two of the seven Russian women who made the fourth round are already out.
Second-ranked Amelie Mauresmo of France had a 6-2, 6-4 win over Evgenia Linetskaya in a mistake-prone match with 11 service breaks.
Mauresmo raced to a 4-0 lead. After Linetskaya broke her to make it 4-1, Mauresmo took a medical timeout, left the court and came back with her left thigh wrapped.
She had trouble on serve after that, dropping it once again in the first set and twice in the second, but held on to close with an overhead winner.
American doubles combination Bob and Mike Bryan nearly lost their third-round doubles match to the 13th-seeded Israeli pair of Jonathan Erlich and Andy Ram. The Israelis led the third-set tiebreak 5-1 before the third-seeded Bryans rallied to 5-5, then later saved two match points to win 10-8 in tiebreaker.
Third-round men's action Saturday was highlighted by Lleyton Hewitt's 6-2, 4-6, 6-1, 6-4 win over Juan Ignacio Chela in a match full of spit and venom.
Chela became angry when he thought Hewitt's loud cry of "Come on!" was a bit too much celebration for an unforced error that resulted in triple break point in the fifth game of the fourth set.
He drove his next serve at Hewitt, allowing the Australian to convert the break. Chela appeared to spit toward Hewitt when the players were switching sides.
"He spat in my direction," said Hewitt. "It's unfortunate because we were having a dogfight match – we're both competitive blokes."
Local journalism is essential.
Give directly to The Spokesman-Review's Northwest Passages community forums series -- which helps to offset the costs of several reporter and editor positions at the newspaper -- by using the easy options below. Gifts processed in this system are not tax deductible, but are predominately used to help meet the local financial requirements needed to receive national matching-grant funds.
Subscribe to the sports newsletter
Get the day's top sports headlines and breaking news delivered to your inbox by subscribing here.
---