Sports > Outdoors
Field Reports
Sun., Jan. 23, 2005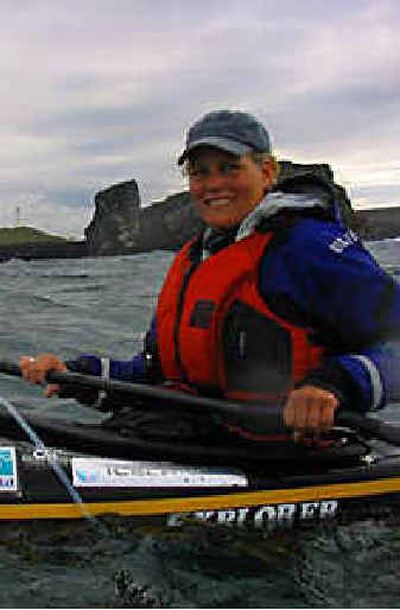 HUNTING
Record moose measured
Jeff McKeen of Spokane filled his once-in-a-lifetime Washington moose tag last fall with a once-in-a-lifetime bull — unofficially a Washington record.
Larry Carey, an official Boone and Crockett scorer in Spokane, recently measured the trophy after the required 60-day drying period and gave it a score of 186 4/8 points.
"According to all the records I have access to, it's the largest hunter-taken moose in the state of Washington," he said.
Carey is sending the paperwork to Boone and Crockett headquarters for final analysis. However, he pointed out that another Spokane hunter reportedly shot a moose that could be a contender for the record.
"I probably won't get a chance to measure that one until the (Inland Northwest Wildlife Council's) Big Horn Show in March," he said.
The previous Washington records included a 160 6/8-point bull taken in Pend Oreille County in 1977, the first year moose hunting was allowed in Washington, Carey said. A 51-inch-wide bull scoring 161 5/8 was tagged in Pend Oreille County in 2000, he said.
"McKeen's bull is only 44 inches wide, but the palmation andlong tines make it score higher," he said.
The Washington bull moose with the largest recorded rack scored 175 points, Carey said.
"But it doesn't count in the record books because it was illegally taken and turned over to the state," he said.
Rich Landers
THREATENED SPECIES
Wolf killers sentenced
Two Wyoming men have recently been sentenced to fines and jail time for killing a wolf.
James Brent, 25, and Levi Adams, 26, each were sentenced to four days in jail, a $500 fine and $2,128 in restitution for killing a threatened species in 2002.
The 3-year-old wolf was shot about 200 miles from Yellowstone National Park. It was the offspring of the Nez Perce Pack, one of the original packs reintroduced to Yellowstone National Park in 1995 and 1996.
Associated Press
SEA KayAKING
Recalling Iceland paddle
The trip is history, but the adventure still oozes out of a 2003 expedition in which three Western Washington paddlers sea kayaked 1,700 nautical miles around Iceland.
Leon Somme and Shawna Franklin, who teach sea kayaking from their base in the San Juan Islands, are scheduled to present a free program on the expedition Monday 7 p.m., at Corbin Community Center, 827 W. Cleveland Ave., sponsored by the Spokane Canoe and Kayak Club.
Somme and Franklin teamed with renown paddler Chris Duff of Port Angeles for the 81-day odyssey that included 59 days on the water and subjected them to epic storms in chilling seas as well as to revival in the nation's countless hot springs.
The combination of cliffs that forced the paddlers to commit to long open water passages and water temperatures around a frigid 40 degrees left no room for mistakes or poor judgment, they said.
Rich Landers
THROUgh THE ICE
Chilling first-hand advice
Breaking through ice on a frozen lake or river is potentially lethal, as most people know. But a Canadian scientist and expert on hypothermia says you have a better chance of surviving a numbing plunge if you understand that your body will have a cold-shock response that will cause you to gasp, hyperventilate and flail.
If you're head is under water for the initial gasp, you're likely to drown immediately, he said. Otherwise, it's important to realize that you will get over the cold shock if you can maintain your composure. Then you'll have a minute or so before your body shuts down.
Use that time to kick your legs to the surface of the water and kick, pull and slide your belly up onto the ice until you can shimmy or roll to safer ice.
Get the cold hard facts in a convincing online video clip at: www.exn.ca/video/?video exn20020325-icewater.asx.
Rich Landers
Wildlife MAnagement
Idaho nets 62 bighorns
Continuing a month-long wave of wildlife importing, the Idaho Fish and Game Department recently transferred 62 bighorn sheep captured from Montana's Sun River herd to a release site below Borah Peak near Mackay.
The Jan. 8-9 releases were part of ongoing project to restore or bolster big-game herds. A few weeks ago, 35 bighorns from Oregon and Nevada were released to the Jim Sage Mountains and 200 antelope from Utah were released in southeastern Idaho.
Idaho officials said they were lucky to get the offer of bighorns from Montana's overpopulated Sun River herd, which a long history of producing healthy, productive bighorns. Sun River rams have produced some of the largest horns ever recorded in North America.
Rich Landers
Local journalism is essential.
Give directly to The Spokesman-Review's Northwest Passages community forums series -- which helps to offset the costs of several reporter and editor positions at the newspaper -- by using the easy options below. Gifts processed in this system are not tax deductible, but are predominately used to help meet the local financial requirements needed to receive national matching-grant funds.
Subscribe to the sports newsletter
Get the day's top sports headlines and breaking news delivered to your inbox by subscribing here.
---