News > Features
Luxurious linens
Fri., Jan. 28, 2005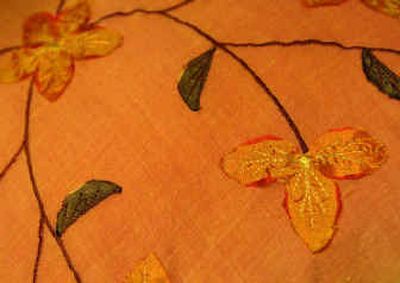 You don't need to check into a five-star hotel, or be tucked in by an attentive host at a bed and breakfast to sleep the sleep of the pampered. With the right tools, you can get the same thing at home. When the Davenport Hotel opened in 1914, each bed was covered in whisper-soft Irish linen sheets made by Liddell Linens, the same brand used on the Titanic. Today each of the 238 beds in the reborn luxury hotel is still made up with Liddell linen.
Across town, in Browne's Addition, there are only five beds at the E.J. Roberts mansion Bed and Breakfast, but owner Mary Moltke dresses each one in rich and silky Egyptian cotton.
Now if you're ready to make your own bed the five-star way, it's time to go shopping.
More than 130 years ago, Philadelphia merchant John Wannamaker, hoping to keep linen makers in business during a slow time of year, decreed January to be the time for a white sale. Bed linens, available in white only, were sold at a discount.
Today, the tradition of the January white sale still holds. Retailers advertise discounts on bed linens in addition to table linens, towels, curtains and kitchen necessities. And instead of the plain white sheets that gave the sale its name, today's shoppers have a dizzying array of linen choices.
So what makes a luxurious bed sheet? It's all in the numbers. The thread count, the number of both horizontal and vertical threads in a square inch of fabric, is a good indication of quality. Thread counts begin at 180 and go up to as much as 600 per inch.
"You can feel the difference when you buy good sheets." Moltke says. She uses only 100 percent Egyptian cotton, preferably with a thread count of 500 or better. "It has a softness that feels like nothing else," she says.
Moltke, who irons each sheet before it goes on the bed, admits they can be high maintenance. "A little polyester in the blend would keep things wrinkle free," she says, but it wouldn't feel the same."
Moltke prefers colored linens, like ivory or soft green, to basic white even though she has found they need more care. "Even if they don't fade they tend to look a bit frayed after repeated washings," she says, "But I think it's a softer look than stark white sheets that hit you when you walk into a room."
Like the icing on a cake, colorful, hand-screened prints and exotic silk duvets and pillow covers, created by the husband and wife team of April Cornell linens and sold at Miaz Boutique, a specialty store at River Park Square, give luxury a finishing touch.
Kerri Marcus, manager for Miaz, says the April Cornell coverlets, pillows and bed skirts add a decorative flourish to beds dressed with fine sheets and linens. "They have a look that is different from anything in the department stores," she says. The romantic floral, bohemian patchwork and vivid jacquard fabrics are dramatic, more polished than the bed-in-a-bag sets sold elsewhere.
"The big trend in bedding is layering," Marcus says. "On the bed in the store, I put two duvets, and mixed two color palates, light blue and "butter."
Prices for a queen size duvet in April Cornell fabrics range from $169 to $300.
But Moltke makes the point that buying the best "basics" for your bed doesn't necessarily mean the most expensive. "Oh, you can find beautiful, expensive Egyptian cotton sheets at places like "Ross Stores" if you really look," she says. "And once you try them, you won't want anything else."
Local journalism is essential.
Give directly to The Spokesman-Review's Northwest Passages community forums series -- which helps to offset the costs of several reporter and editor positions at the newspaper -- by using the easy options below. Gifts processed in this system are not tax deductible, but are predominately used to help meet the local financial requirements needed to receive national matching-grant funds.
Subscribe now to get breaking news alerts in your email inbox
Get breaking news delivered to your inbox as it happens.
---