Sports
Cougs uncover no surprises on trip
Sat., Jan. 29, 2005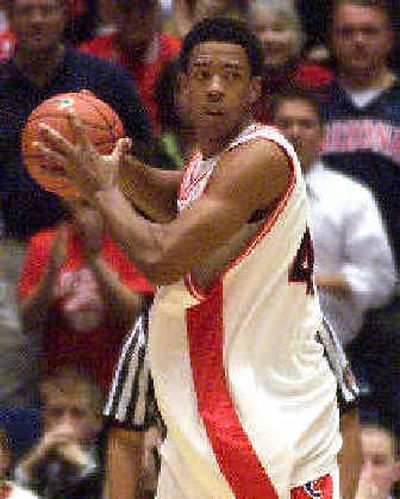 TUCSON, Ariz. – Coming into the year it was fairly obvious that the current stretch of three consecutive road games – at Washington, at Arizona State and at Arizona – would be the most difficult portion of the schedule for Washington State University.
Reality is meshing with perception quite nicely. The Cougars got blown out by UW in Seattle, and Thursday night lost by six to a beatable ASU Sun Devils team. That leaves only first-place Arizona, which is coming off of a 91-82 win over the same Huskies team that pounded WSU six days ago.
At 0-2 on the current road trip, it's hard to imagine anything but a 0-3 mark to chew upon on the flight back home, which would leave the Cougars at 3-6 in the conference and 8-10 overall at the halfway point.
"To get one would have been great for us," guard Thomas Kelati said after the 68-62 loss to Arizona State. "We felt like this was a must-win game. We felt like it was one we could sneak out."
Head coach Dick Bennett was just as frank when looking ahead to the Wildcats, a team 11-0 at the McKale Center, where tipoff is scheduled for 11 a.m. on Fox Sports Northwest.
"Well, we just want to keep it from getting ugly," the coach said. "You know you'd better not try to run with them. You know you'd better not try to press them, you'd better not outscore them. But you better do something, take something away."
The 17-3 Wildcats are led by the dead-on shooting of Salim Stoudamire, who is quickly cementing a reputation as one of the nation's most accurate scorers from long range. But this Lute Olson team, such as so many in his 22 seasons at Arizona, is deep, can run and can win in a number of different ways.
This year, it's been Stoudamire's outside touch combined with the post play of Channing Frye that has made the Wildcats most dangerous. They lead the conference in rebounding, and are among the conference leaders in scoring despite a shooting percentage better than only WSU in the Pac-10. Plus, when they are aggressive around the basket, they capitalize: Arizona is shooting better than 76 percent from the free-throw line. That's a stark contrast from the 9-for-21 effort that doomed WSU against Arizona State.
But one thing Bennett will not do with his baby-faced roster is tell them just how great an effort it will take to pull off an upset that would rank among the biggest of the year in the Pac-10.
"That sometimes is misleading," the coach said about demanding perfection. "With kids like ours that are just trying to come into their own as youngsters, if you scare them – 'You've got to be perfect' – then they fail. So I think we just do the best we can."
Next week, the Cougars will welcome UCLA (Thursday) and USC (Saturday) to Pullman.
Local journalism is essential.
Give directly to The Spokesman-Review's Northwest Passages community forums series -- which helps to offset the costs of several reporter and editor positions at the newspaper -- by using the easy options below. Gifts processed in this system are not tax deductible, but are predominately used to help meet the local financial requirements needed to receive national matching-grant funds.
Subscribe to the sports newsletter
Get the day's top sports headlines and breaking news delivered to your inbox by subscribing here.
---