News > Idaho
Devoted to rescuing horses
Sat., Jan. 29, 2005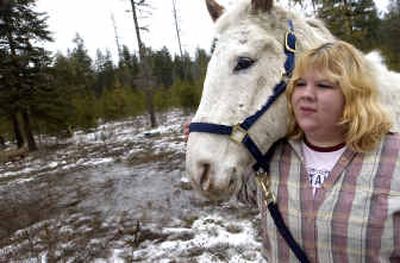 AT HORSE HAVEN HEADQUARTERS, greetings are delivered by Tony, a sway-backed mule with a coat as soft as a teddy bear.
A friendly nudge asks for a pat to the head as his nose nuzzles through any available pockets. Tony's quest for affection and treats is endearing. He'll have no trouble finding a home.
The other animals Kiley Koski plans to offer for adoption this winter may be harder to place. Since founding her nonprofit horse rescue group last August, she has successfully placed 43 horses with new owners.
This month she expects to acquire 40 more from a horse-retirement project started in Montana. Like many Koski meets, the owners didn't realize the cost of caring for horses. Horse Haven volunteers are driving over to retrieve them.
"You have to figure out how to get money," she said. "You can't rely on people donating. You're going to have to pay for a lot of it."
In Koski's plan, adoption fees that range from $100 to $900 will help offset the price of caring for horses. She has a network of volunteers agreeing to foster the animals.
Some will need medical care for overgrown hooves or malnutrition. Many horses come to her looking like skin and bones after green Idaho pastures are blanketed in snow.
Koski has completed the 32-page paperwork that will make her organization eligible for grant money. This will help in building structures on her new 10-acre spread in Blanchard, Idaho. She dreams of an indoor arena where children can come and learn about horse care. She imagines stables and youth camps for kids who'd have no opportunity to ride otherwise.
She welcomes visitors to meet her new arrivals and help them socialize with people. Some horses lived in pastures for years with minimal human contact.
One was trained to be a trotting horse at too early an age and has suffered permanent damage to his feet. Another is blind, and its ribs show from lack of food. The 27-year-old greeter, Tony, acts more like a watchdog than a mule.
"He's very curious and the first to let you know if someone pulls up into the driveway," Koski said. "He needs a job."
For Koski, every horse has a story and every horse deserves a home. She goes to livestock auctions, where she's picked up horses for as little as $15 and tries to outbid slaughterhouse buyers. Tens of thousands of American horses are killed each year to satisfy gourmet markets for horse meat in countries like Japan, France and Italy, according to the Humane Society of the United States.
Koski lived on a cattle ranch in Juliaetta, Idaho, as a child and has always had horses nearby.
"My horse was my best friend when I was younger," she said. "I can't imagine a day of waking up and not having a horse."
Yet Koski sold her own horse to get the rescue group started. She figured she'd need all her time and resources for the ones she wanted to save. She estimates she spends four hours per day caring for the horses and another eight hours on networking, paperwork and phone contacts. Her job is voluntary, and she lives with her mother who moved from an urban apartment to a rustic mobile home to support Koski's dream.
Until now, Horse Haven has consisted of Koski, her mother and a few volunteers, but nearly 18 foster families have signed on to help with her Montana transplants. She's received calls from all over the United States from people wanting help or wanting to donate horses.
"We hope to have a Horse Haven in every state," she said.
Horse supply stores and local veterinarians have already pitched in to Koski's cause with reduced-fee services, free tack and feed coupons. She's planning fund-raisers that will highlight horse-care education. She wants owners to recognize the early signs of health problems, such as colic.
One thoroughbred horse came to her after it was showing signs of illness. The family couldn't afford vet bills. Koski was willing to take on the costs of surgery, but the horse's colic was too far advanced. It had to be put down.
"That was the first one I lost," Koski said.
All of the horses adopted through Horse Haven are tracked for a year to be sure the new home is adequate. Since most horses go through several owners, Koski plans for a lifetime tracking system so her horses will always have a safe place to fall.
One of Koski's long-range goals is to have funds for owners who have come on hard times and need help with vet or feed bills.
"A lot of people love their horses and just need help," she said. "I don't think every horse needs to be taken away. They just need a little help. I'd want someone to help me in that situation."
Local journalism is essential.
Give directly to The Spokesman-Review's Northwest Passages community forums series -- which helps to offset the costs of several reporter and editor positions at the newspaper -- by using the easy options below. Gifts processed in this system are not tax deductible, but are predominately used to help meet the local financial requirements needed to receive national matching-grant funds.
Subscribe now to get breaking news alerts in your email inbox
Get breaking news delivered to your inbox as it happens.
---