News > Features
LOW sessions are in high gear
Sat., Jan. 29, 2005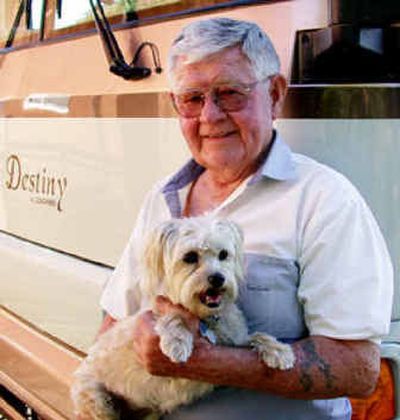 Nothing seems to be holding veteran RV writer Gaylord Maxwell down.
In an e-mail received on Wednesday, the founder of the RV Life on Wheels Conferences wrote: "I just finalized arrangements with Pima Community College in Tucson, Ariz., for a Life on Wheels conference there in March of '06. That makes five now. My 80th year will be a busy one."
His 79th is also shaping up to be a wild one.
Gaylord, his wife, Margie, and their devoted Maltese-mix pooch, Suzie, split their time between Deary, Idaho, and their winter roost in Yuma, Ariz.
For those of you who are not aware of the LOW conferences, they are unique educational gatherings chuck full of informative classes that aren't trying to sell you anything – except knowledge.
This year conferences are scheduled at universities and colleges in Kentucky, Idaho, Pennsylvania and Iowa. The next conference in the Pacific Northwest is set for June 26 to July 1 on the University of Idaho campus in Moscow.
Gaylord, a former teacher, began organizing the trainings in 1994. Since then more than 6,000 students have attended the schools – some from as far away as Scotland, Japan and Chile.
RVers choose from a menu of classes on the "how to," "what to" and "where to" of RVing; technical and mechanical aspects; and lifestyle enhancement.
Instructors are "cream of the crop" experts. Among them are authors of books and travel publications including Joe and Vicki Kieva, Sharlene "Charlie" Minshall, Marilyn Abraham and Sandy MacGregor, Steve Savage, Dave and Sandy Baleria, and Mike and Terri Church.
Technical experts like Eric Davis, Greg Holder and "Mac" McCoy are drawn from the RV industry, tech editors and retirees with special skills.
The UI conference usually draws up to 600 people and 300 RVs. The registration fee of $199 per person covers courses, an Idaho Repertory Theatre ticket and evening entertainment.
A $130 RV fee includes 30 AMP electrical hookups and water services. People who wish to dry camp (no power or water) on campus will be charged a $25 parking fee.
Those attending who do not yet own RVs can stay in nearby motels. Many extracurricular activities are available both before and during the event.
'Just for Newbies'
Gaylord and the RV Life on Wheels folks have come up with a pre-conference – "Just for Newbies."
The two-day training is geared to the needs of new RV owners who are confused about, or uncomfortable with, the operation of their rigs.
"Unfortunately," said Gaylord, "the instructions that new buyers get from dealers are usually insufficient for most people. Consequently, many have to learn by trial-and-error and others manage to get help from other RVers. They usually do not have opportunities to get help from expert teachers. That is a gap we have filled."
Instruction consists of both classroom and individual lessons. Every participant receives individual instruction in his/her own RV about the operating systems.
The first "Just for Newbies" trainings were held last summer before the Pennsylvania and Iowa conferences.
"Since all participants were 'newbies' and were there for the same reason," said Gaylord, "there was not the reluctance to 'display ignorance' that holds some people back from asking questions. In fact, at this quite informal meeting, the 'newbies' became friends before the session was over."
Instructors include Steve Savage, a Master Certified RV Technician; his RV technician wife, Andra; and solo full-time RVer Frances Hawkins.
Since this type of instruction requires considerable individual attention, additional technicians will be added as required by registrants. One technician will be assigned for every six students.
The "Newbies" training in the Inland Northwest will take place at a campground in the Lewiston/Clarkston area two days before the conference in Moscow.
The cost is $99 per RV (one or two persons) and includes social activities and two meals. Reserve your spot early. Space is very limited and requires registration for the regular Life on Wheels Conference.
More conference information
To register or to find out answers to your questions, call toll-free (866) LOW-GOGO (866-569-4646); e-mail Peggy Waterman at peggyw@uidaho.edu; or write to Life on Wheels, UI Conference Services, P.O. Box 443224, Moscow, ID 83844-3224.
For detailed information about courses, check www.rvlifeonwheels.com.
Local journalism is essential.
Give directly to The Spokesman-Review's Northwest Passages community forums series -- which helps to offset the costs of several reporter and editor positions at the newspaper -- by using the easy options below. Gifts processed in this system are not tax deductible, but are predominately used to help meet the local financial requirements needed to receive national matching-grant funds.
Subscribe now to get breaking news alerts in your email inbox
Get breaking news delivered to your inbox as it happens.
---