News > Features
Film is 'Cal–EE–forn–yuck'
Sun., Jan. 30, 2005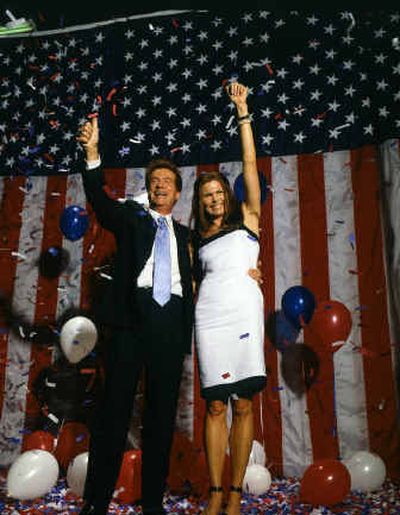 Arnold Schwarzenegger now has another reason to bond with his wife's family, the Kennedy political clan. His life, too, has been trashed by a shoddy TV movie.
A&E's "See Arnold Run," premiering tonight, depicts the movie-star-turned-politician in stupefying fashion. The script contrasts his bumpy run for California governor in 2003 with his quest for bodybuilding greatness in the 1970s.
Equating being Mr. Olympia with winning California's highest office? Oh, it's silly, all right. Still, that approach might have worked if "See Arnold Run" was a bright satire.
Instead, it's just another ripped-from-the-headlines docudrama packed with questionable versions of private moments. The setup is not only stilted but choppy, with the film constantly cutting between bodybuilding and politics.
In another confusing touch, the script tosses in a little psychoanalysis by skimming Schwarzenegger's boyhood estrangement from his father, who favored Arnold's brother. The movie briefly goes girlie man – without conviction.
The two actors sharing the Schwarzenegger role tackle it quite differently, further undermining the film's consistency.
Roland Kickinger ("Son of the Beach") plays the younger Austrian bodybuilder as a strutting cartoon who says, "I'm big, big, big and I get bigger, bigger, bigger."
Jurgen Prochnow portrays the older novice politician as a bewildering mix of comedian, genius and clod. It isn't clear whether director J.B. Rogers ("American Pie 2") and writer Matt Dorff ("Growing Up Brady") admire Schwarzenegger or dread him.
Prochnow, the star of the submarine drama "Das Boot," reaches new career depths as the Terminator. He might have the pronunciation of "Cal-EE-forn-yuh" down, but the governor's charisma eludes him.
Maria Shriver comes off far better. The film presents Schwarzenegger's journalist wife as tough, smart and concerned, and Mariel Hemingway delivers a no-nonsense performance.
Nora Dunn of "Saturday Night Live" puts in a zany appearance as rival candidate Arianna Huffington. The movie offers a goofy version of young Barbara Walters, who years ago touched Schwarzenegger's bicep on "Today," but wisely resists depicting Jay Leno and Oprah Winfrey, whose programs later helped him as a candidate.
The actors playing Schwarzenegger's political aides are required to watch him with awe, although Prochnow's wan performance doesn't merit the attention.
"You guys should have been around to rewrite some of the turkeys I've been in," Schwarzenegger tells them.
He has few turkeys in his career as big as "See Arnold Run."
Local journalism is essential.
Give directly to The Spokesman-Review's Northwest Passages community forums series -- which helps to offset the costs of several reporter and editor positions at the newspaper -- by using the easy options below. Gifts processed in this system are not tax deductible, but are predominately used to help meet the local financial requirements needed to receive national matching-grant funds.
Subscribe now to get breaking news alerts in your email inbox
Get breaking news delivered to your inbox as it happens.
---