Sports
Locally
Sun., Jan. 30, 2005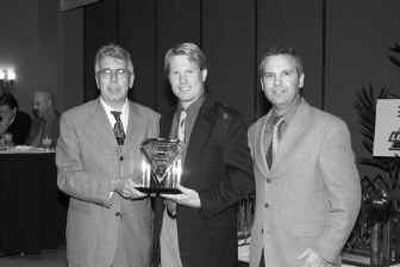 Shadow general manager Robbins earns Hall honor
Spokane Shadow general manager Jeff Robbins, who has served the club since its inception 10 years ago, was inducted into the United Soccer Leagues Hall of Fame.
The USL Hall of Fame selection committee criteria requires 10 years of service within the USL family of leagues.
One of the team's founders in 1995, Robbins played for the Shadow while serving in an operations position with the club. Brett Sports and Entertainment purchased the team in 1997 and hired Robbins to serve as director of business operations. Robbins has served as general manager since 1998.
Robbins has served on numerous USL committees, including the PDL executive committee for the past seven years and the USL competition committee for the last three years.
Spokane has consistently been at the top of the PDL in average attendance, winning the organization of the year award in 1999. The club has hosted the league playoffs at Albi Stadium a league-record six times, including the National Championship Final Four in 1999.
The Shadow have won the Northwest Division Championship seven times and is one of three PDL teams to notch 100 league victories.
College scene
West Valley High graduate Rikki Covey transferred from Penn State to Texas Christian University for the spring semester and is competing on the Horned Frogs swimming team. In a recent TCU victory over Louisiana State, Covey won the 1,000-meter freestyle, was second in the 500 free and third in the 200 backstroke. Covey did not swim in a Penn State meet in the fall, which enabled her to keep her eligibility when she transferred to TCU.
Hockey
A team from Nelson, British Columbia, won the Advanced Division at the fourth annual Spirit of America Women's Hockey Tournament at Planet Ice last weekend.
The tournament included 14 teams from Washington, Idaho, Montana, Alaska and B.C.
A Kent, Wash., team won the Intermediate Division while a Juneau, Alaska, squad was the Novice Division champion.
Spokane Women's Hockey will host the Spring Thaw Coed Hockey Jamboree in March at Planet Ice. For more information: spokanewomenshockey.com.
Shooting
Four area juniors have qualified for automatic invitations to the national Junior Olympic Rifle Championships after their performances in the State Junior Olympic Championships held Jan. 15-16 in Spokane and Tacoma.
Brian Morcom (gold men's .22 rifle) of Davenport, Lauren Furrer (gold women's air rifle) of Spokane, Amanda Furrer (silver and High J3 women's .22 rifle and bronze women's air rifle) of Spokane and Elisha LaFond of Spokane (silver women's air rifle) earned the national invitations.
Other local competitors may receive at-large invitations.
Other state finishes for area male .22 rifle competitors who had top-three finishes: Ty Freeze (Davenport, silver overall and High J1), Keith McBeth (Spokane, 2nd A Class overall and men's), John Jenkins (Spokane, 1st B Class), Austin Hills (Davenport, 1st C Class), Ryan Zicha (Spokane, 2nd C Class), Andre Countryman (Spokane, 1st D Class). Air rifle: Ty Freeze (Davenport, gold), Ben Brooks (Davenport, bronze), Morcom (1st A Class men), McBeth (1st C&D Class), Zicha (Spokane, 1st, E Class men).
Other results for female .22 rifle competitors: LaFond (gold women, bronze overall, 3rd master overall and High J2), Rena Hopkins (Spokane, 1st A Class women and bronze women), Cori Hopkins (Spokane, 2nd A Class women). Female air rifle: R. Hopkins (1st C&D Class), Ariel Jenkins (Spokane, 1st Prone).
Spokane Gold (L. and A. Furrer, LaFond) won the state air team championship. Davenport Wreckin' Crew (Freeze, Brooks, Morcom) took second and Spokane Silver (Eric McNett, McBeth, R. Hopkins) third.
The national championships will be held in Colorado Springs, Colo., in the spring.
Soccer
Two players from the Spokane Shadow youth teams are among those chosen for the Super Y-League Olympic Development Program National Select Teams for U14 and U15 girls following their performances last weekend at the ODP national camps, the United Soccer Leagues announced.
Alyshia Madison, a defender, was picked for the U15 team and Marissa Mykines, a midfielder, for the U14 team. Nineteen players were chosen for the U15 team, 22 for the U14 team.
Volleyball
Sophomore Kelly Rosin received the Most Valuable Player award, seniors Alison Billingsley and Stacey Holbrook the Leadership Awards, and redshirt sophomore Jen Barcus the Most Improved Award at the Washington State University women's volleyball banquet.
Local journalism is essential.
Give directly to The Spokesman-Review's Northwest Passages community forums series -- which helps to offset the costs of several reporter and editor positions at the newspaper -- by using the easy options below. Gifts processed in this system are not tax deductible, but are predominately used to help meet the local financial requirements needed to receive national matching-grant funds.
Subscribe to the sports newsletter
Get the day's top sports headlines and breaking news delivered to your inbox by subscribing here.
---