News > Idaho
The investigation
Sun., July 3, 2005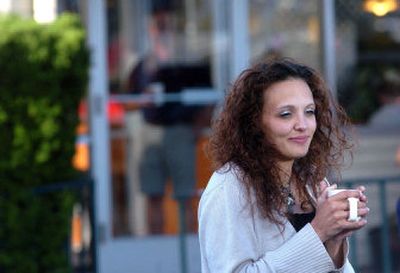 Shasta Groene, missing for more than six weeks from a grisly murder scene near Wolf Lodge Bay, was found alive and safe Saturday, but her brother, Dylan, was still missing and feared dead.
Shasta was recognized by customers and employees at the Coeur d'Alene Denny's restaurant shortly before 2 a.m. Saturday after she arrived there with Joseph Edward Duncan, III, a 42-year-old sex offender from Fargo, N.D.
Duncan is a federal fugitive, wanted on a warrant after fleeing Minnesota, where he was charged with criminal sexual conduct. He previously spent 14 years in prison for raping a 14-year-old boy at gunpoint in Tacomaand three more years in prison for parole violations.
He was arrested without incident at Denny's after police responded to calls from the manager and a customer at the restaurant who recognized Shasta.
"It's a relief to find her," said Kootenai County Sheriff Rocky Watson during a press conference at 7 a.m. Saturday. "We have had so many false sightings that there was a lot of disbelief on my part. I wasn't comfortable until I saw her at the hospital myself."
Shasta and Dylan had been missing since May 16, when their mother, 40-year-old Brenda Groene, and their brother, 13-year-old Slade Groene, and their mother's boyfriend, 37-year-old Mark McKenzie, were found bludgeoned to death in their home along East Frontage Road near Wolf Lodge Bay.
The murders and children's disappearance launched the biggest investigative effort in Kootenai County's history, at one point involving more than 100 FBI personnel and more than 80 investigators from several other agencies. An Amber Alert was issued, and the National Center for Missing and Exploited Children distributed thousands of posters.
More than 2,000 tips came into the Sheriff's Department from all over the country, but few local sightings were reported to authorities, said Sheriff's spokesman Capt. Ben Wolfinger.
Authorities said Shasta appeared to be in good health.
She was believed to be at the hospital Saturday night – her remaining immediate family members were seen leaving the hospital without her – but authorities would neither confirm nor deny that she had been admitted.
A waitress at Denny's, Amber Deahn, said Shasta didn't react as most kids do when Deahn handed her crayons and a promotional mask from the movie "Madagascar."
Customers thought it strange that an 8-year-old girl would be at Denny's at 2 a.m., and thought she bore a striking resemblance to the Shasta shown on billboards and posters around the region.
"He (Duncan) must have wanted to get caught," said restaurant manager Rich Jost, noting that the tables usually fill up after bars close on Friday night.
After police arrived and confirmed Shasta's identity, they told Deahn to keep an eye on the girl while they took Duncan into custody on kidnapping and fugitive charges. Deahn asked Shasta her name.
"She said, 'Shasta Groene' and started crying. I picked up that child, held her and hugged her," Deahn said.
Shasta was taken to Kootenai Medical Center where she was interviewed by detectives and reunited with family members. Steve Groene, her father, learned that his daughter was found while in Tacoma visiting his sister. His nephew drove him back immediately.
"Everybody is overjoyed and anxious to find Dylan at this point," his sister, Wendy Price, said. "I know they'll find Dylan, I know it."
Vance Groene, Shasta's oldest brother, said he jumped up out of bed when he heard the news that his sister was found Saturday morning, but wasn't all that surprised.
"I wasn't expecting anything less," he said, adding that with Dylan still missing, his emotions were mixed.
Wolfinger said it was unclear where Shasta had been for the last six weeks. Nor had investigators determined what role Duncan may have played in the murders and disappearance of the children.
"He's certainly going to be looked at in that package of this heinous combination of crimes," Wolfinger said.
Detectives Saturday secured a search warrant for the red 2005 Jeep Grand Cherokee that Duncan was driving. The Jeep was stolen May 4 from St. Paul, Minn.; its license plates were stolen out of Newton County, Mo., on April 27.
A federal warrant was issued June 1 for Duncan's arrest.
In Fargo, N.D., police officers were guarding his apartment but didn't immediately enter, apparently waiting for a judge to sign a search warrant.
Other search warrants were in the works in Kootenai County, according to Prosecutor Bill Douglas, but he did not release any details on the locations.
"I'm really gratified that we've at least found Shasta, but there's still a lot of unanswered questions and a long ways to go," he said.
Magistrate Judge Scott Wayman found probable cause to charge Duncan with first-degree kidnapping Saturday, and other charges could follow by the time of his first court hearing, scheduled for 2 p.m. Tuesday, Douglas said.
"We'll go wherever the evidence leads," he said.
As of Saturday afternoon, authorities had no news regarding the whereabouts of Dylan, but said their latest information indicates that he may be dead.
"We're looking at a number of investigative leads to determine the situation involving Dylan," said FBI Special Agent in Charge Timothy J. Fuhrman, who is based in Salt Lake City.
The FBI and Idaho State Police both reiterated their commitment to the case and said investigators were mobilized and chasing many leads.
"The investigators are so enthused with this right now," said ISP Capt. Wayne Longo. "There's no holding them back."
Authorities would not say whether Duncan's name had been raised in any tips or other leads in the investigation that has stretched on for seven weeks, or whether their work was leading to the eventual arrest of Duncan.
"Many times these cases are only solved through random sightings," Fuhrman said. "There's no question the intense publicity contributed to the safe recovery of Shasta."
Duncan was a senior majoring in computer science at North Dakota State University and maintained a Web site, fifthnail.com, according to authorities. A Web log associated with the site discusses his psychological "epic battle" with demons and being a fugitive from justice.
In a May 11 entry titled "The Demons Have Taken Over," less than a week before the murders, Duncan wrote, "My intent is to harm society as much as I can, then die."
As the news of Shasta's safe recovery spread Saturday morning, well-wishers and friends stopped by the KMC emergency room to drop off cards, teddy bears and other gifts.
"I've been blubbering all morning," said Trisha Hanson, whose daughter, Courtny, is a classmate of Shasta's at Fernan Elementary School. "I'm so happy."
Courtny said the card she made that morning for her friend said, "We miss you and welcome home. We love you."
Local journalism is essential.
Give directly to The Spokesman-Review's Northwest Passages community forums series -- which helps to offset the costs of several reporter and editor positions at the newspaper -- by using the easy options below. Gifts processed in this system are not tax deductible, but are predominately used to help meet the local financial requirements needed to receive national matching-grant funds.
Subscribe to the Coronavirus newsletter
Get the day's latest Coronavirus news delivered to your inbox by subscribing to our newsletter.
---