News > Idaho
'We have the right guy'
Thu., July 7, 2005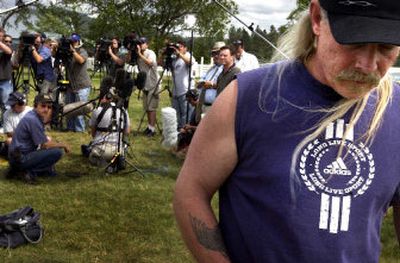 Investigators linked Joseph Edward Duncan III Wednesday to the slaying of Shasta Groene's family, saying the convicted sex offender is the only person responsible for the killings and the kidnapping of the 8-year-old girl and her 9-year-old brother.
"There's a sense of relief that we have the right guy," Kootenai County Sheriff Capt. Ben Wolfinger said during a press conference.
Duncan was arrested Saturday when employees and customers at the Coeur d'Alene Denny's restaurant recognized the 8-year-old girl he was with as Shasta.
Shasta and her brother Dylan had been missing since May 16, when the bludgeoned and bound bodies of their mother, their 13-year-old brother and their mother's boyfriend were found in their home east of Coeur d'Alene. Human remains found Monday in a rugged area near St. Regis, Mont., are believed to be those of Dylan.
Wolfinger wouldn't disclose the specific evidence that ties Duncan to the killings, but said investigators think Duncan acted alone. He also didn't comment about a possible motive or whether Duncan had any previous connection to the family.
Family members, including Shasta, have said they didn't know Duncan and that the killings and kidnapping were random. Some think the 42-year-old registered sex offender from Fargo, N.D., was traveling through North Idaho and spotted Shasta and Dylan from Interstate 90, which runs in front of the children's home in the Wolf Lodge area.
"This guy has a history of tying people up and beating people," said Jesse Groene, 18, who gave an interview Wednesday from the Shoshone County Jail in Wallace. "That's what happened to my family. I have no doubt he's the one who murdered them."
Jesse Groene, who is in jail for burglary and grand theft of a Jeep, said he hopes Duncan gets the death penalty. "If they don't give Duncan the death penalty, then I'm gonna …," he said, not finishing the sentence, his eyes tearing up.
At her small apartment in a senior citizens' housing complex in Tacoma on Wednesday, Duncan's mother was clearly distraught.
"I can't make any statements," said Lillian Mae Duncan, tears streaming down her face as she opened the apartment door. "I just don't know what to do. I have some people that I need to call. I'm sorry."
She'd just hung a small handwritten sign on her front door: "Do not disturb. Not available. Soliciting of any kind not permitted here."
She lives only a short drive from the home where her family lived in the late 1970s. It's a modest single-story home in a working-class neighborhood of what is now the city of Lakewood. Longtime neighbors said Wednesday they have no recollection of the boy or the family.
So far Duncan only has been charged with two counts of first-degree kidnapping. The counts specifically charge Duncan with keeping the children secretly confined to rape, seriously injure or sexually molest them. Wolfinger said more charges are expected as evidence is reviewed.
A preliminary hearing for Duncan is scheduled for July 19 before 1st District Judge Benjamin Simpson. Wolfinger said Duncan's public defender could ask for a postponement.
Wolfinger said he didn't know if investigators were interviewing Duncan at the Kootenai County Jail.
Investigators expect to get forensic DNA test results later this week or early next week to confirm the identity of the remains found in Montana.
Steve Groene, the children's father, told reporters Wednesday that the family will continue to believe Dylan is alive until his death is 100 percent confirmed.
Jesse Groene wasn't so hopeful, pointing out that the remains were found in the Montana forest near St. Regis only after his sister gave investigators scant recollections. It is alleged that Duncan made camps in at least two spots in the mountains. Investigators refused to say how long Duncan camped in the area.
Jesse Groene said he doesn't know why Duncan spared his sister. He speculates that perhaps Dylan went "out of control" while Shasta kept quite.
He talked to his sister on the phone Saturday, the same day she was rescued, and said she sounded "perfect." She told her brother that she was watching movies. Jesse Groene said he didn't ask his sister about her experience or about Dylan.
He also made a collect call to Denny's restaurant Saturday to thank the waitress who recognized Shasta.
"I never met the girl but I told her I loved her," said Jesse Groene. "And I told her I thank God she saw (Shasta)."
Local journalism is essential.
Give directly to The Spokesman-Review's Northwest Passages community forums series -- which helps to offset the costs of several reporter and editor positions at the newspaper -- by using the easy options below. Gifts processed in this system are not tax deductible, but are predominately used to help meet the local financial requirements needed to receive national matching-grant funds.
Subscribe to the Coronavirus newsletter
Get the day's latest Coronavirus news delivered to your inbox by subscribing to our newsletter.
---