News > Business
Tailor is cut loose
Fri., July 8, 2005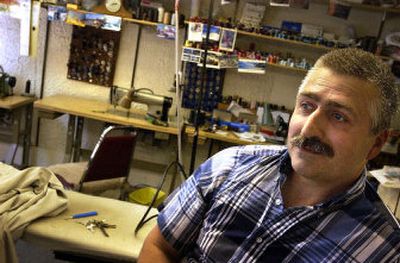 For 15 years, Henryk Zowal has altered the trousers, skirts and jackets of downtown Spokane's business professionals from his one-man tailoring shop on the first floor of the Peyton Building.
But a week ago, Zowal learned he has 30 days to vacate the 500-square-foot, street-level space because it is needed for another tenant. Larry Soehren, vice president of property manager Kiemle and Hagood, would not reveal the new tenant's identity, other than to say it would be a "unique local retail use." Soehren expects the new business to be in place by Sept. 1.
Zowal, 47, is concerned his business will suffer if he can't quickly find another downtown space that is affordable and convenient for the large clientele he's built up over the years. Zowal, who is married with two children, moved to the United States from Poland via Germany in 1983.
"It's just created so many headaches and confusion," Zowal said Thursday, as customers stopped by to pick up garments and have measurements taken. "I've built the business from scratch. I've tried to provide good work for people."
Evidently, that has not gone unnoticed. Kiemle and Hagood has received numerous calls on Zowal's behalf, said Casey Brazil, a sales associate with the company. Brazil and Zowal went out Thursday afternoon to look at potential new spaces for Henryk's Tailoring.
"We're trying to work something out, because of the short notice," Brazil said. "We're not in the business of kicking people out."
But, he added, "It's part of property management. The owner has to do what's best for the property."
Last June, a Bellingham, Wash., real estate company called Daylight Properties purchased the seven-story building for $5.8 million. The building previously was owned, since 1979, by Pacific Security Companies, a Spokane commercial property and finance company.
The good news for Zowal is that Spokane has a glut of office space, with vacancy rates hovering around 20 percent. There's also quite a bit of retail space available on the skywalk level, Soehren said. Zowal said he planned to meet today with representatives of WestCoast Hospitality about space available for lease in the Crescent Court.
However, it's unlikely Zowal will find another street-level retail space in the middle of downtown for $469 a month, the rate he's paying now. That equates to about $10 per square foot and rates for similar spaces are running closer to $16 to $20 per square foot, Brazil said. Zowal is on a month-by-month lease, which he said was not his choice.
Brazil planned to show Zowal a 1,100-square-foot space on the skywalk level of the Washington Mutual Building, he said. However, Zowal said the space only offered a one-year lease.
He wants a place he can stay until he retires in 20 years.
"I'm trying to stay downtown so it's not confusing for my customers," he said.
Local journalism is essential.
Give directly to The Spokesman-Review's Northwest Passages community forums series -- which helps to offset the costs of several reporter and editor positions at the newspaper -- by using the easy options below. Gifts processed in this system are not tax deductible, but are predominately used to help meet the local financial requirements needed to receive national matching-grant funds.
Subscribe now to get breaking news alerts in your email inbox
Get breaking news delivered to your inbox as it happens.
---