Sports
Jacobsen outlasts Irwin
Mon., July 11, 2005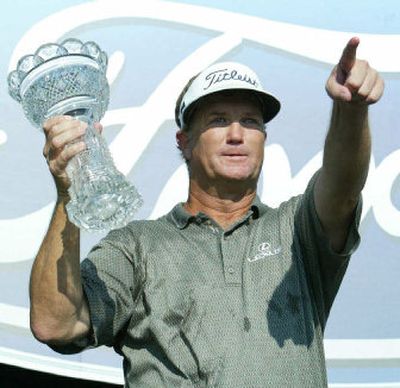 DEARBORN, Mich. – It took 24 years, but Peter Jacobsen finally got his revenge.
At the 1981 Buick Open in Grand Blanc, Jacobsen lost a playoff to Hale Irwin when Irwin made a 40-foot putt.
So, after waiting in the tall grass for nearly a quarter-century, Jacobsen seized his chance Sunday at the Ford Senior Players Championship when he made a shot equally as improbable to help beat Irwin.
"Well, I was thinking, with that playoff in `81, turnabout should be fair play," said Jacobsen, who closed with a six-under-par 66 to finish at 15-under and beat Irwin by one shot. Jacobsen earned $375,000 in his tournament debut.
Jacobsen's big play at the TPC of Michigan came on the par-four 16th hole. His approach shot had hit the green but skidded off into a collection area about 14 feet from the hole.
That was when Jacobsen, one shot off Irwin's lead, called on the tortuous experience he had gained recently in the U.S. Open. As he did at Pinehurst No. 2 so many times, Jacobsen putted the ball up the slope and onto the green.
He was hoping to put his ball within three feet of the hole. But the ball had other ideas as it rolled up the slope, clanked the flagstick and went in.
Birdie. Tie.
"Well, we saw 72 holes of this at Pinehurst," Jacobsen said. "And I certainly didn't expect to knock it in."
Jacobsen added a birdie on the par-five 17th hole to reach 15-under. He had arrived at the green in two shots, but a 79-foot putt ended four feet short. Jacobsen's next putt caught just enough of the right side of the hole to go in.
As Jacobsen was getting lucky and sinking putts, Irwin's putting was getting colder by the minute.
On the 12th hole, Irwin three-putted from 20 feet when his second putt from four feet lipped out. It was the easiest shot Irwin gave away.
"I guess I pulled it," said Irwin, who shot 70 . "It was a misread on the first putt and I pulled the second one. It felt like a decent stroke. It seemed like when I did miss a putt it was to the left."
Irwin's bogey on the 12th dropped him into a tie with Jacobsen and Tom McKnight. McKnight self-destructed with a triple-bogey on the 14th that led to a 71 and a tie for third with Tom Watson, who shot 68.
Irwin was bidding to tie Jack Nicklaus' record of eight senior major victories.
D.A. Weibring, a former assistant pro at Red Run Golf Club in Royal Oak, shot 65 and finished in a six-way tie for fifth, along with Gary McCord, who shot 70.
In the final round, Irwin took 30 putts, his highest total for the tournament, and afterward his frustration was visible. He turned 60 recently and his lackluster putting has kept him from his usual dominance.
"It just came down to some very poor putting once again," Irwin said. "It's getting frustrating.
"I'm encouraged with most of my game. But the putting has been my nemesis."
Irwin, playing in the final group, had a chance to catch Jacobsen with relatively easy putts on the final two holes. But he left a long putt on No. 17 six inches short and he pulled a 10-footer on No. 18 that would have forced a playoff.
"The putts at 17 and 18 were no-brainer putts," Irwin said. "And I didn't have a brain."
Local journalism is essential.
Give directly to The Spokesman-Review's Northwest Passages community forums series -- which helps to offset the costs of several reporter and editor positions at the newspaper -- by using the easy options below. Gifts processed in this system are not tax deductible, but are predominately used to help meet the local financial requirements needed to receive national matching-grant funds.
Subscribe to the sports newsletter
Get the day's top sports headlines and breaking news delivered to your inbox by subscribing here.
---