News > Features
Science from magic
Mon., July 11, 2005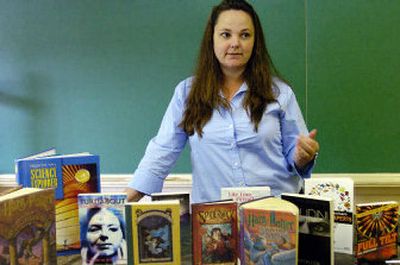 NORFOLK, Va. – When the students at Hogwarts School of Witchcraft and Wizardry fly off on broomsticks, most Harry Potter fans think "magic." Charlene Haviland thinks "aerodynamics."
And when Professor Albus Dumbledore snaps his fingers to turn on the lights, the middle school teacher gets excited – at the prospect of explaining how a remote control works.
Haviland will get her chance this fall, when she teaches an after-school remedial program for eighth-graders that will combine reading with the study of science in the Harry Potter books.
She'll use one book per quarter, so the students won't get to the latest – the sixth in the series, "Harry Potter and the Half-Blood Prince," which hits stores at midnight Friday.
The program at the inner-city school is being funded by an $82,000 American Honda Foundation grant awarded to Haviland and George Plitnik, a physics professor at Frostburg State University in Maryland.
Haviland sought the grant, which includes enough money for lab equipment, after she was unable to find a model for a middle-school class of this type. She asked for Plitnik's help because he was familiar with the topic.
He has taught the science in the Harry Potter books for two years, first as a small honors class and last school year as a course that attracted 90 students in both the fall and spring semesters.
"There's a lot of science that looks like magic," said Plitnik, who has been known to show up for class in a wizard's costume.
That very magic propelled Haviland, 35, onto her career path. As a part-time student at Southern Oregon University, she signed up for a class with a chemistry professor whom she found inspiring.
"He was always bumping into things and kind of absent-minded, but just extremely intelligent," Haviland said. "And he always brought in demonstrations. He wouldn't tell us how it worked, but for extra credit we could try to figure out what it was."
She started trying to solve the mysteries.
"I wasn't a stellar chemistry student, but I just got hooked," she said. "When you mix these two liquids together, why do they turn blue?"
She, in turn, wanted to inspire others in the same way. As an undergraduate, she put on magic shows aimed at children, demonstrating – and explaining – chemical reactions.
She could make two clear liquids turn black. In some experiments, she could predict when the substances would change color; in others, the changes were unpredictable.
"I wanted kids to see that chemistry wasn't something that was scary, that it was really cool," she said. "When they go on to high school and have the option to take chemistry, maybe they'll go ahead and take it."
With the after-school science program, Haviland has an additional challenge: improving her students' reading and writing scores on state standardized tests. She chose the Harry Potter books because they have made page-turners of children who don't normally like to read.
"Find some books that they like to read," she said. "And say, 'Do you think this could actually happen in the real world? Well, here it is.' "
For a discussion on the flying broomsticks used in the game of Quidditch, Haviland said, "We can even go into Bernoulli's principle and explore how we can take that from flying on a broom to … how airplanes work … and why some fly better than others."
While she originally wanted to use only Harry Potter, Haviland broadened the program to include other books in hopes of avoiding criticism from conservative Christian groups and others that believe J.K. Rowling's series promotes sorcery.
So far Haviland's program has provoked no controversy. "I didn't want to fight," she said. "I wanted to make sure it (the program) was going to get used."
Parents Against Bad Books in School, which is based in Fairfax County, ranks the Harry Potter series 48th on its list of the 100 books that have sparked the most complaints.
But it's far behind such classics as Harper Lee's "To Kill a Mockingbird," Mark Twain's "The Adventures of Huckleberry Finn" and J.D. Salinger's "Catcher in the Rye."
Haviland said her program should appease those worried about a witchcraft message: "Here's the actual hard science behind it."
She and her colleague, Plitnik, even have explanations for some of the more far-out occurrences in the Harry Potter books.
Levitating a frog, for example. Haviland cites the work of Dutch and British scientists at the University of Nijmegen who were able to make a frog levitate using magnets. In his course, Plitnik uses a spinning magnet that levitates.
Then there's Fluffy, the three-headed dog. "We could do that," Plitnik said, referring to advances in genetic engineering.
Before Honda awarded the grant, a representative observed a class this spring in which Haviland read her students a Dr. Seuss book, "Bartholomew and the Oobleck." She then made "oobleck" with cornstarch and a slimier substance, "gak," and had her students compare the two.
"The kids got involved; they were using science," said Donna Hammond-Cotton of Los Angeles, senior program officer with the Honda foundation. "They were not supposed to be good readers, but they were just reading out."
Hammond-Cotton said she was surprised to learn later that the class included students with disabilities.
"She's a remarkable teacher," she said of Haviland.
Local journalism is essential.
Give directly to The Spokesman-Review's Northwest Passages community forums series -- which helps to offset the costs of several reporter and editor positions at the newspaper -- by using the easy options below. Gifts processed in this system are not tax deductible, but are predominately used to help meet the local financial requirements needed to receive national matching-grant funds.
Subscribe now to get breaking news alerts in your email inbox
Get breaking news delivered to your inbox as it happens.
---