News > Features
Milestone
Tue., July 12, 2005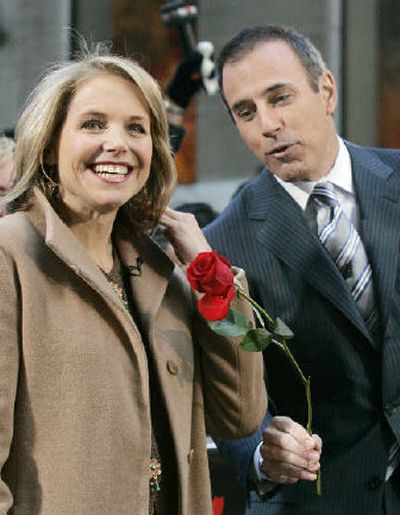 After a lousy spring, summer certainly is a lot brighter at NBC's "Today" show.
Television's most popular morning program has halted a ratings free-fall and, by most accounts, improved enough so that those around it can exhale and enjoy a milestone 10 years in the making.
Nielsen Media Research should confirm Thursday that "Today" has been the top-rated morning news show for 500 consecutive weeks, a Joe DiMaggio-like streak that started in December 1995.
When "Today" held off ABC's "Good Morning America" by a mere 43,000 viewers one week in May, it was like DiMaggio beating out a bunt in the ninth inning.
During the angst-ridden spring, the top "Today" executive was fired, host Katie Couric faced her first real bout of critical press and "GMA" was clearly the more aggressive, interesting show.
Newsmaking interviews, like Couric's sit-down with runaway bride Jennifer Wilbanks, have since made "Today" more compelling. Matt Lauer also had a front-row seat to Tom Cruise's head-shaking behavior.
The advantage over ABC grew to 700,000 viewers during June 20-26, and 524,000 the week after.
"There's no question that the sense and the buzz around the show and the production of the show is much, much better," said Jeff Zucker, NBC Universal Television Group president who was executive producer of "Today" when the streak started.
Zucker reached into NBC Sports in April to find Jim Bell and appoint him to the producer job.
The changes made by Bell and his executive partner, Jim Griffin, probably aren't visible to most viewers. The two men have tried to give the first half-hour a harder, more newsy edge. And a trip to the "Today" video archives persuaded Bell to throw some scripts away.
Bell was entranced by old tapes of Couric and Lauer bantering during the show's five-minute local news breaks. A handful of small NBC stations don't show local news then, and "Today" instead offers a few minutes with the hosts chatting.
That easygoing charm was rarely visible on the air anymore, so Bell encouraged more ad-libbing. He's also put Couric and Lauer together on the air more.
"I think viewers sense when things are really scripted," Bell said.
"It's not always going to be magical television. But I think that's part of the allure of live TV – that it's not always honed to a fine polish."
The mood at "Today" is better – gossip column reports about door-slamming fits have ended – and that's visible on the air, said Steve Friedman, a former top producer at "Today" and "The Early Show" on CBS.
"It's a new phase – new people coming in, new excitement," Friedman said. "Katie and Matt trust these people right now. The staff is reinvigorated. The show is better."
Bell hired a new producer charged specifically with energizing the show's third hour, often a dumping ground for third-rate stories and afflicted with a feeling that no one really wanted to be there.
It will also be used as a laboratory for developing bench strength; that's where NBC is giving plenty of exposure to new correspondent Alexis Glick.
Friedman and others caution against reading too much into summer ratings. Just like "Good Morning America" was probably helped by ABC's surging prime-time lineup in May, it may be hindered by rerun season.
Even with the gap widening recently, it's still a tighter race than a couple of years ago, and the fight will be joined again in the fall.
Ben Sherwood, executive producer of "Good Morning America," isn't ready to concede that Bell has engineered a turnaround after a few strong weeks.
"I know from my own experience, it's really too soon to see a producer's work after a couple of months," he said. "He's still trying to sort it out and get used to the sleep deprivation."
The new season also will resolve questions about Couric's future.
America's sweetheart when she took over in 1991, the 48-year-old Couric saw herself portrayed in some unflattering press accounts this spring as a testy diva with tastes too rich to relate anymore to Middle America.
Her contract reportedly ends next May.
Couric has been paired with Lauer since 1997 – eight years, and not a week out of first place in the ratings for NBC's most profitable show.
Zucker said NBC has made it clear that it wants Couric to continue beyond next May.
"We hope that she's here for many, many years to come," he said. "She's certainly done this job longer than anyone in the history of morning television.
"I hope that she's still excited and enthused about it. I don't want to speak for her, but I think she is."
Couric wasn't available for an interview, a spokeswoman said.
This spring's problems make the 500-week milestone even more important at NBC. The streak could be an albatross for Bell – imagine being the one in charge when it's broken, with the man who started it looking over your shoulder – but he shrugs it off.
"No matter where you are, there's going to be pressure," he said. "I don't think about it in those terms. I'm much harder on myself than any contest or streak could be."
Over at ABC, Sherwood offered his congratulations for an "incredible" accomplishment.
"We know better than anyone how tough they are, how competitive they are," he said.
"For every single one of those 500 weeks, 'Good Morning America' has been on the field trying to win. We're also inspired to try even harder."
Local journalism is essential.
Give directly to The Spokesman-Review's Northwest Passages community forums series -- which helps to offset the costs of several reporter and editor positions at the newspaper -- by using the easy options below. Gifts processed in this system are not tax deductible, but are predominately used to help meet the local financial requirements needed to receive national matching-grant funds.
Subscribe now to get breaking news alerts in your email inbox
Get breaking news delivered to your inbox as it happens.
---