Sports
Shakeup for Nationals
Wed., July 20, 2005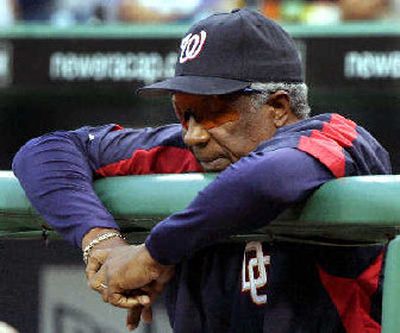 WASHINGTON — Slumping shortstop Cristian Guzman and hobbled third baseman Vinny Castilla were dropped from the Washington Nationals' starting lineup Tuesday night as manager Frank Robinson tried to spark his struggling team.
Robinson made the changes a day after what he called his team's worst game of the season, a 5-4 loss to the Colorado Rockies, owners of the N.L.'s poorest record. It was Washington's ninth defeat in 12 games.
On Tuesday, only two position players were in spots in the batting order they already had occupied this season.
"It's not a threat. It's just unacceptable. We can't continue to play like that. If we do, we'll put somebody else out there," Robinson said. "Let's stop that right now. Let's not make that the norm."
Guzman made an error Monday, but his biggest problems are at the plate. He's 0 for 15 since the All-Star break, dropping his average to .190. He failed to bunt successfully in two plate appearances Monday, striking out once and hitting into a double play the other time.
"I just felt this is the time to give him two or three, four days off and just let him work on his offensive mechanics to see if he can get going, because we need him offensively," Robinson said.
Guzman, a career .266 hitter before this year, called it his toughest stretch in the majors.
"Nobody knows how to be happy when you don't play. You don't come here to see all your friends play and you just sit on the bench. Nobody likes that," said Guzman, who joined the Nationals from the Twins with a $16.8 million, four-year contract.
"When we're taking batting practice, I feel great. As soon as the games started, I don't know what happened."
Castilla, who's been playing with tendinitis in his left knee, made two errors Monday, including one that allowed the go-ahead run to score in the ninth inning. He'll get four or five days off.
"I talked to the doctors, and they think it's the best decision for me and the team," said Castilla, signed to a $6.2 million, two-year deal after leading the NL with 131 RBIs for the Rockies last season. "I have some days I don't know how I'm getting out there."
He's hitting .255 with six homers and 44 RBIs.
Robinson spoke to Castilla and Guzman about the moves before the lineup was posted in Washington's clubhouse.
"That's better when they talk to you," Guzman said. "He's the manager. It's his decision. I'm not going to fight him."
He was replaced at shortstop by utility man Jamey Carroll, while Castilla's spot at third was taken by Carlos Baerga. Those were just part of Robinson's changes, though.
Carroll led off, with Brad Wilkerson — who's shifted from the outfield to first base while Nick Johnson is on the disabled list — moving to No. 3 in the order. Catcher Brian Schneider moved up to No. 5, and center fielder Preston Wilson slid to sixth, followed by left fielder Ryan Church and Baerga.
Only two players were in familiar places: Jose Vidro at No. 2, and Jose Guillen at cleanup.
During the team's 12-game rut entering Tuesday, the Nationals had averaged just 3.3 runs and scored more than four in just two games.
"Frank's just maybe trying to stir it up, get some people's attention," Schneider said.
Local journalism is essential.
Give directly to The Spokesman-Review's Northwest Passages community forums series -- which helps to offset the costs of several reporter and editor positions at the newspaper -- by using the easy options below. Gifts processed in this system are not tax deductible, but are predominately used to help meet the local financial requirements needed to receive national matching-grant funds.
Subscribe to the sports newsletter
Get the day's top sports headlines and breaking news delivered to your inbox by subscribing here.
---