News > Spokane
Grant gives deputies pedal power
Fri., July 22, 2005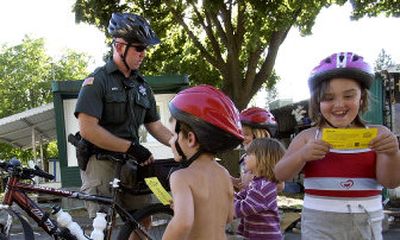 Take a sheriff's deputy out of his patrol car, put him on a mountain bike, and something changes.
"It makes us the most approachable, and it's when we're the stealthiest," Deputy Andy Buell said about the two-fold advantage of bike patrol.
Buell is one of four Spokane County Sheriff's Office deputies this summer who are patrolling the Edgecliff area in Spokane Valley on bicycle. The area stretches from Havana Street to Argonne Road and Broadway Avenue to 16th Avenue. The grant-funded patrols have helped the community, which is struggling with poverty and crime.
On Wednesday night, Buell rolled into the Rose Haven Mobile Home Park. "How's it going?" Buell asked a man.
The man replied at length about drug activity near his home and then chatted with the deputy about a new job venture. Buell thanked the man and continued on, mentally filing the information for later reference.
Buell said, for the most part, Edgecliff residents welcome a law enforcement presence and are open with him.
The bike patrols in Edgecliff are funded by a Weed and Seed grant from the U.S. Department of Justice. This is the second year the area has received the grant of about $225,000, which is used for various programs; about $17,000 of it went toward the bike patrols for personnel hours and equipment. It's also the second year for the patrols.
The goal "is to weed out crime and seed in good programs," said Rick Scott, site coordinator for the grant and director of Edgecliff Sheriff's Community Oriented Policing Effort (SCOPE).
"Bike patrol puts everyone one-on-one," Scott said. Grant money purchased four new bikes this year. Two of them are reserved for SCOPE volunteers who want to patrol the area.
Deputies regularly patrol the Centennial Trail on bikes during the summer months, but dedicating a group of them to a specific community for an extended period of time is rare.
As Buell rode through the Rose Haven Mobile Home Park, he was subtle as he checked out residents' activities. Those he observed didn't seem to notice.
Residents approached him frequently to express concerns about illegal activity they had seen, except for one woman, who popped her head out of a mobile home door to see who was talking to her children.
Children's eyes lit up when they saw an authority figure riding a bike by their home.
"Who are you?" a girl called out.
"I'm a sheriff's deputy," Buell replied. He stopped, and four children rushed up to greet him. The kids were wearing helmets and told the deputy it was because they had been riding their bikes. They were each rewarded with a coupon for a free ice cream cone at McDonald's.
The experience might have been the children's first with law enforcement. Buell was glad it was a positive one.
If Buell had gone to the same area in a patrol car, he said the experience would likely have been different. The car creates a barrier that being on a bike doesn't.
"People see a guy on a bike in shorts, and it's, oh, you're just a guy," Buell said of how he's received. Also, driving a car down an alley or in a mobile home park is obtrusive. Someone drives through the same area on a bicycle, and people barely notice.
There are disadvantages, Buell said. He can't chase traffic violators on a bike, and he can't transport those he arrests, but "the advantages of being on bike patrol outweigh the disadvantages."
Buell and other deputies who do bike patrol in Edgecliff usually spend the daylight hours gathering information about illegal activity and taking note of what looks out of the ordinary. The deputy said that's where deputies who regularly patrol the area are invaluable. They know every car, people's names and what's normal at a home and what's not.
At nightfall, the deputies go into stealth mode, often returning to areas where residents have pointed out concerns. On Buell's first night earlier this month, residents' tips led to two drug arrests.
"Riding through the streets at night is amazing," Buell said. "It's so quiet, but you hear what you need to hear."
Without the daylight vision, other senses become more acute, he said. You hear the yells of a possible domestic fight. The smell of illicit drugs seems to stand out.
People committing the crimes might be watching for a patrol car, but they aren't looking for deputies on bikes.
Local journalism is essential.
Give directly to The Spokesman-Review's Northwest Passages community forums series -- which helps to offset the costs of several reporter and editor positions at the newspaper -- by using the easy options below. Gifts processed in this system are not tax deductible, but are predominately used to help meet the local financial requirements needed to receive national matching-grant funds.
Subscribe now to get breaking news alerts in your email inbox
Get breaking news delivered to your inbox as it happens.
---