News > Features
Rules of entertainment
Fri., July 22, 2005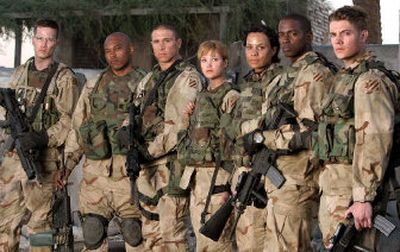 The darkened adobe hut offers relief from July's searing heat on the set in a Los Angeles suburb, but there's nothing cool about what's happening inside.
As a U.S. Army unit grills an Iraqi family while searching for an American hostage, a soldier gets his feet tangled in wires connected to what could be a bomb.
"What do I do?" the private, known as Smoke, nervously asks his sergeant.
Is it a bomb? What is the Arabic-speaking family saying? Are they lying?
The tense scene from an upcoming episode of FX's new war drama "Over There," which premieres Wednesday, depicts the life-or-death uncertainty the young troops face in Iraq.
Uncertainty surrounds "Over There," the first TV series to depict a war while fighting goes on. The drama is tangled up in potentially explosive questions: Is it too soon or too much? Is it believable? How will it be received by a divided public?
"This isn't about politics, policy or a particular administration," says famed producer Steven Bochco ("NYPD Blue," "L.A. Law"), who created "Over There" with lead writer Chris Gerolmo ("Mississippi Burning").
"It's about war. There are significant universal themes that are common denominators in any war."
"Over There" will focus on the personal and not the political, although characters will express their views.
"What we're trying to do is tell honest and true stories about young people under pressure," says Gerolmo, who directed the pilot.
The much-discussed series faces several challenges:
"Engaging viewers as real fighting continues, the future unknown.
"Trying to get the details right. A Marine serves as an on-set adviser; writers' research includes books, news articles, movies, blogs and soldiers' e-mail.
"Showing the humanity of soldiers and their families, reflecting their bravery, commitment – and flaws. There's honor and nobility, but also ethnic bias, poor judgment and fear.
"Exploring the complex issues of women in combat, attitudes toward Muslim U.S. troops, hurdles confronting injured soldiers and military families' lives.
"Over There" follows an Army unit on its first Iraq tour, at an unspecified time before the January elections. It connects the lives of young soldiers – a mix that includes blacks, whites, a Latina and an Arab-American – with their loved ones stateside.
The characters are mostly known by nicknames: Sgt. Scream (Erik Palladino ("ER"); Dim (Luke Macfarlane, "Kinsey"), Angel (Keith Robinson, "American Dreams"), Smoke (Kirk "Sticky" Jones, "Flight of the Phoenix"); and Tariq (Omid Abtahi, "Running with Scissors").
FX president John Landgraf, who had the idea for a series on the Iraq conflict, says war is rarely the focus of series TV, despite being "a deeply compelling, complicated emotional sphere."
"Tour of Duty" and "China Beach," which left the air in the early 1990s, depicted the long-concluded Vietnam War. "M*A*S*H," which began during Vietnam's later stages, was considered a commentary on that war through the buffer of Korea.
Museum of Television & Radio curator David Bushman senses that viewers might be more receptive to a contemporary war drama than they would have been during the fractious Vietnam era.
The rise of niche cable networks that needn't appeal to all viewers changes the dynamic, too, he says: "It's a different time politically, socially and on television."
Blood, violence and profanity shouldn't be a problem for advertisers because FX viewers know what to expect from the cable network after "The Shield," "Nip/Tuck" and "Rescue Me," says Brad Adgate of ad-buying firm Horizon Media. Avoiding a strong political viewpoint about the war is the key to success, he says.
Commercial spots are sold out for the premiere, says Bruce Lefkowitz, chief of Fox cable ad sales.
In early episodes, "Over There" dives into a rash of hot-button topics: Female soldiers in a combat situation; a unit member's prejudice against an Arab-American soldier; a U.S. interrogator's treatment of a prisoner; a soldier smoking a joint before going to war.
"They're not so much topics as textures," says Bochco, who weathered controversy over language and nudity when "NYPD Blue" launched. "Our topic is men and women in harm's way in a war. Textures characterize and specify which war."
"Over There" will veer away from the fighting to follow topics that get less attention: the recovery of a soldier whose leg is blown off and a look at families back home.
"I don't think a lot of the news outlets examine the effect of war on a family," says Macfarlane, whose character has a wife and 7-year-old stepson.
Producers did not seek cooperation from the Pentagon, which can provide access to bases and equipment but also seeks script approval. Why not?
"Without going too close to that question, we wanted to be free to tell the most honest and real stories," Gerolmo says.
At the same time, he says, he'd be happy if soldiers responded positively: "We want to do justice to the lives of these kids and their loved ones."
Army Maj. Todd Breasseale, who has worked with studios on numerous projects, says the military is always concerned about how soldiers are depicted.
"Any time there is a portrayal of the military and we had nothing to do with it, there's an issue of, 'How is this going to develop?' " the Army spokesman says.
Some military experts expect it to provoke anti-war sentiment, based on Hollywood's reputation or if the show, for dramatic reasons, focuses only on the most violent moments. Others say sympathy for the soldiers might stir pro-war feeling.
Other than a letter-writing campaign by the wife of a Kentucky soldier who says it is disrespectful to present the show during the war, FX executives say they know of no other pre-premiere protests.
Those working on the show wouldn't discuss their personal views of the war, other than offering blanket support for the troops. But they know their fictional drama will be a magnet for discussion of the real conflict.
"Right now, we're able to work and be anonymous because it hasn't hit the airwaves, but I know the political debates are on the way soon," actor Robinson says.
Local journalism is essential.
Give directly to The Spokesman-Review's Northwest Passages community forums series -- which helps to offset the costs of several reporter and editor positions at the newspaper -- by using the easy options below. Gifts processed in this system are not tax deductible, but are predominately used to help meet the local financial requirements needed to receive national matching-grant funds.
Subscribe now to get breaking news alerts in your email inbox
Get breaking news delivered to your inbox as it happens.
---