News > Business
Still brewing success
Tue., July 26, 2005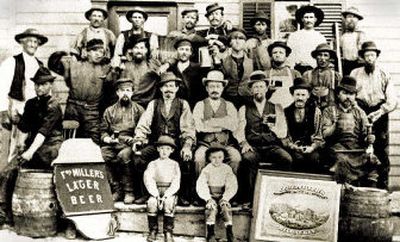 MILWAUKEE – Miller Brewing Co., the Milwaukee brewer that gave the world light beer, celebrates its 150th birthday next month.
The party for the nation's second-largest and oldest major brewer caps a history of turmoil that continues today.
The brewer survived Prohibition, a plane crash that killed the company president in 1954, and then grew under the skills of master marketers at Philip Morris Inc. after being bought in 1970.
Now, three years after being taken over by South African Breweries plc, the company again faces a turning point, with global consolidation increasing as it battles against market leader Anheuser-Busch Cos. of St. Louis, which commands half the American market.
Miller, with a roughly 18.5 percent share, faces stagnant industry volumes, fickle consumers and a price war with a rival that has deep pockets and seemingly endless resources.
Starting in late 2003, the company now called SABMiller plc took aim at the market leader with ads that promoted Miller Lite, in a campaign that reversed a 15-year sales decline last year and caused Anheuser-Busch to give up market share for the first time in nearly three decades.
"We had to find a way to take A-B on. And we've succeeded in that," said Norman Adami, a former SAB executive who became Miller president in February 2003. "For the first time in 20 years A-B is reacting to Miller Brewing Company."
From the beginning, Miller has been the underdog.
When Frederick J. Miller bought a defunct brewery in 1855 on a plank road on the western outskirts of Milwaukee, the city was already full of German immigrants and there were many established local breweries.
What turned Miller into a regional and then national player was a combination of good genes, hard work, luck, and a commitment to quality, historians say.
In 1903, the company unveiled High Life, called "The Champagne of Bottle Beer." The image appealed to a rising American leisure class and sales soared, even at a premium price.
Through Prohibition, Miller survived like other brewers, drastically cutting back and selling beer derivatives such as malt syrup and no-alcohol drinks.
After Prohibition's repeal, Miller expanded quickly, even through the rationing of World War II.
Frederick C. Miller, the founder's grandson, became president in 1947, and his optimism infected the growing city. But he died suddenly with his son Fred Jr. in a plane crash in December 1954.
Without its charismatic leader, a family feud split the business into two ownership halves, both of which were ultimately sold to Philip Morris Inc. from 1969 to 1970.
The tobacco giant was eager to diversify and poured millions into advertising and expanding Miller's capacity.
In new ad campaigns, High Life went from the champagne bucket to the lunch bucket and "Miller Time" was dubbed a time after work for the common man to enjoy a beer.
Sales surged, but the beer that really catapulted Miller to No. 2 was Miller Lite. The brewer launched the low-calorie beer nationwide in 1975, smoothing over its potential image problem as a diet beer by saying it "tastes great" and was "less filling." Burly former athletes like Bubba Smith and Dick Butkus and celebrities such as Rodney Dangerfield touted the brand.
Lite revolutionized beer advertising, said Benj Steinman, publisher of Beer Marketer's Insights.
Lite took Miller from seventh in the nation in 1970 to second in 1977 behind Anheuser-Busch.
Local journalism is essential.
Give directly to The Spokesman-Review's Northwest Passages community forums series -- which helps to offset the costs of several reporter and editor positions at the newspaper -- by using the easy options below. Gifts processed in this system are not tax deductible, but are predominately used to help meet the local financial requirements needed to receive national matching-grant funds.
Subscribe now to get breaking news alerts in your email inbox
Get breaking news delivered to your inbox as it happens.
---