News > Features
New role
Wed., July 27, 2005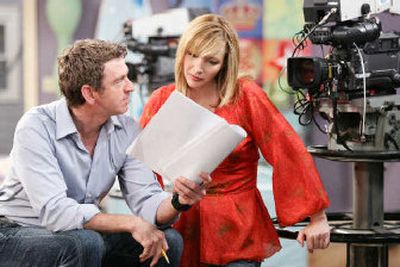 Maybe Lisa Kudrow is a victim of her own success.
After her decadelong romp as Phoebe Buffay on "Friends," Kudrow returned to series TV last month with "The Comeback," in which she plays a faded sitcom star trying to rekindle her career.
Kudrow is splendid as Valerie Cherish, who, despite her beauty, bucks and reliable marriage, feels perilously insecure. Thanks to Kudrow, Valerie is a restless blend – self-deluding yet crafty, fragile yet driven to renew her celebrity while being snubbed at every turn.
In short, she is night-and-day from Phoebe, a freewheeling ditz who everybody loved.
Indeed, Kudrow imbues Valerie with sufficient authenticity to feed suspicions that somehow "The Comeback" smacks of autobiography.
"Some people aren't sure what to make of it," Kudrow allows.
Halfway through its 13-episode season, "The Comeback," airing Sunday nights on HBO, warrants a new look from those unsure viewers, to be measured on its own special terms.
And on Valerie's.
In the early 1990s she had tasted fame on a cheesy sitcom called "I'm It," then disappeared. Now the 40-ish has-been is still telling herself that, even in an industry ruled by short memories and youth obsession, lightning can strike again.
She might as well be wearing a "Kick Me" sign. Which is very funny to behold. Also painful.
"The tragedy," says Kudrow, "is that this woman needs something, and has expectations, that cannot be fully realized. And to keep herself in such an unforgiving environment, she goes back and forth between being really strong, and stupid about what her priorities are."
On last week's episode, Valerie got a major setback. Her comeback bid – a piece of dreck called "Room and Bored," on which she had already been marginalized to supporting-player status as a character named Aunt Sassy – was shut down by the network for retooling.
"That's TV for you," Valerie chirps, her forced smile fully flexed. "If it ain't broke, then break it, and then fix it."
Valerie's solace: She still has her reality show, which was created to track her as she launched her sitcom.
Thus does HBO's "The Comeback" examine the mad pursuit of fame. But it is an urge to which Kudrow, however famous, happens to be immune.
"That's partly why I'm doing this," explains the actress, who off-camera lives quietly with her businessman-husband Michael Stern and their 7-year-old son Julian – "because I don't understand it."
Kudrow created "The Comeback" with Michael Patrick King ("Sex and the City"). Despite its being packaged as if a rough cut of Valerie's reality show, it in fact is meticulously crafted and scripted throughout.
"It's challenging to get it to look spontaneous," says Kudrow. "That's tricky to do."
On the other hand, capturing the essence of Valerie (who had her first stirrings as a character invented by Kudrow years ago while a member of the Groundlings improv comedy troupe) was "almost the easiest thing I've ever done," she says. "I know every thought she has, and why she has it."
The audience knows, too, just by reading the desperate hopes and disappointments written all over Valerie's face. For this, Kudrow credits the up-close, probing camera: "You can't go wrong if it's that close," she insists.
Likewise, she is closely observed in her new film, "Happy Endings," an ensemble comedy-drama also starring Tom Arnold, Sarah Clarke, Laura Dern, Jason Ritter and Maggie Gyllenhaal. It was written and directed by Don Roos, who first cast Kudrow in his 1998 film "The Opposite of Sex."
Kudrow plays a troubled, middle-aged woman who is blackmailed by a young documentary filmmaker claiming to know the whereabouts of the son she gave up for adoption as a teenager.
"Don is interested in real people who are damaged and flawed and not always likable the first minute you meet them," says Kudrow. "Then, getting to know them, you begin to understand them. That's what he's interested in, and so am I."
For her, acting is all about exposure, not vanity.
Vain? Kudrow laughs.
"Oh, I would be in crisis all the time if I were. That's a losing battle.
"I'm so relieved that I'm past an age where I'm expected to be cute," says the actress, who turns 42 Saturday. "It's always been hard for me. But now – yee-hah! – I don't have to try to look good. I can look like a person!"
Local journalism is essential.
Give directly to The Spokesman-Review's Northwest Passages community forums series -- which helps to offset the costs of several reporter and editor positions at the newspaper -- by using the easy options below. Gifts processed in this system are not tax deductible, but are predominately used to help meet the local financial requirements needed to receive national matching-grant funds.
Subscribe now to get breaking news alerts in your email inbox
Get breaking news delivered to your inbox as it happens.
---