Three nurses protest firings in Sandpoint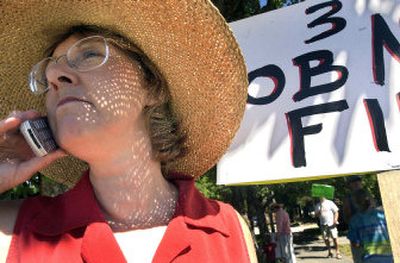 SANDPOINT – Three nurses fired from Bonner General Hospital's maternity unit picketed the hospital's entrance Tuesday, but the hospital administration was unmoved by the display.
"There are no reinstatement activities being discussed," said Sue Fox, Bonner General's public information officer. "It comes down to a difference of philosophies."
The nurses hit the picket line after months of tension with Susan Montgomery, the hospital's nursing director, over changes in the Family Centered Maternity Unit. They contend Montgomery has caused nurses undue stress and frustration and that childbirth education programs and lactation services have been compromised as a result.
"We're picketing because we want people to know we have no confidence at all in the hospital management and board," said Maria Walden, a registered nurse who worked at Bonner General for 13 years before she was dismissed in June. "It's about more than philosophy of care. Some people in power have too much power."
Fox said hospital administration supports Montgomery, and so does much of the staff.
"People are stopping me in the hallways and telling me they're 100 percent in support of administration," she said. "I have yet to hear much to the contrary."
Montgomery fired Walden in June and Patty Omodt and Linda Hess, both registered nurses, last week. Walden said her termination letter refers to her poor attitude and that Omodt and Hess were fired for falsifying their time cards. According to Omodt's termination letter, she filled in for Hess and another nurse during her day off so they could give blood in a drive that Omodt's son had organized for Boy Scouts. Omodt didn't charge for the time, a "gross infraction … subject to immediate termination."
Walden said she applied for unemployment benefits and received them after Bonner General produced no proof of her attitude problem.
"We were fired as retaliation," she said.
According to Walden, the three nurses were unhappy with changes in the maternity unit.
Its family-centered philosophy means the whole family is attended to before, during and after a birth, Walden said. Traditional care is focused on the mother and baby.
The nurses believed Montgomery was moving more toward traditional than family care, Walden said.
Tension built. Montgomery hired a maternity unit manager about whom the nurses complained so many times that the manager eventually was dismissed, Walden said.
"We were fired as retaliation for removal of the unit nurse manager," she said. "We said we wouldn't work under her. She made our life a living hell."
Walden now works as a traveling nurse in Spokane, Moses Lake and Pullman.
Fox wouldn't comment on personnel issues.
She said Sheryl Rickard, Bonner General executive director, told her staff she holds all employees to the same standards and would fire anyone who had behaved as Walden, Omodt and Hess did.
At least one maternity unit nurse quit after the firings.
The unit had 20 nurses on staff before the dismissals and has 16 now, Fox said.
"I do know recruitment efforts are under way for permanent positions, but we have very generous staffing ratios now," she said.
Dr. Robin Helm, a pediatrician who cares for newborns in Bonner General's maternity unit, said the controversy makes her heartsick.
"These are wonderful, caring, competent, conscientious nurses and terrific human beings," Helm said.
"Bonner General is a really wonderful hospital. That's why I can't understand the decision to terminate these nurses. It's so sad that it's come to this."
---