News > Idaho
Orchestra powers pianist's record
Sat., July 30, 2005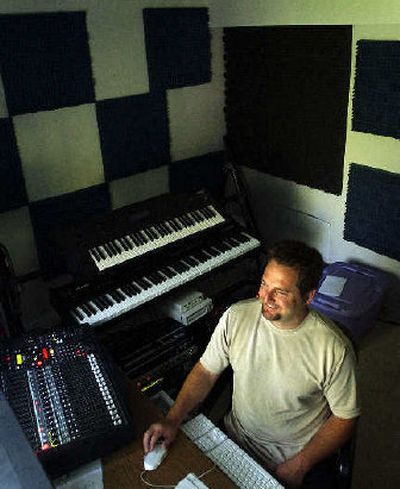 Local composer/pianist Brian Crain has just recorded his 12th CD, but this time with a marked difference.
His previous CDs were just Crain and his piano. In "Spring Symphonies," he is backed by the Czech Philharmonic Chamber Orchestra.
"They are one of the best orchestras in Europe and the world," said Crain.
Crain and his father, Bill, flew to Prague for the recording session. The Czechoslovakian musicians were apprehensive at first, said Crain, who created 14 parts, including strings, woodwinds, percussion and brass.
"My music was a bit smooth for them," said Crain, 34, who lives in Hayden with his wife, Lori, and their daughters Jaime and Reagan.
But then the conductor started to really "get into it," he said.
Born and raised in Hollywood, Calif., Crain has been in Idaho for 14 years. His father was a feature film director and producer. The family came to the area to shoot a movie at the Finnucane property in Hayden. It turned out the property was for sale, so they purchased it. Bill and Bonnie Crain, Brian's parents, still live there.
Brian Crain took piano lessons as a child, but he really preferred baseball, with aspirations to become a major league player. Growing up, there was always a piano in his home. At age 17 he began to write his own compositions. It gave him peace. Crain said that he had whistled his own tunes since he was three. Still, at 17 he had no real thoughts of turning music into a career.
Bonnie Crain, who is a potter and shows her work at craft shows, noticed another musician selling his own CDs at a show when Brian was 25. She suggested he give it a try, and he sold 100 CDs at his first show in Wallowa Lake, Ore.
Since then, Brian Crain has marketed his music mostly through his Web site, BrianCrain.com, although the CDs are also sold locally through Hastings, The Long Ear and Cougar Bay in the Coeur d'Alene Resort. He has sold about 150,000 CDs.
He describes his music as classical in its style, but more "filmic." He enjoys "uplifting, powerful movements."
"Most music falls short of its inspirational value," he said.
Crain has had experience in the film industry as well, and hopes eventually to score a film.
Crain is planning his second charity concert, to be held Dec. 16 in Schuler Auditorium on the North Idaho College Campus. Last year, he raised $7,000 for The Children's Village. This year, Holy Family Catholic School will be the beneficiary, along with The Children's Village. The benefit concert will feature members of the Coeur d'Alene Symphony backing Brian. He will also play with the Dakota Symphony on Oct. 1 in Bismarck, ND.
Local journalism is essential.
Give directly to The Spokesman-Review's Northwest Passages community forums series -- which helps to offset the costs of several reporter and editor positions at the newspaper -- by using the easy options below. Gifts processed in this system are not tax deductible, but are predominately used to help meet the local financial requirements needed to receive national matching-grant funds.
Subscribe now to get breaking news alerts in your email inbox
Get breaking news delivered to your inbox as it happens.
---