Sports
Magic carpet ride
Sun., July 31, 2005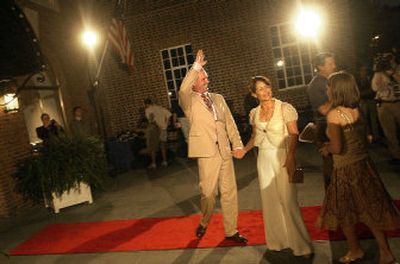 COOPERSTOWN, N.Y. – There are choices and there are twists of fate, and sometimes the difference is indistinct.
On the eve of his induction here today into the Baseball Hall of Fame, Ryne Sandberg once again touched on the felicitous turns that put him on the road here: his decision to forego a football scholarship at Washington State to play professional baseball, the early career trade to the Chicago Cubs that made him an everyday player at age 22 and the urging of a caring manager that unlocked his potential as a power hitter.
Athletically, Ryne Sandberg always had the goods.
But he won't argue the point that he hitchhiked a little luck to get to Cooperstown, too.
"If some of those things don't happen," he said in an earlier interview with The Spokesman-Review, "I don't know if I'm in this position today. It's not always about what you can do or think you can do, but the opportunities and help you get."
But one of Sandberg's old North Central High School teammates isn't completely convinced.
"If he wasn't going into the Baseball Hall of Fame," allowed Chris Henry, "we might be watching him go into a different hall of fame."
Now, there are twists of fate and there is coincidence, and sometimes that difference is indistinct, too.
Chris Henry and Bump Wills aren't just answers to trivia questions, but part of the quilt work of Sandberg's baseball life – touchstones for his legitimacy, and stories themselves.
Wills was the Cubs player Sandberg replaced at second base – a rather outlandish coincidence in that both of them had grown up and learned their baseball in Spokane, Wills at Central Valley High School. They were Cubs teammates for a year, although the hometown connection didn't bring them together, especially.
"You'd think so, but Ryne was just so quiet," said Wills. "He had that patented Sandberg grin and maybe that grin was enough to get across what he knew was coming for him."
Henry was a Sandberg contemporary, a year younger and the catcher on NC's state runner-up team of 1978 – but considered at the time by both teammates and his coach as the more likely prospect for baseball stardom. Sandberg himself has repeated it – that he "wasn't even the best player on my high school team."
"I would look at that as a very flattering thing for them to say," said Henry. "But I was only as good as they were. You could take that lineup and flip it upside down and it still would have been as good."
But the fact is, Henry was a three-time all-city catcher and the 1979 player of the year, hitting .490 with a league-leading four homers and 20 RBIs in 16 games. He was also the first-round pick of the Seattle Mariners in that year's amateur draft,
He was just as promising as a pro. In his second season, he was hitting .330 with seven home runs when he was named to play in the Midwest League's midseason all-star game. His rise through the minors seemed certain to be as swift as Sandberg's was.
Then came destiny's curveball.
"I was in a home-run hitting contest and I swung and completely missed at a ball and hyperextended my right elbow," he recalled. "They taped it up and I played the game, but the next day it looked like a balloon."
Henry had severely damaged the ulnar nerve. He continued to play, but his production plummeted. He had surgery at season's end, but the elbow never fully recovered.
"I went back to spring training the next year," Henry said, "but it got to the point that it was time to make a decision."
He made it – without any lingering bitterness or regret.
"I had a wife and a daughter and it was time to move on," he said. "It was a family decision for me and the right one."
Wills would come to the same crossroads, although not until after a six-year major league career, five of those with Texas after the Rangers drafted him in the first round out of Arizona State in 1975. He joined the Cubs in 1982 and as Sandberg had that year, via a trade.
The popular notion that general manager Dallas Green had some hard-and-fast plan when he acquired Sandberg is, however, a bit of a stretch; Sandberg was tried at second base, third, shortstop and center field in spring training. It wasn't until Wills came aboard the last week of exhibitions to play second and third baseman Ken Reitz released that Sandberg had a home.
But circumstances would keep them from being long-term teammates. Wills was going to be a free agent and midway through 1982, agent Dick Moss approached Green about a contract.
"I thought the figures were a little high," Wills admitted in a 1985 Spokesman-Review interview, "and that it might turn Dallas off, and it did. From that point on, it was downill."
Fate, choice, coincidence. In September, the Cubs started auditioning Sandberg at second, and in December, Wills signed to play in Japan. Two years later, his playing career was over, though he would spend a decade as a minor league manager and coach.
Now he's the director of baseball for Whitworth Physical Therapy's instructional arm, and he uses Sandberg's success – and his – as a starting point.
"The fact that Ryne can come up and make it like he did tells you there's talent here," Wills said. "The game has to be taught the right way and played the right way, but that's the way Ryne learned it and he learned it starting here. … I love it that he's going into the Hall of Fame."
Henry is still in Spokane, but only part time – he works and lives about half the year in Phoenix with a restaurant company that has more than 1,200 outlets. Just a month ago, he was playing golf at DC Ranch in Scottsdale, Ariz., when another cart pulled up behind him ferrying none other than Ryne Sandberg.
There was time for a hug, congratulations and an exchange of phone numbers. Then it was time to hit.
"It was good to see him," Henry said. "I think all the guys who played with him at NC are just real proud of him and excited that one of us made it."
At that thought, Henry laughed.
"You know, the interesting thing is, my wife used to date him," he said. "What kind of choice did she make?"
A fateful one. They all are.
Local journalism is essential.
Give directly to The Spokesman-Review's Northwest Passages community forums series -- which helps to offset the costs of several reporter and editor positions at the newspaper -- by using the easy options below. Gifts processed in this system are not tax deductible, but are predominately used to help meet the local financial requirements needed to receive national matching-grant funds.
Subscribe to the sports newsletter
Get the day's top sports headlines and breaking news delivered to your inbox by subscribing here.
---