News > Business
A hard road
Wed., June 1, 2005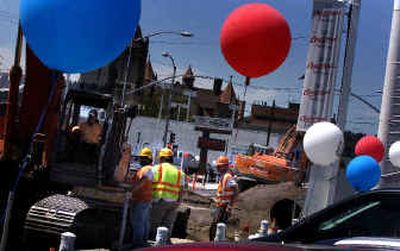 Businesses on Third Avenue in downtown Spokane would like customers to know they're open even though the street just beyond their front doors has been stripped of its surface and dug into trenches.
Construction workers are installing a new water main and repaving Third from Browne's Addition to Division. Street bond revenues and the city's water department are teaming up to complete the project that will deliver a newly paved surface, with improvements to curbs and sidewalks, by fall. But in the interim, many small businesses on Third say the torn-up street is taking its toll as potential customers look for better routes.
"We'll be able to survive, but it'll be a real down year," said Dave Peterson, owner of the Arctic Circle restaurant, at 1321 W. Third. Peterson said sales had been increasing every month over the past two years until construction started. Now sales are off by at least a third, he said.
"We have regulars who come by, and they'll get here through thick and thin," Peterson said. "We appreciate those people."
The problems represent a refrain likely to be repeated for months as about $60 million worth of road construction gets under way throughout the city and county. From Interstate 90 to Division and Ruby, Maple and Ash to the Thor/Freya couplet, streets all over the county are being repaved or rebuilt. Despite the improvements to the roads, the work and congestion bring frustration for drivers and concerns for businesses.
"It's always a problem," said Chuck Eller, vice president of Eller Corp., the company hired for the Third Avenue work. Eller Corp. holds a meeting every Friday morning to update businesses on the project and hear concerns. "We try to minimize the impact, but there is going to be impact no matter what we do," Eller said.
And though many business owners acknowledge they'll have a nice, new street running past their location in a few months, that's a small consolation for months of lost sales during the summer.
Traffic on Third should improve in July after crews finish installing a new water main to serve the West Plains. Then crews will work until September to repave the street and make improvements to curbs, sidewalks and traffic signals.
Phonesy Mouongkhoth, manager of Linnie Thai Cuisine at 1301 W. Third, said the construction has mostly hit her lunch business.
"People have a half-hour or hour. By the time they get here, eat, they don't have enough time, so they don't come," she said, adding that she's grateful to her loyal customers who make an effort to stop by. "They say, 'Don't worry, don't worry.' I feel good about that. I should put a big sign on the building to say thank you to the customers."
Troy Alton, who owns Troy's Tire and Automotive at 817 W. Third, said his sales are off by 25 to 35 percent. One day last week, Alton said, he'd had only six cars come in by midday, compared to the usual 15 to 25. "Normally, it is a busy season," he said. "People are getting ready to travel."
Local journalism is essential.
Give directly to The Spokesman-Review's Northwest Passages community forums series -- which helps to offset the costs of several reporter and editor positions at the newspaper -- by using the easy options below. Gifts processed in this system are not tax deductible, but are predominately used to help meet the local financial requirements needed to receive national matching-grant funds.
Subscribe now to get breaking news alerts in your email inbox
Get breaking news delivered to your inbox as it happens.
---