News > Features
Ellerbee book shares world adventures
Wed., June 1, 2005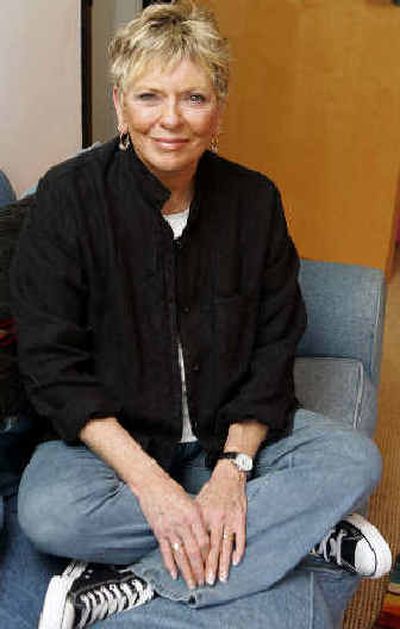 Linda Ellerbee's new memoir, "Take Big Bites: Adventures Around the World and Across the Table," is well worth getting.
But where should it be kept?
In the kitchen, the living room or on your bedside table?
"I don't know," replies Ellerbee, who also wonders what the bookstores have in mind in terms of displaying the book.
Blended into one tidy volume are adventure, travel, food and introspection.
"Each of the chapters takes place in a different time in my life and in a different part of the world," she says.
"And yes, food is part of the story. But the core of the book is much more an attitude concerning life than it is about eating."
Thus has Ellerbee concocted an appetizing metaphor, complete with serving suggestions.
"I have loved traveling since I was a small child," she says. "My father told me, 'A foot in the road is a good place for a foot to be.' "
And when on the road with her own young daughter and son (now 36 and 35, respectively), she would respond to their query, "Are we lost?" with a confident comeback: "No! We're having an adventure!"
Not that you wouldn't expect a bit of brass from Ellerbee, the famously maverick TV journalist who, after never quite fitting in at NBC News and ABC News, began her own company in 1987.
Founded with her partner Rolfe Tessem, Lucky Duck Productions became an award-winning supplier of children's programming and other TV fare, including "Nick News," the kids' newscast that Ellerbee has hosted for 14 years.
Pretty good for someone who got into the business as a college dropout single mom in need of a job after her husband left her.
Now 60, Ellerbee greets a reporter at her firm's conference room, strictly casual in jeans and tennis shoes. She takes a seat, plops a foot on the table and, beaming, explains how her new book came about: by chance.
"I was going through my journals," she says. "I've got 30 or 40 years of them, and I was reading about my trip to Vietnam right after the embargo was lifted (a decade ago).
"I wrote a story about it, just for fun. Then I wrote a story about another place.
"Then I asked myself, 'Have I got a book here? Am I writing a book?' "
Putnam, which is publishing "Take Big Bites" (320 pages, $24.95), thought so.
Musing further over how this, her third book, came to be, Ellerbee gestures south from her Greenwich Village headquarters and says: "I think there's a part of me that wanted to write about something other than the bombing down the street."
In what she wrote, she meant to argue against a heightened fear of living that has taken hold since 9/11 – along with a greater fear of travel.
"I've noticed that so many Americans are afraid that it won't be safe or that Americans won't be liked when they get there," she says.
"But I would like to see young people in particular go out and meet the people of the world. Then maybe we won't allow all our governments to encourage us to fear one another.
"It's really hard to be afraid of somebody when you've talked to them and sat at their table and eaten their food."
At the end of the Vietnam chapter, Ellerbee has appended a recipe for pho (pronounced "fuh"), a breakfast-meal soup she discovered on that trip which, she writes, "beats the devil out of a bowl of Wheaties."
The other chapters end with fitting recipes, too, collected from her family, friends and journeys past and present.
"I believe travel and food are more than a way of getting around and what you put in your mouth," says Ellerbee. "They connect us to other people, and they connect us to our memories.
"When I eat my mother's fudge pie (the recipe for which is in the book), all of a sudden my mother is alive and there in the kitchen again.
"When I go to my favorite Mexican restaurant in Texas," the Houston native adds, "my whole childhood is in there if I turn around fast enough.
"That's part of the connection of food to the rest our lives. And our travels can be the same way."
Ellerbee crisscrosses continents and years in her book, revisiting experiences. Her tales are highly personal and highly relatable, laced with wisdom and tips.
One observation: "While I believe two people can take a trip, and I've enjoyed some doozies, I think you must be alone to really travel."
Following her own advice, as well as the Thames River, Ellerbee concludes with an account of her 200-mile hike in England last August to mark her 60th summer.
Along the way, she flirts with a longing to be young and do it all again.
But then she defiantly writes, "Every new beginning comes from some other new beginning's end."
Whatever her next new beginning will be, Ellerbee leaves no doubt: Both feet are still in the road.
Local journalism is essential.
Give directly to The Spokesman-Review's Northwest Passages community forums series -- which helps to offset the costs of several reporter and editor positions at the newspaper -- by using the easy options below. Gifts processed in this system are not tax deductible, but are predominately used to help meet the local financial requirements needed to receive national matching-grant funds.
Subscribe now to get breaking news alerts in your email inbox
Get breaking news delivered to your inbox as it happens.
---