News > Features
Female bonding
Wed., June 1, 2005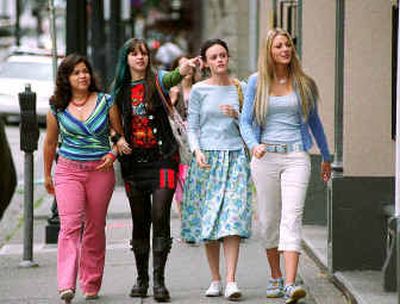 Before they began shooting the film version of the popular teen novel "The Sisterhood of the Traveling Pants," the four main actresses spent a day together at a vintage-clothing store.
"I told them it was important for them to bond as quickly as possible because we only had a few scenes to establish for the audience that these are lifelong friends," says director Ken Kwapis. "In most of the story, the four girls are separated."
Kwapis gave each actress $75 and told them to buy something their character would buy.
Amber Tamblyn, who plays the pierced and blue-haired Tibby, chose a brown corduroy miniskirt and a T-shirt. Alexis Bledel, who plays the introverted, artistic Lena, selected a pretty sundress and a pair of shoes. Blake Lively, who plays the athletic, outgoing Bridget, decided on a sports jersey and jacket. America Ferrera, who plays the writer Carmen, bought a bright orange shirt and earrings.
The shopping expedition was just part of what helped bring the actresses together.
"We were lucky right from the beginning," says Lively, the only acting neophyte of the quartet. "We just clicked. We would go eat together, spend the night in each other's rooms, choreograph dances together."
Says Bledel: "We're all different, but I think it's our sense of humor that links us."
Bledel, 23, and Tamblyn, 22, are stars of TV series ("Gilmore Girls" and "Joan of Arcadia," respectively). Ferrera, 21, is in college but starred last year in "Real Women Have Curves" and is a Disney Channel movie regular. Lively, 17, was attending Burbank High when she was tapped for the part. (She is scheduled to graduate in June.)
"We've become really close friends," Tamblyn says. "I probably spend most of my time with Alexis. America is like the other brain I never knew I always wanted. She's so smart, and we see eye-to-eye on so many things.
"And one of the most amazing things about Blake is her honest innocence and her ability to be open. I turned her on to a lot of new music. She was a Britney Spears fan. I like Bob Dylan."
The girls play best buddies who are separated for the first time one summer. Their friendship is sustained by a pair of jeans that travel from Greece to Mexico to North Carolina and back to Maryland. Each girl wears the pants for a week, then ships them to the next friend. The pants not only connect the girls, but they also help them summon the strength to face challenges. Kwapis sees "Pants," with its four strong female characters, as an empowering movie for girls.
"I like to think of the pants sort of like 'The Wizard of Oz,' " the director says. "All the things those characters were looking for they had inside of them in the first place."
You could call "Sisterhood" the anti-"Mean Girls." While last year, movies aimed at girls and women seemed to focus on female cattiness and competition ("Mean Girls," "13 Going on 30," "Saved"), "Sisterhood" celebrates the supportive nature of friendships.
"So often female friendships are characterized in pop culture as being catty or bratty," Kwapis says. "There are not a lot of stories that celebrate friendship at all.
"The heart of this picture is about girls dealing with really thorny emotional issues, even though there's a pair of pants that may or may not be magical."
Distributor Warner Bros. has been working to capitalize on the fan base of Ann Brashares' best-selling book and its two popular sequels by showing the movie to book clubs and sending its popular stars to 16 U.S. cities and Canada to promote it.
"People are really passionate about the books," says Lively. "When I told my friends the title of the movie I was going to be in, they would say 'Oh, my God, it's like my favorite book.' "
Kwapis says adult women also might be drawn to the film: "This movie makes you nostalgic for a time in your life when friendships were this intense."
Author Brashares worried that the filmmakers "would shy away from making it really raw and painful. What I've cared about as a writer is that girls have rich lives, they're intelligent, they take their lives and families and futures and histories seriously. And they're written off so easily in so many things."
Brashares says she was glad the moviemakers didn't cast certain high-profile teen stars in the movie.
"They decided not to make it a star vehicle for somebody who's in Us magazine every week," Brashares says. "The people who produced the movie thought, 'Let's go in a different way,' and that was really smart. These are all good, intelligent actresses. Even the settings are as I pictured them."
Kwapis was intent on remaining true to the spirit of the book, though some plot points were modified (particularly Lena's in Greece) and certain smaller parts of individual story lines were omitted (Tibby's attachment to her pet gerbil, for instance).
"Our film has some really emotionally challenging scenes, but it doesn't feel like a melodrama or a soap opera," Kwapis says. "It's very much like getting to eavesdrop on a friendship at a critical juncture, at a moment when all four of them simultaneously have to gain some wisdom. And sometimes the process is really painful."
Local journalism is essential.
Give directly to The Spokesman-Review's Northwest Passages community forums series -- which helps to offset the costs of several reporter and editor positions at the newspaper -- by using the easy options below. Gifts processed in this system are not tax deductible, but are predominately used to help meet the local financial requirements needed to receive national matching-grant funds.
Subscribe now to get breaking news alerts in your email inbox
Get breaking news delivered to your inbox as it happens.
---