News > Idaho
Verdict's unanimous: These two took the 5th
Wed., June 1, 2005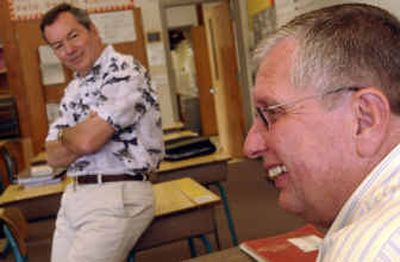 Randi Spencer's older brother told her there was plenty of fun to be had as a fifth-grader at Dalton Elementary.
Her brother, since moved on to middle school, told Randi she'd get to make model rockets and go on mall trips and she'd probably get a maple bar as a treat every now and then.
"It's the best year at Dalton," Randi said, adding that next year's class might be a little disappointed. The two fifth-grade teachers responsible for the rocket launches and trips to the mall for pizza are retiring.
For 15 years, Ron Keefer and Gary Henry, Randi's teacher, have taught together at Dalton Elementary, just north of Coeur d'Alene. They bring their classes together for special projects and fun times, and the two teachers eat lunch together just about every day.
Parent Pam Miller said the two men, who have both been teaching for more than 30 years, are the last of the "old school" of teachers. She's sad to see them go.
"There are kids that come back from high school and middle school just to see them at the end of the day," Miller said. "They're very loved."
Keefer and Henry say they were collaborating long before the school district began to emphasize teamwork.
The two meet before school, after school and even on weekends to make plans for the classroom.
More than lesson plans, the two share a philosophy for teaching.
"What makes our teaching successful is that we hold kids accountable," Henry said. "We hold them accountable for their actions. We expect parents to work with us."
Keefer said parents have complained that the teachers assign too much work.
"You want to get the kids used to doing some work," Keefer said.
When the teachers are at the front of their classrooms, there's no talking in the back row or interrupting. There's no slouching or dozing.
The teachers say they are respected by the students because it is what they expect.
"When I was in school, I wasn't a student and I didn't give my attention," Keefer said. "I think I've always demanded that. I can't teach kids that aren't paying attention. I want respect."
Keefer said their success with the students is because of other teachers at Dalton.
"The teachers send us great kids up through the grades," he said. "It makes our job easier."
Over the years, the teachers have seen plenty of change. They've seen homes go from one working parent to two. They've seen an increase in testing and accountability.
Technology has improved quite a bit.
Henry said he still has "the paddle" from his early days of teaching, though he can no longer use it.
In his classroom, a lot of good old common-sense sayings are posted.
"Even a mosquito doesn't get a slap on the back until it starts working," says one. And then there are these gems: "All you need is a kick in the rear to get in gear" and "You always have enough time to do it right the first time."
Keefer, whose wife teaches at Ramsey Elementary, said he went to college with the idea of becoming an elementary teacher or a nurse. He took classes in both for the first couple of years, then had to make a choice.
"Thirty-four years later, here we are," he said.
Henry said he felt like teaching was his calling as a Christian. After 27 years at Dalton, Henry said he's ready to move on to something else.
"It'll be nice to work in a job where you can hang up your nametag or apron and go home," he said.
He also plans to spend time with his grandchildren.
Keefer said he plans on working in construction. He's already got jobs lined up for summer.
"I have to keep busy," he said.
Originally, the two planned to retire in 2007. Henry decided to leave two years early and Keefer followed suit.
"I knew it was time to retire," Henry said. Someone had told him: "It's time to retire when you teach your kids' kids."
Local journalism is essential.
Give directly to The Spokesman-Review's Northwest Passages community forums series -- which helps to offset the costs of several reporter and editor positions at the newspaper -- by using the easy options below. Gifts processed in this system are not tax deductible, but are predominately used to help meet the local financial requirements needed to receive national matching-grant funds.
Subscribe now to get breaking news alerts in your email inbox
Get breaking news delivered to your inbox as it happens.
---