News > Features
Baby makes Britney want to hit it one more time
Fri., June 3, 2005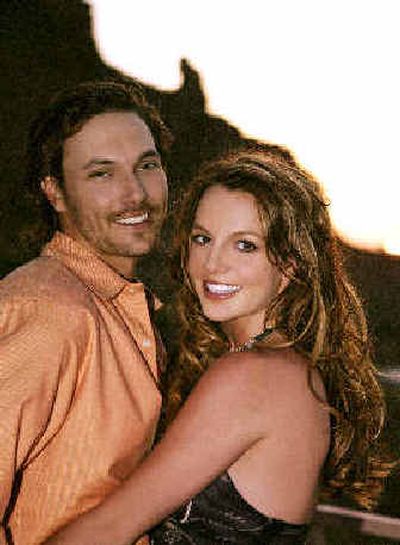 Britney Spears is loving life as a pregnant woman – the cravings, looking at sonograms of the baby, and especially the sex. "I think it's better than it was before," Spears tells People magazine in the issue on newsstands today. "Sex is crazy good."
The 23-year-old pop star, who's due to give birth this fall, says she's been battling "horrible" morning sickness and dealing with hormonal swings that have caused her to lose her temper "like twice."
But otherwise, Spears says, she's in "nesting mode" and finds being pregnant "empowering."
"I think it brings out a pure side of you," she says.
Spears says that she hasn't yet tried to find out whether it's a boy or a girl. She wants three children – and doesn't plan to return to her day job soon.
"I'm sure there's going to come a time when I get back to work again, but it'll be a totally different way of life than it was before," she says.
Dual daughters times two
Elsewhere on the baby beat, Charlie Sheen was beside wife Denise Richards' side Wednesday night for the birth of the estranged couple's second daughter.
The 6-pound, 10-ounce Lola joins 15-month-old Sam. Richards filed for divorce from Sheen in March.
Also, George Stephanopoulos, former presidential adviser and host of ABC's "This Week," and his wife, actress Alexandra Wentworth, welcomed their second daughter Thursday with the birth of Harper Andrea.
Hey, Brown – where's the green?
A family court judge issued an arrest warrant Wednesday for singer Bobby Brown after he failed to appear for a child support hearing.
His attorney told the judge that Brown became ill and was taken to a hospital, but was unable to provide proof.
Brown, married to singer Whitney Houston, has two children with a former girlfriend. He has failed to make payments to their educational trust and had not made his monthly support payment by Wednesday's deadline.
Brown was sentenced to 90 days in prison last June for missing three months of child support payments. That sentence was suspended after he paid about $15,000.
Squirrel in the sky with amphibians
Move over, Madonna: Paul McCartney is getting into children's books.
Penguin Young Readers Group will publish the former Beatles' "High in the Clouds: An Urban Furry Tail." It follows the story of two friends, a squirrel and a frog, who save a number of animals.
Their own little war of the words
Brooke Shields, who explores her postpartum depression in a new memoir, says "War of the Worlds" star Tom Cruise has no right to dis her for using antidepressants.
Cruise, a Scientologist, said last week it was "irresponsible" of Shields to say her meds helped cure her, adding: "I care about Brooke Shields … (but) you look at where has her career gone?"
Says Shields: "Tom should stick to saving the world from aliens, and let women who are experiencing postpartum depression decide what treatment options are best for them."
The birthday bunch
Actor Tony Curtis is 80. Game show host Chuck Barris ("The Gong Show") is 76. Singer Suzi Quatro is 55. Singer Deniece Williams is 54. Actor Scott Valentine ("Family Ties") is 47. Country singer Jamie O'Neal is 37. Singers Ariel and Gabriel Hernandez (No Mercy) are 34. Actress Lalaine Dupree ("Lizzie McGuire") is 18.
Local journalism is essential.
Give directly to The Spokesman-Review's Northwest Passages community forums series -- which helps to offset the costs of several reporter and editor positions at the newspaper -- by using the easy options below. Gifts processed in this system are not tax deductible, but are predominately used to help meet the local financial requirements needed to receive national matching-grant funds.
Subscribe now to get breaking news alerts in your email inbox
Get breaking news delivered to your inbox as it happens.
---