News > Nation/World
Prosecutor attacks Jackson's lifestyle
Fri., June 3, 2005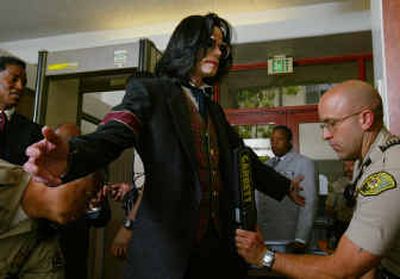 SANTA MARIA, Calif. – Michael Jackson is a "predator" who used girlie magazines to lure a young cancer survivor into his den but kept a stash of books filled with naked men and boys for his own excitement, a prosecutor told the jury that will decide the singer's fate.
In closing arguments Thursday that attacked Jackson's lifestyle, prosecutor Ron Zonen painted the pop star as someone with a "drinking problem … who, not for the first time, took sexual liberties with a 13-year-old boy."
But defense lawyer Tom Mesereau turned the tables, calling the accuser and his family "con artists, actors and liars … with an almost compulsive addiction to celebrities."
Mesereau outlined a litany of lies and financial schemes the family pulled over the years, including the mother's undisputed welfare fraud. "If you have the slightest doubt that's reasonable, Mr. Jackson must go home and he must be free," Mesereau said. He will conclude his argument today, followed by a final prosecution rebuttal.
Zonen had the floor most of the day Thursday and began his argument by saying: "This case is about the exploitation and sexual abuse of a 13-year-old cancer survivor at the hands of an international celebrity."
Zonen noted that many claims Mesereau made in his opening statement months ago never panned out. The defense lawyer had said the accuser's mother begged celebrities for cash. But when the notables testified, Zonen said, they denied the mother asked for money.
By day, Zonen said, Jackson's Neverland Ranch was a dream come true for boys – unlimited candy, video games – but at night, things changed. "In the evenings they entered into the world of the forbidden. They learned about human sexuality from someone who was all too willing to teach them," Zonen said.
Local journalism is essential.
Give directly to The Spokesman-Review's Northwest Passages community forums series -- which helps to offset the costs of several reporter and editor positions at the newspaper -- by using the easy options below. Gifts processed in this system are not tax deductible, but are predominately used to help meet the local financial requirements needed to receive national matching-grant funds.
Subscribe now to get breaking news alerts in your email inbox
Get breaking news delivered to your inbox as it happens.
---