News > Idaho
Looking at a bright future
Sat., June 4, 2005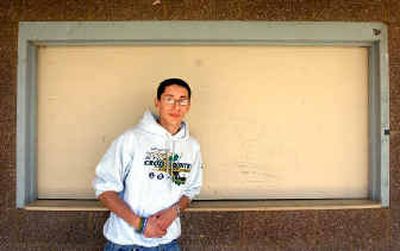 As co-valedictorian of Timberlake High School's Class of 2005, Thomas Broughton's commencement speech will provide a "humorous look at the past and an insightful look into the future." He can be proud of his high school achievements and his future certainly looks bright.
Broughton has the role of waking up the student body at Timberlake with morning announcements on the in-school Tiger TV. He then focuses on his studies to maintain 4.0 grade-point average and membership in the National Honor Society. Extracurricular activities include the school's drama program, Junior State of America, the cross country running team, volunteering with the Coast Guard Auxiliary, donating time to clean mountain trails, tutoring and community service.
Top grades and positive contributions make Broughton just the type of candidate the Coast Guard selects to fill the annual 300 slots from 6,000 applicants at the Guard's Academy in Connecticut.
"A mixture of amazement and joy and one of my greatest achievements," Broughton says of his Academy appointment. He says he can offer the Guard his "intelligence, with an ability to adapt to any situation," and hopes to make his parents and his country proud. He wants to "get to know his boundaries and limits" in the training.
After graduating from the highly regarded academic program, Broughton will be obligated to five years of service, but he plans on making a career of the Coast Guard. His choice assignment is law enforcement in the southern states, focusing on illegal immigration and drug interdiction, but "will gladly go anywhere they send me."
Broughton summarizes his motivation for joining the military as "to serve and protect my country and to help people." He likes the Coast Guard's mission statement and strongly believes in President Bush's war on terrorism. He admits to having mixed feelings about the war in Iraq, but quickly adds that he will gladly serve there if sent, continuing a family tradition – his grandfather served in WWII and his father served in the Persian Gulf War.
Broughton's goals in the military are to become a high-ranking officer and to eventually play a part to "hash out our difference in the world for peace." Personal goals include marriage, have a family and eventually return to North Idaho.
Broughton says he owes thanks to his family, friends and fiancée for their support, adding "I could not have done this without them."
Local journalism is essential.
Give directly to The Spokesman-Review's Northwest Passages community forums series -- which helps to offset the costs of several reporter and editor positions at the newspaper -- by using the easy options below. Gifts processed in this system are not tax deductible, but are predominately used to help meet the local financial requirements needed to receive national matching-grant funds.
Subscribe now to get breaking news alerts in your email inbox
Get breaking news delivered to your inbox as it happens.
---